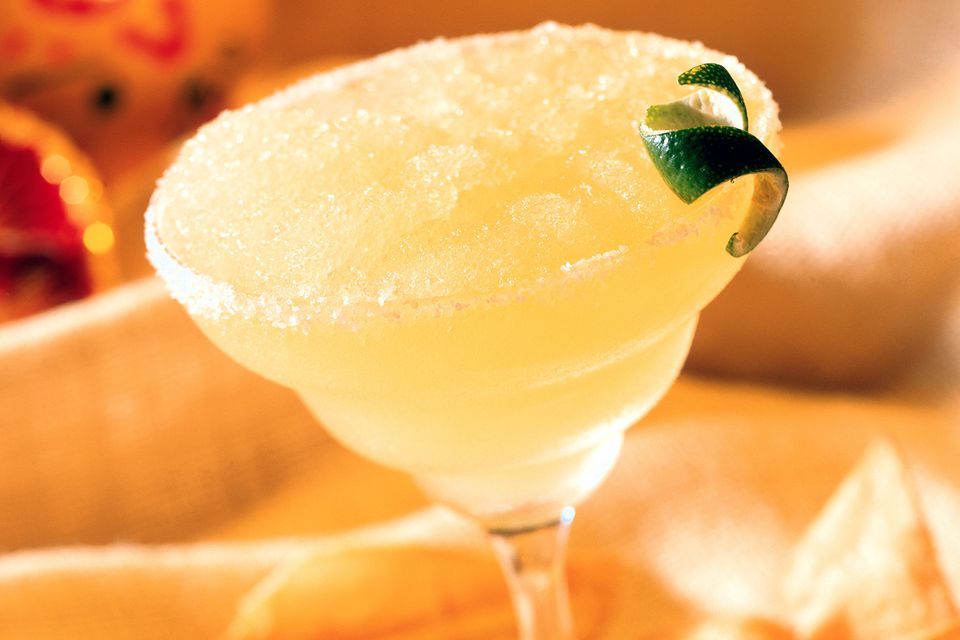 There are many ways to make a tasty Peach Margarita and any of these recipes is an excellent opportunity to shake up your margarita routine. Whether you're looking for a boozy peach smoothie, a cocktail that shows off fresh peaches in season, or a simple drink that can be mixed up any time of the year, there's a recipe here for you.
The beauty of any Peach Margarita is the subtle and sweet taste of those luscious peaches. When possible, use fresh peaches, which are at their peak during the hot summer months. Of course, if you get a craving for peaches in the middle of winter you can always turn to that trusty bottle of peach schnapps.
Whichever recipe you choose, the tequila is important. You don't necessarily have to use the best tequila, but a good, well-rounded blanco tequila will do wonders for improving any margarita you mix up.
Frozen Peach Margarita Recipe
One of the favorite ways to serve a Peach Margarita is blended. This cocktail is perfect for peach season or any summer party and this particular recipe adds to the peachy flavor with a hint of schnapps. It's fun, easy, and a sure crowd-pleaser.
1 cup ice
1 1/2 ounces
1/4 ounce
1/4 ounce
1/4 ounce
1 skinned, pitted, fresh medium peach or
Pour the ingredients into a blender.
Pour the contents into a chilled margarita glass.
If the mix is too thick once blended, add more juice or schnapps. If it's too thin, add more ice. Blend again until it's your desired consistency.
This recipe can be split to make two small drinks or you can enjoy the entire batch yourself. If you have leftovers, store the blender pitcher in the freezer until it's time for the next round.
Fresh Peach Margarita Recipe
Peaches come in many varieties and when the produce section fills with more peaches than you know what to do with, turn to this margarita recipe. It is a fabulous way to explore the different flavors of various peaches and is incredibly fresh and perfect for summer entertaining.
The really nice thing about this recipe is that it is not too sweet. Instead, it's a simple variation on the original Margarita that allows the fresh fruit to shine in all its peachy glory.
Ingredients
To make a fresh peach puree:
Skin and pit fresh peaches and place them in the blender or food processor with about 1 tablespoon sugar for every two peaches. Blend until smooth (the consistency of apple sauce).
Alternatively, muddle peach slices with about 1 teaspoon of sugar per peach (or to taste), mashing them until a paste is created.
Store any leftover puree in a jar with a tight-sealing lid. It should be good in the refrigerator for up to one week.
To make the Peach Margarita, pour 1 1/2 ounces tequila, 1/2 ounce each triple sec and lime juice, and 1 ounce peach puree in a cocktail shaker. Shake well, strain into a chilled cocktail glass, and garnish with a peach slice.
Tip: To prevent your peach garnish from turning brown, dunk it into a little lemon juice. It's the same trick we use for apple garnishes and other oxygen-sensitive fruits.
Easy Year-Round Peach Margarita Recipe
There will be times when you want a Peach Margarita and no fresh peaches can be found.
Rather than turn to canned peaches, grab one of our favorite peachy spirits and pour a little schnapps into the mix.
To make the drink, combine 1 1/2 ounces tequila, 1 ounce peach schnapps, and 1/2 ounce each of triple sec and lime juice in a cocktail shaker. Shake and strain into a chilled glass rimmed with salt or sugar.
Tip: You can serve any margarita in any glass you like: margarita, cocktail, and rocks glasses are the most popular. This last recipe is perfect in a double old-fashioned (aka rocks) glass with an ice ball though you can serve it 'up' as well.
How Strong Are These Peach Margaritas?
To estimate the alcohol content of these margarita recipes, let's make a few assumptions about the liquor. We will use an 80-proof tequila, 48-proof schnapps, and 60-proof triple sec. Your drinks may vary depending on the brands you choose, but this will give you a general idea of how strong a Peach Margarita can be.
Frozen Peach Margarita: 12% ABV (24 proof)
Fresh Peach Margarita: 18% ABV (36 proof)
Peach Margarita with Peach Schnapps: 24% ABV (48 proof)
As you can see, the fresh peach drinks are considerably lighter than the last recipe which is made almost entirely of liquor. Yet, any way you choose to mix it up, there's no doubt that the Peach Margarita is a great drink.