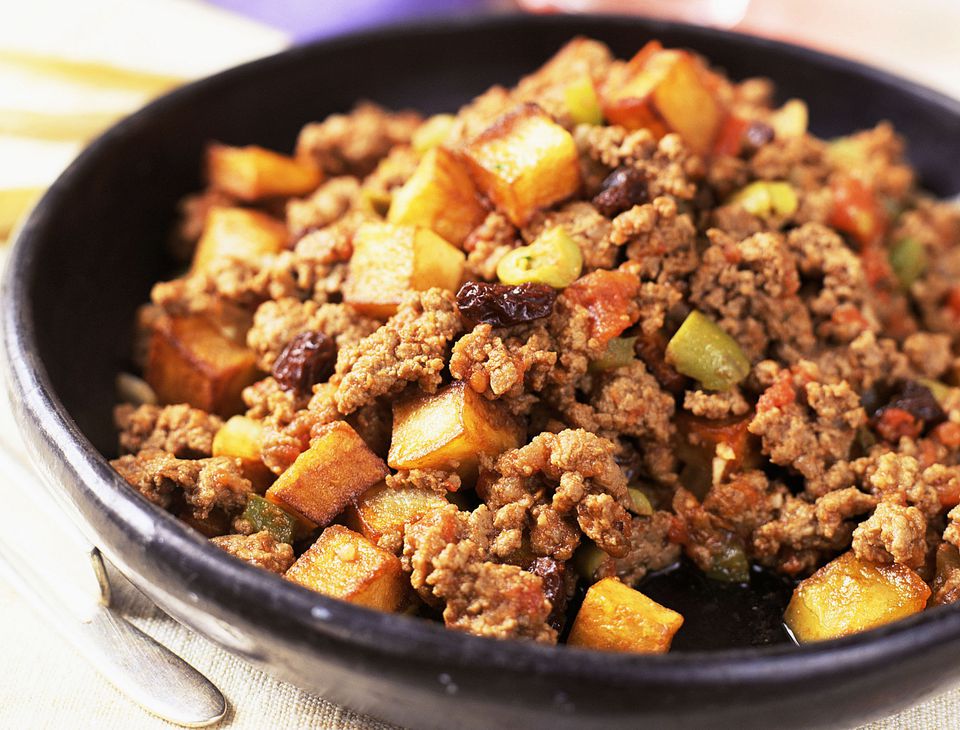 Picadillo (pronounced like pee-cah-DEE-yo) is ground or finely chopped beef cooked with vegetables (and sometimes fruit) and is enjoyed all over Latin America. Depending on the region and people´s personal customs, picadillo can be eaten as-is—often accompanied by rice and/or beans—or used to fill empanadas, chiles rellenos, tamales, tacos, stuffed potatoes, or more. What follows is a pretty basic recipe that can be employed in any of these uses. See more serving suggestions and variations below the recipe.
1 pound (450 grams) ground beef
1/2 of a white or purple onion, sliced or chopped
2 fresh jalapeño peppers, seeded and diced
4-5 cloves of garlic, peeled and diced
4 medium tomatoes, seeded and diced
8 green olives, pitted and sliced into quarters
2 tablespoon of the liquid that comes with the olives
1/4 cup raisins (softened by soaking in warm water for 20 minutes)
1 poblano chile or green bell pepper, seeded and chopped
1 teaspoon ground cumin
1/4 teaspoon ground cloves
1 small cone of piloncillo OR 1 teaspoon brown sugar mixed with 1 teaspoon molasses.
2 potatoes peeled and cubed (optional, see below)
1/4 cup oil (optional for potatoes)
Cook the ground beef, onions, and jalapeño pepper over medium heat until the beef is about half cooked and only some pink remains.

Add the garlic and cook for mixture for 2 more minutes.

Add the remaining ingredients and cook over low heat until the beef is well browned and crumbly and the tomatoes and onions are softened and begin to fall apart and combine with the other ingredients.

Optional: Fry the potatoes in the oil over medium heat in a large pan. When the potatoes have softened and are browned, drain them well, then fold them into the beef mixture.
How to Use Your Picadillo
Feature your delicious picadillo as a main dish. Serve it with rice or mashed potatoes, if you like.

Place a spoonful of picadillo into a hot corn tortilla. Voilá! An instant (and delicious) taco.

Stuff your chiles rellenos with picadillo.

Top a tostada with a spoonful of picadillo and a little cream or crumbled cheese.

Use picadillo as the filling for your own savory empanadas.

Serve picadillo over spaghetti or mix it in with a smaller pasta shape.

Try picadillo as the filling for a pot pie or shepherd's pie.

Picadillo leftovers make delicious mix-ins for scrambled eggs or macaroni and cheese.
Variations on Basic Picadillo
Use ground pork instead of ground beef, or half pork and half beef

Don´t be afraid to add more vegetables to this dish, either to make it more healthful or to stretch it to feed more people. Try diced carrots, green peas, chopped green beans, or corn kernels.

Use canned diced tomatoes instead of fresh if fresh tomatoes are unavailable or out of season.

Add a little dried oregano to your picadillo at the same time as (or instead of) the cumin.

Stir in some finely chopped fresh parsley right before serving for a fresh green flavor note.

Cook the cubed potatoes in with the rest of the ingredients instead of frying them apart.

Use dried cranberries instead of raisins for a nice accent of tart fla
Edited by Robin Grose