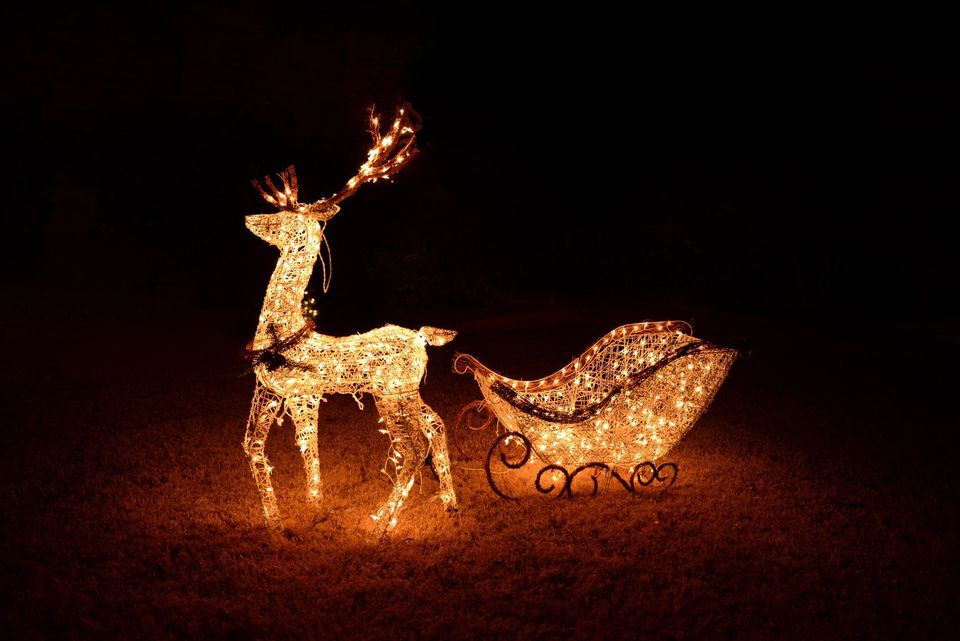 Christmas Light Pictures: Jumbo-Size Outdoor Christmas Lights

Giant Lights Make Huge Statement These giant Christmas light bulbs stand over 16 inches high and function as lawn stakes. David Beaulieu

A Sampling of Lit Displays to Inspire Decorating Ideas

Pictures of outdoor Christmas lights are fun to look at, even though the real thing is obviously better. Many take their family out every year at holiday time for "the tour." This ritual consists of driving around one's home town (and outlying areas) in search of the best lit displays in people's yards. It is one of the best parts of the holiday season.

As enjoyable as it is just to look at such decorations, that is not the reason for...MORE presenting this photo gallery. No, its purpose is to give you ideas for decorating your own yard. These pictures of outdoor Christmas lights have something for everyone, from the tasteful to the "tacky." The display possibilities are almost endless, and the hope is that the images and commentary in this gallery will spur your imagination and supply you with numerous ideas for outdoor Christmas decorations.

So put on your night vision goggles and enjoy the pictures of outdoor Christmas lights below:

Continue to 2 of 26 below.

A More Tasteful Jumbo Christmas Light

Examples of Christmas Lights My image features a big Christmas bulb that dresses up a fence garland. David Beaulieu

The giant Christmas bulbs in the prior photo may be a bit gaudy for some folks.

While one would not call the big Christmas bulb in this picture a "traditional" Christmas ornament for the outdoors, it may be sufficiently well-made to escape the "tacky" label, depending upon how low-key you require your yard decor to be.

Garlands such as this one are very useful in holiday decorating, not least of all because of their versatility. Here, one instantly lends a festive mood to a fence, but they can be...MORE used on a variety of structures. Learn how to hang garland around a door if you are mainly interested in dressing up your front entryway.

Continue to 3 of 26 below.

Lit Angel Christmas Decoration

Angelic Ornament Trumpets Arrival of Christmas Photo of a Christmas light decoration in the shape of an angel. David Beaulieu

Angels are a natural for outdoor Christmas light displays. After all, angels are supposed to radiate light, right? The trumpet in the Christmas ornament shown in this picture is a nice added touch.

Continue to 4 of 26 below.

Enduringly Endearing Teddy Bears

A "Bearish" Look at Christmas Ornaments for Outdoors Teddy bears are insanely popular at Christmas. David Beaulieu

What is it with teddy bears and Christmas? Other than the fact that teddy bears are traditional Christmas presents for kids, it is hard to see the connection.

Be that as it may, teddy bears, popular year-round, are never more so than at Christmas, as this picture of a lighted decoration shows. One fancies the larger figure is a mama bear, and that the smaller one is her baby. She seems to be giving junior a candy cane for the holiday.

Continue to 5 of 26 below.

Spinning Like a Spinning Top

Idea for a Lighted Christmas Display Photo: lighted spinning top ornament for the lawn. David Beaulieu

It is hard to believe that, once upon a time, kids received items such as spinning tops for Christmas presents, not video games.

But you can still get away with giving the kids a top for Christmas -- a lighted top, used as a Christmas lawn ornament, as shown in this picture. Heck, this is one top you, yourself may even enjoy.

Continue to 6 of 26 below.

Lighted Nutcracker Ornament for the Yard

Toy Soldiers a Classic Outdoor Christmas Decoration Picture of lighted nutcracker figure for the holiday lawn. David Beaulieu

Like teddy bears, one supposes that the "Christmas connection" for toy soldiers lies in their traditional use as Christmas gifts for kids.

We are all familiar with the Christmas nutcrackers that come in the form of toy soldiers. In this picture of a lighted Christmas display, a toy soldier is featured as the centerpiece, complemented by a lighted Christmas ball and candy cane.

Continue to 7 of 26 below.

Lighted Christmas Trains

Christmas Displays for the Young -- and the Young at Heart Photo of lighted Christmas train decoration. David Beaulieu

Add trains to the list of icons that have crept into the world of Christmas decor via the "gift route."

That is, like the teddy bears, tops and toy soldiers already discussed, the only rationale apparent for the use of trains in lighted Christmas displays is their association with Christmas gifts. Giving a child (or adult, in the case of some train aficionados) that much-coveted train set is one of our most enduring Christmas traditions.

Continue to 8 of 26 below.

Lighted Gingerbread Man, Lighted Gingerbread House

Christmas Light Displays the Kids Will Love Christmas lights in the shape of a gingerbread man and a gingerbread house will bring joy to any yard, especially once the neighborhood kids notice them. David Beaulieu

Like teddy bears, gingerbread men, gingerbread women and gingerbread houses are popular year-round, but perhaps never more so than at Christmas. The outdoor Christmas light display shown in this picture features Christmas lights in the shape of a gingerbread man and gingerbread house.

Continue to 9 of 26 below.

Reindeer With Outdoor Christmas Lights

A Classic Sculpture for the Holiday Lawn Photo of Santa, sleigh and reindeer with Christmas lights. David Beaulieu

Reindeer sculptures are popular in outdoor Christmas light displays.

Reindeer sculptures come in many forms and are used in various ways as Christmas ornaments for outdoors. Some reindeer sculptures are composed entirely of artificial materials; the reindeer may be either animated or stationary. Others prefer the more traditional grapevine reindeer sculptures.

This picture shows reindeer used in conjunction with a sleigh and a Santa Claus figure to compose a more complete outdoor Christmas light...MORE display.

Continue to 10 of 26 below.

Lighted Christmas Garlands

Classic Decorations for Porch Poles Lighted Christmas garlands wend their way up the poles on this porch. David Beaulieu

Garlands are a staple for Christmas yard displays, especially among homeowners who prefer tasteful Christmas ornaments composed of natural materials. A popular use of lighted Christmas garlands is to wind them around porch poles, as in this photo.

Continue to 11 of 26 below.

Santa's Helper Lit Up for Christmas

Christmas Elf Picture These Christmas lights form the outline of an elf holding a lantern. David Beaulieu

Who needs Rudolph the Red-Nosed Reindeer to light the way with this Christmas elf around? Santa's helper seems to be doing a fine job all by himself, based on this Christmas ornament picture. His lantern and lighted outline would serve to light the way on any stormy Christmas eve.

Continue to 12 of 26 below.

Picture of Lighted Santa Claus Figure

Outdoor Christmas Lights That Children Will Adore Picture of lighted Santa figure for lawns. David Beaulieu

What Christmas lights display is complete without the jolly old elf, himself? "Jolly old elf" refers, of course, to Santa Claus. The nickname derives from the famous poem that begins, "Twas the night before Christmas...."

This lighted Santa Claus figure could serve as a substitute for those who can't bring themselves to erect a Christmas inflatable on their lawns, no matter how much the kids beg for one!

Continue to 14 of 26 below.

Outdoor Christmas Lights on Trees

Don't Restrict Your Choices to Evergreens Photo of Christmas lights on tree. David Beaulieu

When we think of stringing outdoor Christmas lights on trees, evergreens come to mind immediately. And understandably so, since indoor "Christmas trees" are evergreens (blue spruce, fraser fir, etc.). But if it is a light show at night that you want, deciduous trees will serve the purpose just as well, as this photo shows.

Continue to 15 of 26 below.

Christmas Cluster Lights

An Alternative to Strings of Christmas Lights Picture of Christmas cluster lights. David Beaulieu

You have other options for outdoor Christmas lighting beyond the usual strings of lights. When hung on a tree, Christmas cluster lights make for an airier decor than do the usual strings of bulbs.

Continue to 16 of 26 below.

Lighted Weeping Tree

Outdoor Christmas Lighting Idea Photo of weeping tree with Christmas lights. David Beaulieu

With their unusual forms, weeping trees add an interesting element to a landscape design at any time of the year. Strung with outdoor Christmas lights, their weeping habits can yield some novel results.

Continue to 17 of 26 below.

Outdoor Christmas Light Displays

Taking Christmas Lawn Ornaments to Another Level Photo of Christmas light decoration in the shape of a helicopter. David Beaulieu

The owners of this Christmas light display were not content adorning their lawn and house with lighted Christmas ornaments. So they took to the air, using a helicopter outlined with outdoor Christmas lighting.

Continue to 18 of 26 below.

The Lamplighter Cometh

Lamp Post Decorated for the Holidays Photo of lamp post with Christmas lights. David Beaulieu

If you have a lamp post in the yard, then you have a leg up on creating a Christmas light display. Just twine a garland around your lamp post, perhaps adding some red ribbons, then perform your function as lamplighter by flicking the switch.

Did you know that in days of yore, when towns lit their streets with gas lights, an individual dubbed a "lamplighter" was in charge of lighting the town's lamp posts at night, then extinguishing the flames the next morning? Ever since,...MORE "lamplighter" has taken on the additional meaning of someone or something that brings enlightenment to people.

Continue to 19 of 26 below.

Christmas Light Displays for Decks

Deck Lighting, Christmas Style Photo of Christmas lights decorating a deck. David Beaulieu

"Deck the halls with boughs of holly" is a famous injunction for decorating indoors. But outdoors, some folks literally have a deck to "deck out." Decks provide a sturdy, accessible base for outdoor Christmas light displays. Displays of the sort shown in this picture, featuring a "Happy Holidays" welcome and poinsettia flowers in lights, give a whole new meaning to "deck lighting."

Continue to 20 of 26 below.

Lighted Santa's Sleigh

With the Obligatory Reindeer Christmas light decoration composed of Santa Claus, his sleigh and two reindeer. David Beaulieu

Santa's sleigh is whisked through the air by Rudolph and the other reindeer on Christmas eve. And this outdoor Christmas light display captures the event.

Continue to 21 of 26 below.

Lighted Snowflake Ornament

A Kind of Snow You Don't Have to Shovel A snowflake makes for a classy Christmas light display. David Beaulieu

If you live in a warm climate, your Christmas light displays may lack a backdrop of snow. No problem, just incorporate a lighted snowflake ornament such as this one into your display.

Continue to 22 of 26 below.

Driveway Arch Lit Up at Night

Festive Bells Hang Down to Ring Out Holiday Cheer This image shows an arch with Christmas lights, complemented by festive bells. David Beaulieu

Christmas lights on shrubbery, on the house, on lawn ornaments. What's left? Well, these folks found a way to work in some additional outdoor Christmas lights. They lit up the arch over their driveway. The bells are a nice finishing touch.

Continue to 23 of 26 below.

A Modernistic Touch

Lighted Christmas Display With Rounded Lights Christmas light decoration photo. David Beaulieu

What catches one's attention in this lighted Christmas display is the group of three white, rounded lights to the right of the door. They offer something of a modernistic touch (perhaps unintentionally).

Continue to 24 of 26 below.

Net Lighting

Easy Outdoor Christmas Lights Photo of net lighting. David Beaulieu

Net lighting has become very popular for lighted Christmas displays outdoors. Ease of installation has a lot to do with the popularity of net lighting. Many homeowners simply drape the netting over the bushes in their foundation plantings. It is that easy to use.

Continue to 25 of 26 below.

White Lights vs. Colored Lights in Christmas Decor

The Great Debate in Christmas Light Displays You don't have to choose between all white lights or all colored lights in your Christmas decorations, although I prefer either/or. David Beaulieu

If you prefer the "tasteful" entries in this gallery of holiday yard decorations, then you are probably a fan of white lights for Christmas decor. Others prefer to inject more color into their Christmas decor and use a number of different colors in their Christmas light displays. But as the picture shows, still others opt for a mix: white lights in one area, colored lights in another. Such a Christmas light display does, however, leave you open to suspicion. The neighbors may wonder,...MORE "Did they make their lighting selection based on what was on sale at the time?"

Continue to 26 of 26 below.

Skiing Snowman

Funny Christmas Pictures Christmas light photo showing a snowman skiing. David Beaulieu

When one sees this lighted Christmas display of a snowman skiing, one can't help but wonder: If there should be an avalanche, would he get hurt? After all, when he is in the snow, he is more or less in his element, right?