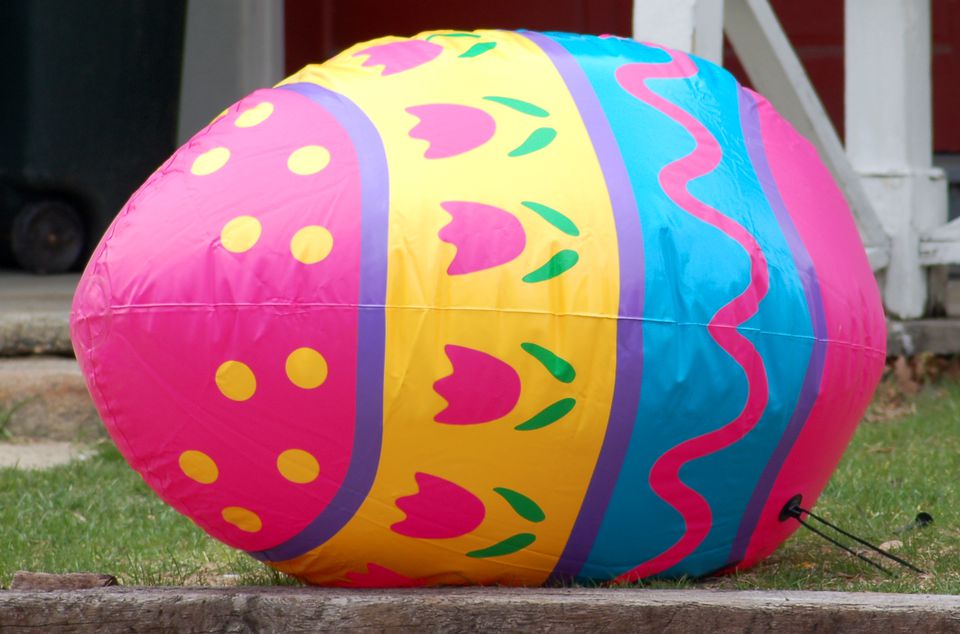 Outdoor Easter Decorations: Flag Picture

Easter Bunny, Easter Eggs Usher in Spring

Browse these pictures of outdoor Easter decorations to gain ideas for your own yard. See examples of ornaments featuring baskets, bunnies, chicks, eggs and more. Materials for the ornaments shown in the pictures below range from wood to nylon inflatables.

Outdoor Easter decorations are not nearly as popular as their Halloween and Christmas counterparts, but displaying them in the yard is a great way to kick off the spring season. The colorful flag shown...MORE here celebrates the season, whether it is Easter or spring that you are celebrating.

The Easter basket is one of the enduring symbols of the season.

Continue to 2 of 20 below.

Easter Bunnies Picture

Lighted Easter Bunnies Picture of Easter Bunny family on doorstep. These Easter Bunnies light up. David Beaulieu

Plastic lighted ornaments are a more traditional decoration for the outdoors than are the inflatables. An Easter Bunny family of lighted ornaments decorates this doorstep.

Continue to 4 of 20 below.

Easter Garden Stake Picture

Here is a close-up picture showing one of the see-through Easter Bunny decorations featured in the prior photo. For those who dislike gaudy yard ornaments, these see-through Easter Bunnies strike me as being a good alternative.

Continue to 8 of 20 below.

Easter Wreath Picture

Forsythia flowers are one of the harbingers of spring. As such, forsythia wreaths fit nicely into an Easter-decor theme. Their bright yellow color does not hurt, either (yellow being an "Easter" color, traditionally).

Continue to 12 of 20 below.

Pussy Willow Picture

Like forsythias, pussy willows are harbingers of spring. And just to drive home the spring theme further, this wooden planter features pansies, the first annual to be planted each spring in Northern gardens.

Continue to 13 of 20 below.

Wooden Tulip Decorations in Easter Window Box

This photo continues the theme of early-spring plants used in outdoor Easter decorations. Tulips are bulb plants, and they are one of the signposts announcing spring's arrival. The tulips in this Easter window box, however, arrive independent of weather conditions: They are wooden.

Continue to 15 of 20 below.

Easter Eggs as Outdoor Easter Decorations

As mentioned previously, Easter eggs are commonly hung on shrubs to celebrate the season. This practice is a nice way to inject some color into the otherwise barren Northern spring landscape.

Continue to 18 of 20 below.

Fence Makes Nice Backdrop for Egg Ornaments

Easter Eggs With a Picket Fence Backdrop Picture of Easter Eggs on bush, with a picket-fence backdrop. David Beaulieu

As in the prior photo, here Easter eggs decorate a shrub. But the treatment here is more effective, because the white picket fence serves as a nice backdrop.

Continue to 19 of 20 below.

Picture of Easter Bunny With Basket

Lady Easter Bunny With Easter Eggs in Her Basket Picture of lady Easter Bunny with basket of Easter eggs. David Beaulieu

This outdoor Easter decoration nicely incorporates three traditional elements in Easter decor: A lady Easter Bunny carries Easter eggs in an Easter basket.

Continue to 20 of 20 below.

Easter Bunny Inflatable Set in Easter Basket

Did you like the earlier image showing an air-blown Easter Bunny figure?

In this picture the decorative effect of the inflatable is enhanced by the way it is displayed. This Easter Bunny is nestled securely in an Easter basket. You will not encounter this decoration much in your travels. It is unknown as to whether or not the ensemble is commercially available (the assumption here is that the Easter basket is home-made).