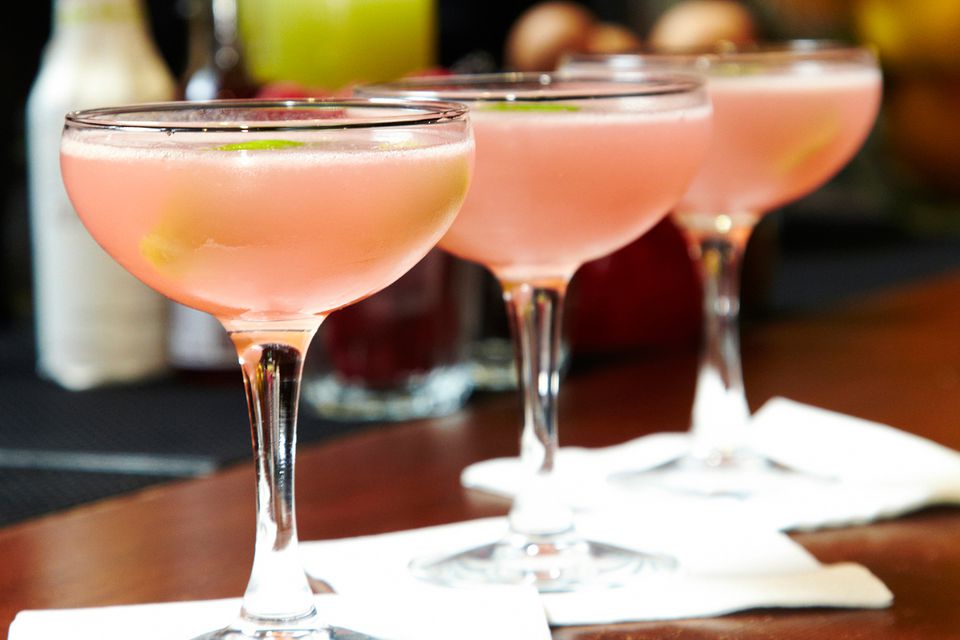 The Pink Lady is a classic cocktail that has a light blush color contributed by a few dashes of grenadine. It was one of the first "girly drinks" and a favorite of the high society ladies from the 30s through the 50s.
The really nice aspect about this cocktail is that it's not too sweet. Unlike many of today's pink cocktails, it has a slight fruity sweetness from the grenadine, but the botanicals of a good gin are still allowed to shine. You will find that it has a much drier, gently tart flavor profile.
The key to any egg cocktail such as this is to shake it longer than you would most cocktails to ensure that everything is mixed well. The egg also makes a great foamy top on the pink liquid and creates a spectacular looking cocktail. If you prefer, you can simply skip the egg. It's a great drink either way.
Pour the ingredients into a cocktail shaker with ice cubes.
Strain into a chilled cocktail glass.
Garnish with the cherry.
More Tips for Making a Great Pink Lady
The Gin. The Pink Lady is the ideal cocktail for a little gin experimentation. It can work well with the traditional London dry gins like Beefeater and Tanqueray and it is equally delightful with any of the new gins.
Feel free to pour a shot of Hendrick's or Aviation into this cocktail or use it to explore the mixability of any new gin you discover.
The soft profile of the drink will mix well with almost any gin and each will be an entirely new experience.
The Applejack. Applejack is an old-fashioned apple brandy that is making a slow and steady comeback. It was very popular to use in cocktails like this and if you're a fan of old-timey drinks, it's worth the effort to seek out a good applejack.
Tip: Laird's is the best-known applejack and it is rather easy to find.
Small distilleries are often your best source for a quality applejack. It's one of the easiest distilled spirits for craft distillers to produce and they often source their apples locally. If you're in an apple growing region, look to your local distillery for an apple brandy. Hudson Valley Distillers is a perfect example of what you can expect to find.
How Strong is the Pink Lady Cocktail
The Pink Lady may be a pretty little cocktail, but she does pack a punch. Yet, she is no different than the average classic martini-style cocktail because they're often made primarily of liquor. Assuming that you use an 80-proof gin and applejack and you do opt to include the egg white, you can expect the Pink Lady to weigh in around 25% ABV (50 proof).