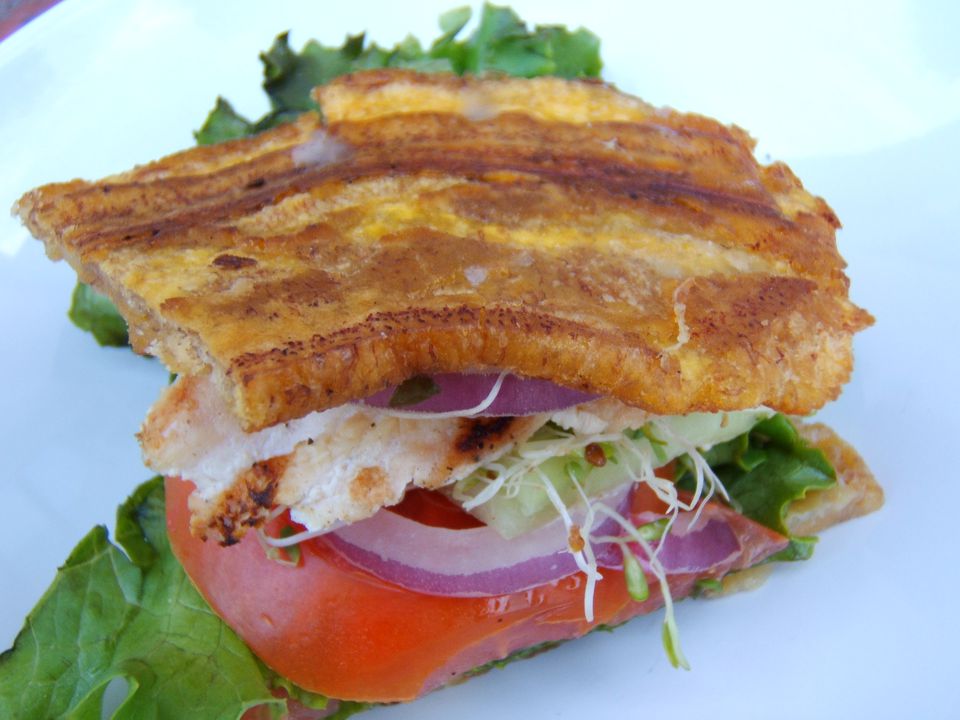 In Puerto Rico, "jibaro" is a reference to the islands rural, agrarian population, but in Chicago a jibarito is a unique and original sandwich created by Puerto Rican immigrants. Its distinguishing feature is the replacement of bread with smashed fried plantains. (Serious Eats)
My jibarito version has a roast beef filling with Swiss cheese, lettuce, tomato and seasoned mayonnaise. You can make these large or small for party sandwiches.
Oil for frying plantains
2 large green plantains
4 handfuls lettuce
1 tomato (cut into thin slices)
1 onion (peeled and cut into slivers)
4 slices Swiss cheese (sliced for sandwiches)
1/4 pound roast beef (thinly sliced)
1/4 cup mayonnaise
1/4 teaspoon chili powder
1/4 teaspoon cumin powder
1/4 teaspoon garlic powder
8 Toothpicks and olives to hold the sandwich together
Heat the oil to 375 Fahrenheit.
Peel the plantains. Cut the plantains in half, then cut each half lengthwise.
Fry the plantains in oil for 4 minutes. Remove from hot oil and drain on paper towels.
Flatten the plantains. Re-fry in the hot oil for another 4 minutes. Remove from the oil and drain on paper towels. Set aside.
Mix together the mayonnaise, chili powder, cumin powder and garlic powder.
Spread the mayonnaise mix on one side of the flat plantains.
Build your "sandwich" layering the tomatoes, onions, cheese, and roast beef, using the flat plantains as the bread.
Stick a toothpick with olives in the middle of the "sandwich".
Serve immediately.
Servings: Makes 4 jibarito plantain sandwiches.