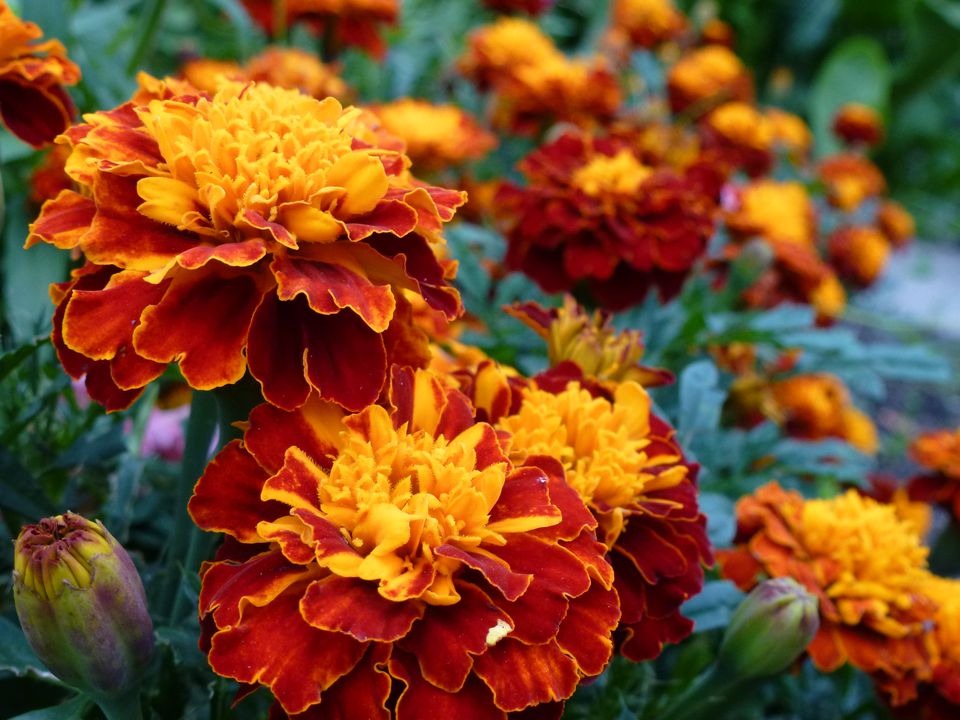 When you think of having autumn colors in your landscaping, do not forget about planting fall flowers. People normally think of fall-foliage trees or shrubs with colorful autumn leaves when they think of harvest-time displays, but perennials can add a lot of color, and annuals are an inexpensive alternative. You may associate annuals with late spring (everyone gets the planting bug in spring), but fall planting is the mark of the true lover of great landscaping, who gives even tender annuals such as marigolds a spot on the autumn landscape.
For success in enjoying such plants in the autumn landscape, though, you need to plan ahead (no later than August).
Growing fall flowers in the garden will improve a landscape that is already graced by fall foliage trees. But if your landscaping lacks such trees altogether, planting fall flowers takes on even greater importance. The color display put on by these annuals and perennials is a great addition to the non-living autumn decorations in your yard, be they carved pumpkins, cornstalks, witches, or scarecrows. This article will list some of the best choices, while giving you tips along the way on how to save money and more.
When Should You Plant Fall Flowers?
But exactly when should you be planting fall flowers? You surely shouldn't wait for autumn, itself, unless you live in a warm climate. Putting them in the ground too late robs you of much of what little time you have to enjoy them.
On the other hand, even in the North, it's usually too hot to plant through the first part of August. So the window of opportunity for planting can be quite small. 
Making matters worse is the fact that there's no set date to give you for planting, even for particular regions. Rather, it's something that has to be played by ear.
Some summers, a rainy period arrives in mid-to-late August, giving you the perfect opportunity for planting. Other summers, a late August planting would still subject your transplants to too much heat-stress, and it would be better to wait until early September. 
Further complicating the issue is the question of what plants are available to buy at this time. As the summer wears on, fewer and fewer garden centers will be carrying your favorite annuals. That is why you should buy the annuals that best fit your desired landscape color schemes no later than early August, while they are still in stock.
Many homeowners think that planting fall flowers means limiting yourself to hardy species (plants that will survive the first frost) like chrysanthemums, ornamental kale, flowering cabbages, and dusty miller.
All of these will provide the landscape with color well after frosty weather arrives. 
Perhaps you've wondered what the difference is between flowering kale and flowering cabbage. They're both considered Brassica oleracea. And in both cases, the "flowering" in the name is something of a misnomer, since the pretty color you're seeing is not a blossom, but rather in the foliage.
Here's how one Master Gardener explains the difference between flowering kale and flowering cabbage:
"The plants with smooth leaf margins are considered flowering cabbage."
"Plants with serrated or fringed leaf margins are considered the flowering kales."
The best thing about flowering kale and flowering cabbage is their cold hardiness. This trait makes them a perfect substitute for real flowers after the latter have been killed by the frost. In fact, they may still be providing the landscape with color after your painted pumpkin face has been ruined by the cold (or by rodents). Flowering kale and flowering cabbage are thus useful pieces of a landscaping puzzle designed for the most enjoyment over the longest possible period of time.
But don't be afraid to mix in some annuals, too, including:
Marigolds.
Nasturtium.
Lobelia.
Pansies (treated as annuals in the North).
Snapdragons.
Celosia.
The contribution of annuals will be brief, but spectacular. Marigolds are one of the best picks, because they bloom in the classic autumn colors: orange, yellow, gold, etc. The two most common groups of marigolds are the French marigolds (Tagetes patula) and the African marigolds (Tagetes erecta). In each case, the common names are misnomers, as the marigolds are New World plants, native mainly to Central and South America. 
From the point of view of saving money, you may be questioning the wisdom of planting such tender annuals as marigolds as fall flowers. Isn't it a waste of money to plant something that will be dead in a few weeks? It would be a waste of money, if you were getting them at springtime prices. But here's a way of avoiding paying top dollar for them.
Take Advantage of Plant Sales Late in the Season
Cheap flowers can be found in July and August. By slashing prices after prime time for annual sales has passed, garden centers try to unload leggy annuals that they could not sell in spring. Ideally, they want to move these cheap flowers by July. But others grow or buy in fresh recruits and continue to carry an inventory of cheap flowers during August.
The cheap flowers in the "leggy group" may not look like much when you buy them, because they have been sitting in nursery flats for too long. But they are still a great bargain, because they can be revived, provided that you follow a few simple tips. Check the undersides of the leaves first, though, to make sure they are bug-free. A bug-laden plant is no bargain, no matter how cheap it is.
It is too hot to plant these flowers in July, but that shouldn't stop you from buying them. Go ahead and purchase the annuals, but do not plant them in the ground yet. Instead, transplant them into containers. Container gardening means mobile gardening. Containers can be moved in and out of the sun, based on how your annual is holding up to the summer heat. You simply do not have this flexibility with annuals planted in the ground.
The containers do not have to be anything fancy, since your aim at this point is not to display the flowers. Rather, you are just looking to nurse them back to health. So a suitable vessel for such container gardening can range from a wooden box to that poinsettia pot you threw behind the garage after last Christmas. Just make sure that you disinfect the container first, and drill drainage holes in it if the container does not already have such holes. To disinfect used pots, just soak them for several minutes in a bleach-water solution (one part bleach to nine parts water), then wash them as you would kitchen pots (with sponge, hot water, and dishwashing liquid).
When you knock the annuals out of their flats, check the root-ball. If it is wall-to-wall roots, forming such a dense mat of roots that soil is not dislodged even when you squeeze the root-ball, then you have a root-bound plant. You would not think, perhaps, that there could be such a thing as too much root growth. But when roots have been growing in cramped quarters for too long, their growth becomes deformed. Instead of branching out in a healthy pattern, they start to grow in on themselves, forming a dense mat that is unhealthy for the plant.
All is not lost, though. Before transplanting a root-bound plant, just break up that dense mat of roots, by scoring all around the root-ball with scissors or a knife. It seems harsh, but this is a case where a little corrective surgery can do wonders.
Also, many annuals respond well to a good "haircut." You can revitalize everything from alyssum to petunias by simply taking a pair of scissors and removing the top 1/2 or so of the current growth (stems, leaves and flowers). In fact, you almost have to do this if your annuals are leggy.
During August you can nurse along your bargain-basement annuals, getting them ready for fall planting. When temperatures cool later in the month or in September, transplant your annuals out of their containers and into the ground for an eye-catching display of fall flowers.
But What If You Wait Till August to Shop for Fall Flowers?
The brown thumbs among you will be glad to hear that there's another way to provide yourself with seedlings for a fall planting. Some retail outlets, as noted above, call in fresh recruits (seedlings started in summer) to put on sale as the dog days of August are coming to a close. These plants are just starting out in life, so their foliage will still look nice and fresh by the time they bloom in fall. This means that you will not have to nurse them back to health. You may pay a bit more for them than for the older, leggy plants, but they are still often sold at a discount, due to lack of consumer interest in annuals so late in the season.
Either way, the beauty of buying such flowers for fall is that you can thumb your nose at Jack Frost. Let the frosts come when they may. You have little to lose, since you didn't invest much money into them. But how should annual and perennial flowers be arranged? To answer that, we must turn to a short introduction to landscape design.
Landscape Design Tips for Arranging Fall Flowers
While color schemes come to mind right away, especially when landscaping front yards for fall, color is but one of the five basic parts of landscape design. Let us look at two of those other parts to see how they can be used to improve your front yard landscaping: namely, texture and form. And if, when buying your fall flowers, you make your choices with an eye to achieving contrast (either in form, texture, or both), your landscaping will have neighbors convinced that you are a real pro at landscape design.
"Form" roughly means the shape of a plant. Visual interest can be achieved in landscape design by using contrasting shapes. For example, a mound-shaped plant like Silver Mound artemisia (Artemisia schmidtiana 'Silver Mound'), a perennial as far north as planting zone 4, gives you a good counterpoint to a spiky plant such as dracena, aptly nicknamed, "spikes" (Dracaena indivisa). Both artemisia and dracaena are grown for foliage, not blooms; so add some fall flowers to such a planting to give it more color.
Landscape designers also take the form of individual parts of a plant into account. For instance, the leaves of one plant can have a form different from those of another plant. Leaf form and bloom form are, in fact, at the very heart of the other landscape design element that we will discuss, namely, "texture."
For form cannot be completely separated from texture. Texture is mainly a visual matter in landscape design theory (rather than having to do with touch). It is dependent upon the form of the blooms of a plant, or, especially, its leaves. But speaking of the texture of a plant in isolation makes little sense. Some context must be provided. We draw conclusions about plant texture based on how it compares or contrasts with the plants around it, either in terms of size or form.
The texture of the leaves of Silver Dust dusty miller (Senecio cineraria), for example, with its toothed edges, contrasts greatly with a neighboring plant whose leaves have smoother edges, such as red salvia, (Salvia splendens 'Red Hussar'). The former is perceived as having a more delicate texture.
Likewise, visual interest is provided by putting a relatively small-leafed, more delicate plant, such as chrysanthemum (the hardiest will overwinter in planting zone 5), next to a plant bearing larger leaves, such as the coarse-looking ornamental kales and flowering cabbages. Chrysanthemums (or "mums") are one of the most popular fall flowers.
Let There Be Color!
As you will see from the above thoughts, a plant's form and texture have much to contribute to landscape design. But while there is more to a design with autumn flowers than just color selection, the element of color does, of course, play a large role. 
Most people have specific colors in mind when planning a fall color scheme for their perennial or annual flower gardens in fall. A fall color scheme of red-yellow-orange is a classic for the harvest season. Orange and yellow nasturtiums (Tropaeolum majus), lemon yellow French marigolds (Tagetes patula 'Lemon Drop'), and reddish-purple plumed celosia (Celosia argentea var. cristata), for example, will set your annual flower gardens ablaze in autumn.
A metallic color scheme is also popular in fall landscape design: golds, silvers and bronzes. For example, golden African marigolds (Tagetes erecta 'F1 Gold Galore'), Silver King artemisia (Artemisia ludoviciana 'Silver King,' a perennial to zone 5), and a bronze coleus (Coleus x hybridus) work well together.
Alternative Fall Color Schemes, More Choices for Perennials
But not everyone favors these traditional fall color schemes. Some prefer the pinkish-purple chrysanthemums over other colors, and another perennial, the purple New England aster (Aster novae-angliae), is popular for fall planting. If you need a taller specimen, inquire at local garden centers about a red to reddish-purple annual known as, "love-lies-bleeding" (Amaranthus caudatus).
While the focus above has been on annuals, don't forget about some of your perennial choices for fall flowers, which include: