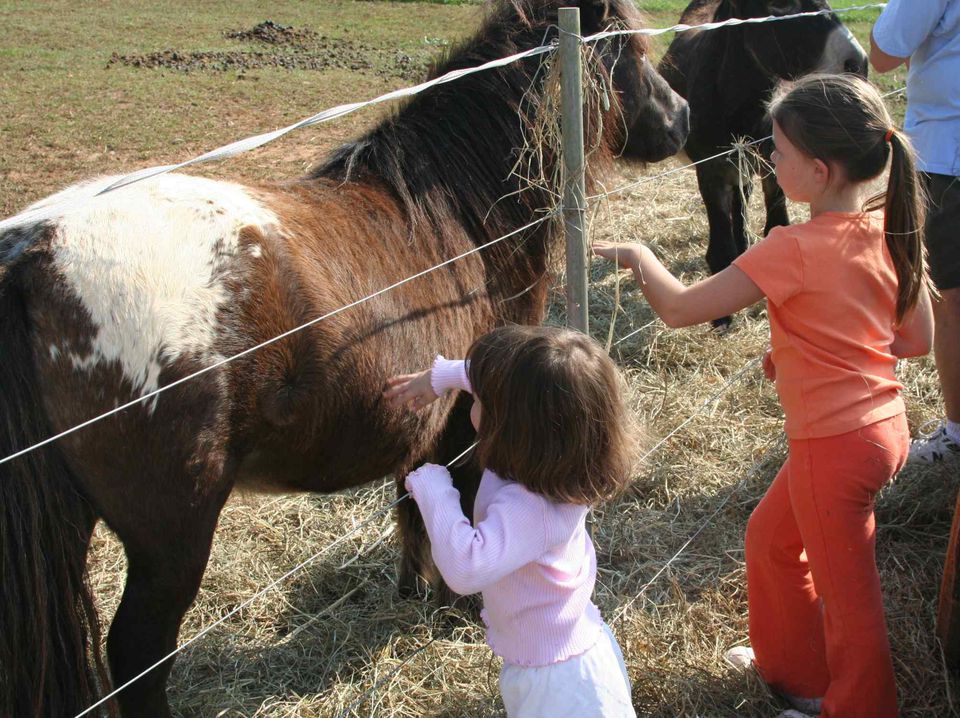 Out of play date ideas? Great play dates for your playgroup don't have to be limited to someone's house. Take your play date on the road and meet up at one of these 10 play date venues your playgroup will love.
The Zoo
Load the kids in the car and meet your playgroup at the zoo. Younger children too little to walk the zoo grounds can ride along as you and your mom friends push strollers.
The zoo is one of those play date ideas that gets the kids out of the house while giving you some time to talk with other moms.
Since the kids are in their strollers, you have more of a chance to actually visit with your friends instead of having to police the children every two minutes.
Playgrounds
Play date ideas that let your children run, jump and play are always a hit. Let your kids get active with their friends at the playground.
With smaller children, you won't be able to visit with your mom friends as much because you'll be chasing your little ones around to keep them safe. But if you take a picnic, you can have some downtime for everyone to visit more with each other.
Look for smaller playgrounds for your play date. If you or one of the play date moms attends a church, chances are, they have a playground you could visit. The smaller playground feels more like a private playgroup instead of having your play date at a massive playground that's likely to be busy. Another advantage of a smaller playground is that it's easier to keep an eye on your children.
Bounce House Centers
Bounce house centers usually have specific times when children under five can play without you having to worry about your preschoolers getting trampled by bigger kids. Many allow you to get into the bounce house with your children too. This is convenient for moms of kids under two who want to come to the play date but their kids aren't quite ready to bounce.
The moms can gently help their children bounce while also visiting with other moms.
You'll usually find the babies love sitting in mommy's lap because the inflatable still lets them feel some movement. Moms get to visit and babies get to experience a toned-down version of bouncing.
Splash Pad
Warm temperatures make splash pads ideal for your next play group outing. Take bath toys, cups and plastic bowls for younger children so they'll stay in one spot. Splash pads are a good choice for younger children because they usually have areas of low squirting water so you don't have to worry about your kids getting frightened by high pressure water hitting them in the face.
If you've never been to a splash pad before, try to scope it out before your play date. Some children play date age hate the water so you don't want to get there for your play date and have to deal with a screaming child instead of having fun.
The Park
Encourage everyone to bring a sack lunch and visit your favorite park. Plan some outside activities for the kids so they're not aimlessly roaming the entire park. You can even try play date games that will give them some structured, but energy-burning, play time with their friends.
The Library
Walking into a library with a group of children may seem adventurous but the library has lots of events that are perfect play date ideas. They usually have one day a week where they host story time to engage little ones in the fun of reading. There's also a craft related to the story after the librarian has finished reading.
Libraries also host themed days. One day your kids might get to meet a firefighter and even get to explore a real fire truck. Another day, they may get to meet a fish enthusiast who's brought some of his aquariums to the library for your children to see. Check with your local library to see what types of events and activities they have coming up.
Local Farms
Many local farms have certain times of the week they will open the barn doors, so-to-speak, and let families come visit.
Kids can pet the animals, learn about the life of a farmer and even play in some of the wide open spaces together.
These outings are fun and educational for children. They're also a good way for the younger ones to get up and closer with those farm animals they've been seeing in their books at home.
Art Studio
Many local art studios open to families at least once a week. Your kids can learn about art while also creating their own masterpiece.
Artists discuss the different mediums for art while children get to paint and draw like a pro. Look around for studios that let kids decorate ceramics, create their own pottery and paint on canvas.
Holiday and Seasonal Outings
Take your play date to the pumpkin patch before Halloween. Let them pick their own seasonal fruits and vegetables at the farm. Have a night play date and walk through a neighborhood singing Christmas carols. Holiday and seasonal outings make your play date special since these types of activities are unique and can't be enjoyed all year long.
Plan your play date well enough in advance so that you can call ahead to these places, such as the pumpkin patch, so they'll know your group is coming. You don't want to show up only to find they can't accommodate your group because there's a private party or another large group on the premises.
Venues Unique to Your City
Your city more than likely has some unique outings just waiting for your playgroup. Your local museum may have play areas where kids can lean about art while also playing with the museum's toys. Another museum may have dress up areas for kids to encourage their imaginations. A local factory may offer behind-the-scenes tours. A skating rink may have certain times in the morning where kids can bring their ride-on toys and play on the skating rink floor with other kids their age. A local train station may have dates and times when they let families take train tires and rides.
Look for play date ideas that are unique. These places will make your outing even more fun for your mom friends and your children.