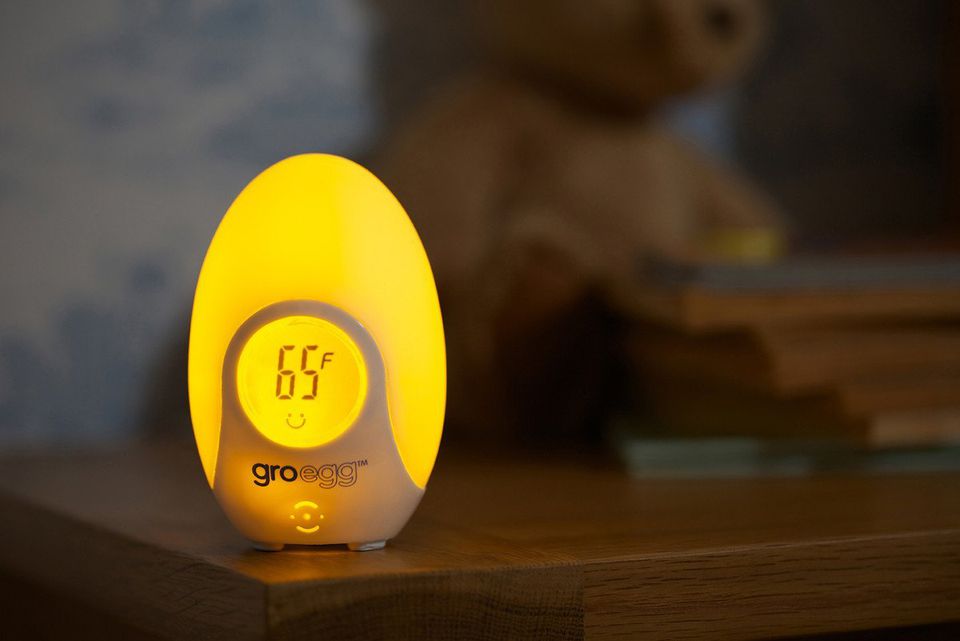 SIDS: It's every parent's worst nightmare. Looking for a way to put your fears at ease? What better way to keep the terrors of the night at bay than with a nightlight?
Meet the Gro-Egg. This adorable, egg-shaped nightlight has your garden-variety monster-under-the-bed covered, but that's not all. Its easy-to-identify, color-changing warning system can also alert you to dangerous temperature changes in the nursery, preventing your little one from overheating and reducing their risk of SIDS.
Keeping your baby cool and comfortable is a vital part of nursery safety. Warm and stuffy rooms make for poor air circulation - a significant risk factor associated with SIDS. In fact, one study found that parents could reduce their child's risk of SIDS by as much as 72% simply by using a ceiling fan in the nursery.
Buying a nursery thermometer is a great way to ensure your little one stays safe, especially during afternoon naps when direct sun can make nursery temps soar unexpectedly. Live in a cold climate? Your child is actually at greater risk. Central heating can quickly become oppressive, and upstairs bedrooms can be much warmer than the rest of the house.
While most thermometers would require you to walk into the nursery (potentially disturbing your sleeping child), a quick glance at your Gro-Egg nursery thermometer's color-coded display is enough to assure you that all is well. When the room is a comfortable temperature, the egg's dome glows an ambient yellow.
If it's too cold, the light turns blue. Should the room become overly warm, the light turns red, letting you know your baby's safety is at risk. You can even check your baby's comfort level using your video monitor! It couldn't be easier!
The Gro-Egg is available on Amazon and can also be purchased from other major retailers, like Walmart and Toys R' US.
Theme-enhancing "egg-shells" featuring friendly characters are also available, making your Gro-Egg as fun as it is practical.
For more nursery safety tips, please visit our Safety Basics page.