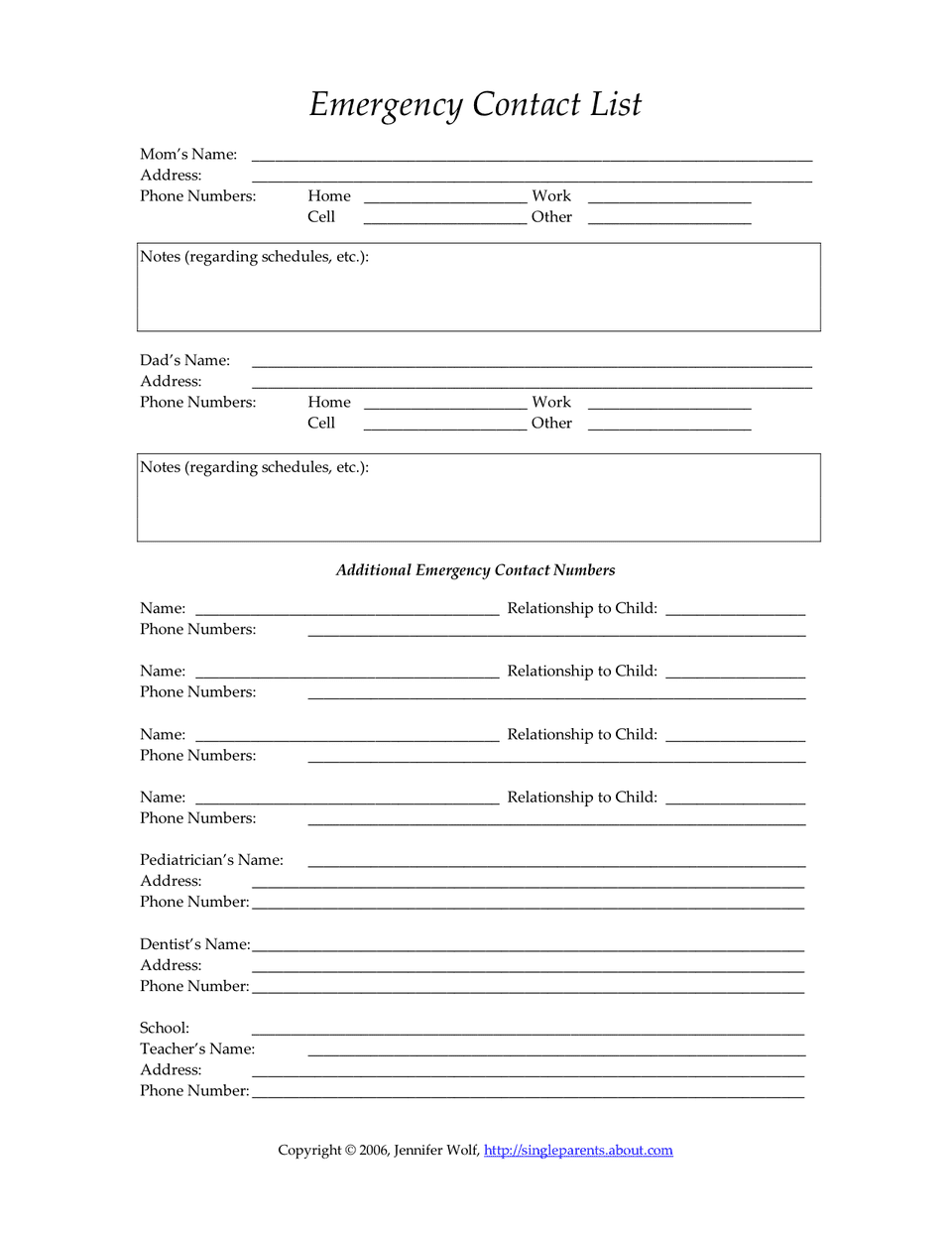 Would your child's school or caregivers know how to reach you in an emergency? What about your ex? Use this printable child's emergency contact form to ensure that anyone caring for your kids—from school personnel to neighbors, family members, and friends—can reach both of you at a moment's notice. Share copies with your kids' babysitters, and remember to post a copy in a prominent location at home, too.
This way there will be no question about who to contact in an emergency. 
What to Include on Your Child's Emergency Contact Form
The issue with most emergency contact forms is that there isn't enough room for both parents' contact information, including home addresses, phone numbers, and work information. That's why the child's emergency contact form available here includes:
Full contact information for both parents
Your child's physician and dentist
Up to three additional contacts
Space for recording your family's visitation and work schedules
Directions for How to Use Your Child's Emergency Contact Form
Print your child's emergency contact form. Note: The form is in PDF format. You can download Adobe Acrobat Reader if your computer is not configured to read PDF documents.
Fill out your information. Be sure to include your cell phone and work numbers.
Add your ex's information.
Add contact information for other adults in your child's life, such as local grandparents, aunts, uncles, and close neighbors who could care for your child in an emergency.
Make as many copies as you need.
Save an extra to post on your refrigerator so that it is accessible to babysitters and your kids.
Distribute copies to every person who cares for your kids.
Update the form and distribute new copies every time your contact information (or your ex's) changes due to a new cell phone number, new job, or move.
Frequently Asked Questions
Do I really need to use a form like this?
Yes. Being prepared for an emergency means being prepared for the unexpected. Even if you are typically with your kids 24/7, you should distribute up-to-date copies of this emergency contact form to anyone who would potentially care for your kids if you were ill or out of town. 
Who should have a copy of the form?
Anyone and everyone who cares for your kids in your absence. This may include babysitters, neighbors, school/daycare personnel, family members, and all of your back-up childcare providers.
Do I need to have the form notarized?
No. Your form does not need to be notarized because you're not using it to communicate your consent for medical treatment, as you would with a medical release form.
Do my ex and I have to agree about what's listed on this form?
No. The form lists each of your phone numbers, information about parenting time schedules, and the phone numbers for your kids' pediatrician, dentist, and school/childcare.
How many phone numbers do I need to include?
You should include all of the numbers where both parents can be reached. Generally, this would include your home, work, and cell phone numbers. There is also room on the form for including additional phone numbers, such as the friends and neighbors you rely on in an emergency.
How often should I update my emergency contact form?
Review your emergency contact form least once a year and update it any time the information changes. For example, if your ex gets a new job, print new copies of the form so that you can update his contact information accordingly.