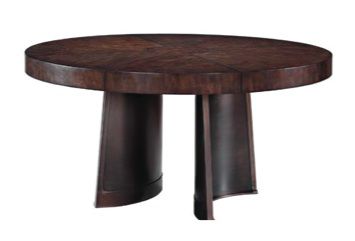 Furniture maker Thomas & Gray prides itself on creating furnishings for relaxed, elegant living and operates under the straightforward tagline of "Finer Things." The casegoods company looks to make beyond-the-ordinary products accessible and to link generations through timeless pieces designed with longevity in mind.
Timeless Choices
At press time, Thomas & Gray's catalog featured six collections to suit those of traditional, contemporary or casual preferences.
You'll find a full range of options here. Amid the six collections are accent tables, beds, benches and ottomans, buffets and sideboards, chests and nightstands, and much more. And the variety is impressive -- from the rustic, yet refined Wine Tasting Table to the Old World-inspired Flemish Chest.
The designs here always begin with classic inspiration taken from the complete history of furnishings design. There is, for example, a hand-carved, Italian-inspired bed; a sleek, steel occasional table; and a storage cabinet featuring Ionic-style columns inspired by Roman architecture.
Products are carved and shaped to best show their features. For example, in the photos you can scroll through above, the Bridge Table could easily be labeled sleek and contemporary, yet its clean, simple lines will allow it to slip into many a decorating scheme; the Crofters King Bed is carved from hand-antiqued Flormorado wood and features a woven leather headboard linked to the solid wood bedposts with iron fasteners; and the Artisans Chest, made from Colombian walnut wood, features curved drawers designed to reflect light and cast shadows in order to really highlight the wood itself.
Distinctive Details
The company is intent on its casegoods being at the top of their class and, as such, places great care and consideration in the areas of craftsmanship and materials. Here you'll find hand-wrought finishes and cases with ¾-inch thick back panels veneered in the primary wood of the piece itself.
Back panels also are fully finished and tenoned into case frames to lend a clean appearance and also prevent sagging. Drawers are sanded and hand-finished inside and out. It's a level of detail not always found on the casegoods circuit.
Finishes also are extensive with an array of standard choices and an even wider selection of bespoke options. The custom finishes add some very attractive and interesting treatments including crackled, antiqued, stone and tortoise looks, as well as interesting colors like Gray Clouds, Mongolian Red, Fresco, and Marmalade. The bespoke finishes are available at an up-charge on most of Thomas & Gray's products.
Find Your Style
Thomas & Gray's six collections take on very different vibes.
Bella: A classically inspired Italian collection with hand-distressed and polished cherry veneers. The Ionic Storage Cabinet shown above is part of the Bella collection.
Copperline: A line crafted from hand antiqued Flormorado solids and veneers. The idea behind the collection is to capture the enduring spirit of high country living.
Rendition: A collection inspired by classic Biedermeier design. Pieces here utilize the light, natural color and textural beauty of Urapan solids and veneers for a clean, modern presentation.
Accents: This group reflects American's desire for the finer things in life. The eclectic line features hand wrought finishes.
Laureate: This line is inspired by the timeless beauty of the villas which pepper the Tuscan countryside. Pieces feature crisp carvings, delicate veneer inlays and a hand antiqued finish on Colombian Walnut solids and veneers. The Artisans Chest shown above is part of the Laureate collection.
Savoy: For those with contemporary tastes but a relaxed attitude, Savoy offers crisp lines and design elements crafted using combinations of a variety of materials including glass, woods and upholstery. The Bridge Table shown above is part of the Savoy collection.