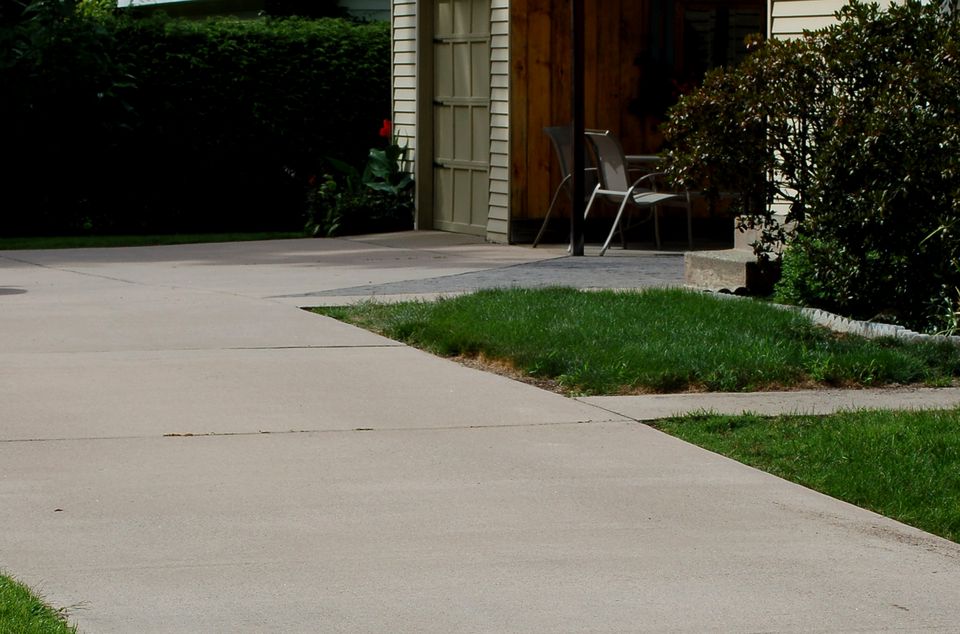 You may think of concrete and asphalt as being very similar. They are both hard surfaces, right? But when it comes to choosing one or the other as a driveway material, there are differences of which you should be aware. So let's explore the subject by looking at some pros and cons.
What Are the Pros and Cons of Concrete Driveways as Compared to Asphalt Paving?
Like asphalt drives, concrete driveways fall into the "solid-surface" group of paving materials.
A comparison of concrete driveways with their better-known cousins is, then, unavoidable Let's begin with the good points of concrete as a driveway surface:
With concrete, you have more options and cheaper options when it comes to decorating the surface.
Ease of snow removal is also superior with this material (but read about a problem with puddles you may have in late winter).
Where winters are not severe, concrete outlasts asphalt paving.
But few things are perfect in life, and concrete, like everything else, has its bad points, too, as a driveway surface:
It is more expensive than asphalt paving.
Unlike asphalt paving, it can't be re-layered.
Concrete driveways stain easily, and the stains are tough to remove.
Maintenance is high on this type of driveway.
More on Pattern-Stamping
Regarding the reference to "decorating" above, the look of concrete driveways can be enhanced through pattern-stamping and coloring.
For example, you can stamp any of the patterns pictured in this image gallery of brick patterns onto a concrete driveway:
The herringbone
The basket weave
The running bond
Or you can get really creative and give your driveway surface the appearance of cobblestones, etc.
Unfortunately, the exquisite appearance that you can create through pattern-stamping on concrete is easily marred by stains -- which are almost inevitable on a surface used by automobiles.
Oil stains, which also plague asphalt paving, are difficult to remove. But concrete driveways are often lighter in color than their asphalt counterparts, making the stains more noticeable.
Old Man Winter Has a Say in Your Decision, Unfortunately
If winter is on your mind, asphalt surfaces perform better in areas with severe winters than concrete driveways. For, while snow removal is rated as easy on both surfaces, concrete driveways are more likely to crack due to the freezing/thawing cycle. In addition, the This Old House website notes that unlike asphalt paving, concrete driveways cannot simply be re-layered once they are damaged. Both concrete driveways and asphalt paving need to be sealed frequently, so maintenance is a consideration when using either material.
Where winters are not severe, concrete driveways last longer than asphalt paving. But you will pay for it, as concrete driveways are the more expensive of the two. If you live in a relatively warm climate and have a strong interest in pattern-stamping or coloring your driveway to add to your property's curb appeal, then the added cost may be justifiable to you.