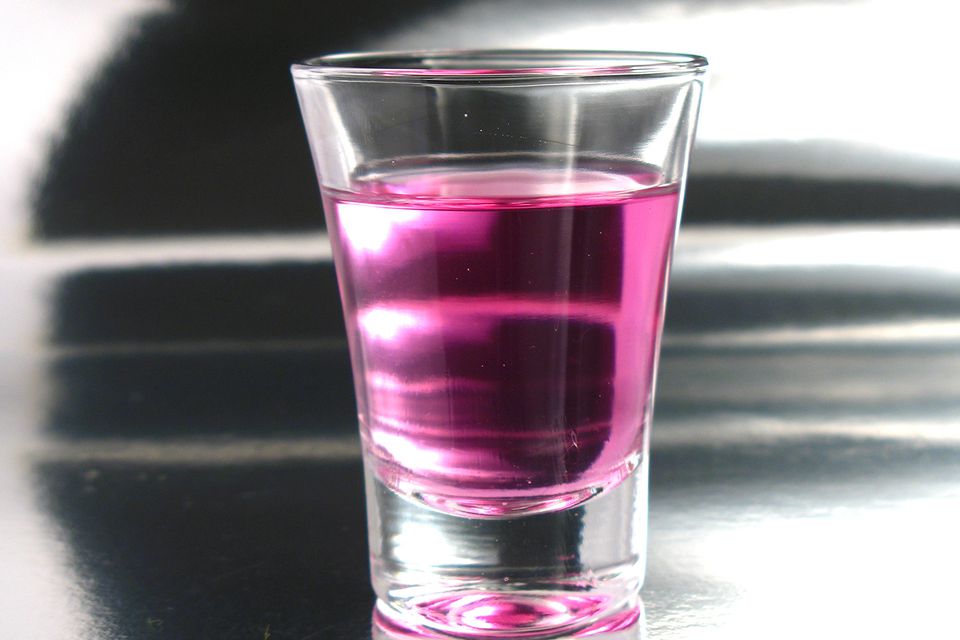 Pour the ingredients into a mixing glass with ice.
Strain into a shot glass.
Another Purple Hooter Recipe
If you do not have lime juice in your bar, don't worry, you can still make a Purple Hooter shot. With this recipe, you will get the same great flavor as the original, just in a slightly different form.
It is essentially the same drink, just a little heavier on the liqueur (which is not a bad idea in the first recipe, either).
This version also opts for a splash of citrus soda rather than lime juice.
To make this drink, combine 1 ounce vodka with 1/2 ounce Chambord and a splash of lemon-lime soda in a cocktail shaker with ice and shake well. Strain into a shot glass.
Transform it into a Fancy Raspberry Gimlet Cocktail
The Purple Hooter is a fun shot drink, but it is also the perfect candidate for a transformation into a fancy cocktail. Just as there is an 'up' version of the Kamikaze that is a delightful and popular martini-esque drink, the raspberry version can get the same treatment.
In this case, I like to use a more sophisticated name for the drink. 'Purple Hooter' may be okay in a shot glass, but when we turn to a cocktail glass, I think we can class it up a bit and call it a Raspberry Gimlet. It is very similar to the popular Gimlet cocktail and, likewise, can be made with either vodka or gin.
To make this drink, shake 1 1/2 ounces vodka or gin with 1 ounce black raspberry liqueur and 1/2 ounce fresh lime juice with ice. Strain into a chilled cocktail glass and garnish with seasonal berries.
How Strong is the Purple Hooter Shot?
Is the Purple Hooter a strong shot? Let's find out by running the numbers.
If we use an 80-proof vodka and Chambord, the first Purple Hooter recipe would be 24% ABV (48 proof) and the second shot recipe is just slightly stronger at 25% ABV. In comparison, the Raspberry Gimlet recipe given weighs in at around 30% ABV (60 proof).
Does it surprise you that a 'martini' is stronger than a shot?
It happens more than you think. The difference in your intoxication may just be how many of those shots you're drinking in a row!