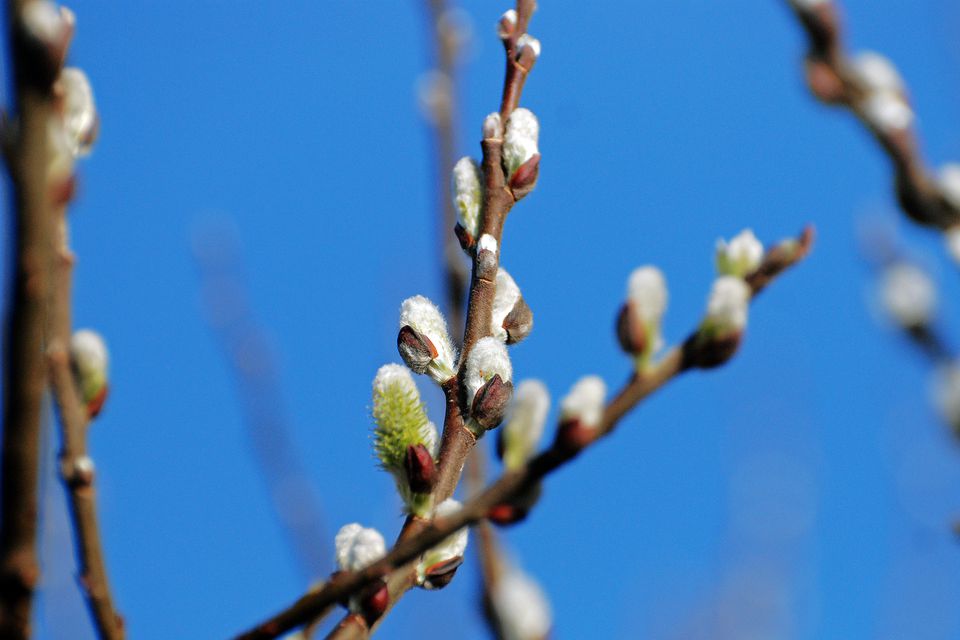 Easily one of the most recognizable shrubs, the pussy willow (Salix discolor) is found across a wide portion of the northern wetlands and Canada as well as the northern tier of the United States. Because it prefers moist soil, it is common to find it in wet ditches, swamps, marshes, and along the banks of streams and lakes.
Short lived but fast growing, this shrub is extremely popular for the catkins that open and present soft silvery colored hair resembling the pads on the paw of a pussy cat.
Cut stems of the pussy willows with their trademark pearly gray colored catkins are prized for use in floral arrangements. Once cut they can be kept for long periods of time.
Latin Name
The full name assigned to this plant is Salix discolor. The species name of discolor refers to the contrasting colors of the surfaces of the leaves. It is included with the other willow trees in the Salicaceae family.
Common Names
Salix discolor is known by many names including American pussy willow, glaucous willow, large pussy willow, American willow or simply pussy willow.
Preferred USDA Hardiness Zones
This species is safe for growing in zones 4 through 8. It is originally from North America.
Size & Shape
Salix discolor is a multi-stemmed shrub that grows up 25 feet in height. If pruned to the ground every 3-5 years, it is possible to maintain a smaller overall shape. If cut back more frequently, it can be used as a hedge.
Exposure
This species prefer full sun but will tolerate partial shade as well if needed.
Foliage/Flowers/Fruit
Leaves are bright green in color and elliptical to oblong in shape, with small serrations. The overall length of the leaves is 2-4 inches.
This species is dioecious, which means plants do not produce both male and female catkins on the same plant.
Males produce the very attractive silvery gray catkin for which the plant is named. Females produce a smaller greenish catkin that is considered less attractive. Flowering takes place in late winter to early spring.
When fully mature the male catkins produce bright yellow stamens, while the females produce smaller slender green pistils.
Design Tips
Pussy willows are known to be favored by Viceroy butterflies, which makes them an attractive addition to a butterfly garden.
Growing Tips
Avoid areas that are subject to heavy wind, as this plant is relatively soft-wooded and does not stand up to high winds well. Because they thrive in wet locations they are well suited to low spots in the landscape where water tends to collect. Conversely, this species does not do well in dry soils, so avoid areas that are dry most of the time
Maintenance/Pruning
Pruning is recommended periodically to keep the overall size manageable. Hedges may be created from pussy willows by frequently pruning them. They require a lot of water and the soil should not be allowed to dry out for long periods of time. If placed in a naturally dry area, they will require frequent watering.
Pests & Diseases
Pussy willows are susceptible to a multitude of pests and diseases.
Among them are leaf blight, leaf spots and powdery mildew, as well as gray scab and cankers. Pests that attack this shrub include aphids, borers, caterpillars and lace bugs.