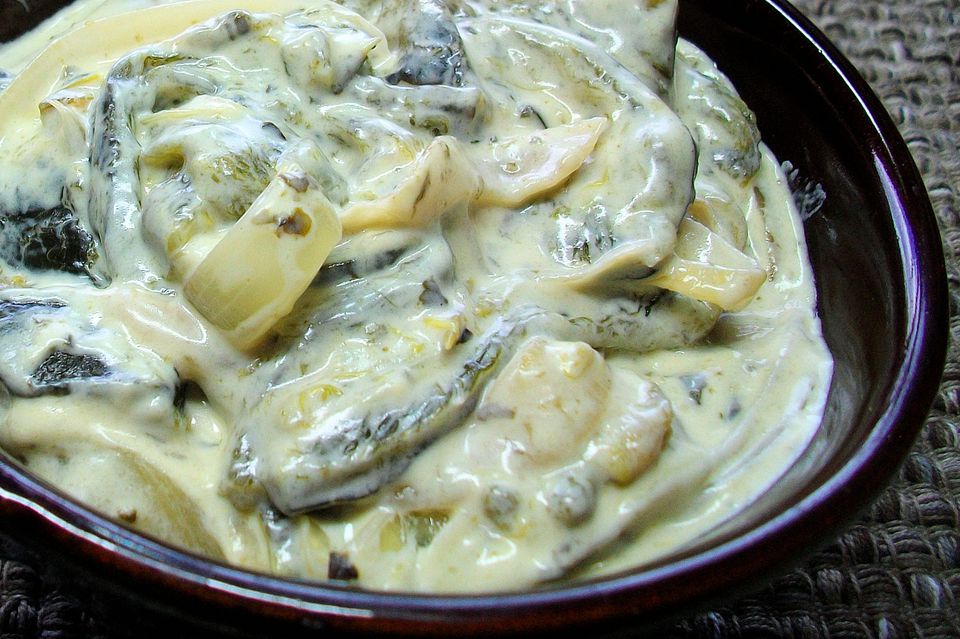 Saying that chile poblano rajas is a versatile dish is an understatement; these strips of chile and onion in cream can be a main dish (as a filling for tacos), a side dish for grilled meats, a mix-in ingredient for scrambled eggs and the like, or, when used sparingly, even a condiment. (I haven't yet seen these used as a topping for ice cream, but I have no doubt that someone has probably done that with rajas, too.)
Poblano chiles are perfect for a dish like this, in which the flavor of the peppers is even more important than their spiciness. Don`t be put off by the number of steps in this recipe because the effort will most definitely be worth the trouble. Make a double batch of these, if you can, because they are wonderful leftover and you will find many ways to enjoy them once you have them on hand. Don´t miss the notes on uses and variations below the recipe.
2 pounds (900 grams) poblano chile peppers
1 large white onion
2 teaspoons olive oil
1/3 cup (or more) heavy cream or sour cream (or half & half for a lighter version)
1/2 teaspoon salt
1/4 teaspoon black pepper
Roast the poblano peppers, either under a broiler or over an open flame, until skin blisters on all sides. Let them "sweat" in a plastic bag for about 15 minutes, then peel them, remove seeds and stems, and cut flesh into ½-inch strips. (For more detailed instructions on how to do this, see How to Roast Chiles.)

Cut the ends off of the onion and peel the skin off. Cut the onion in half, then into strips about 1/4 inch thick.
Heat a large, heavy pan (cast iron, if you have it) over medium heat and drizzle in the oil. When the oil is hot, begin to cook the onions. When the onions are translucent and just begin to brown on the edges, turn the heat down to low.

Add the poblano strips to the onions. Add the cream, salt, and pepper and cook over low heat for two or three minutes until the cream is heated through.
How to Use Your Rajas de Chile Poblano
Just a few basic suggestions to get your own ideas flowing:
Place a spoonful of rajas into a hot corn tortilla. Eat as a taco.

Spread some on a fried or baked corn tortilla for an instant (and delicious) tostada.

Serve these as a side dish to grilled steak, chicken, or pork chops.

Chop up some leftover rajas to mix into your scrambled eggs or macaroni and cheese.

Mexicanize your hamburger, hot dog, or grilled cheese sandwich with a spoonful of richly flavorful rajas.
Variations on Rajas de Chile Poblano
The quantities of the ingredients given in the above recipe are very flexible, so tweak them at will. Here are some suggestions for additional elements you might want to try:
Add some cooked corn kernels to the mix, whether fresh, canned, or frozen.

Make your rajas heartier with the addition of cooked chicken, either shredded or in cubes.

Cook and cube some potatoes to add to your rajas. (You will definitely want to use more cream to the mix if you do this, as the potatoes will "absorb" a certain amount of the cream.)

Add some crumbled white cheese (such as queso fresco) to the mix. Stir cheese into the rajas once they are cooked, or sprinkle a little onto each individual serving.
Edited by Robin Grose