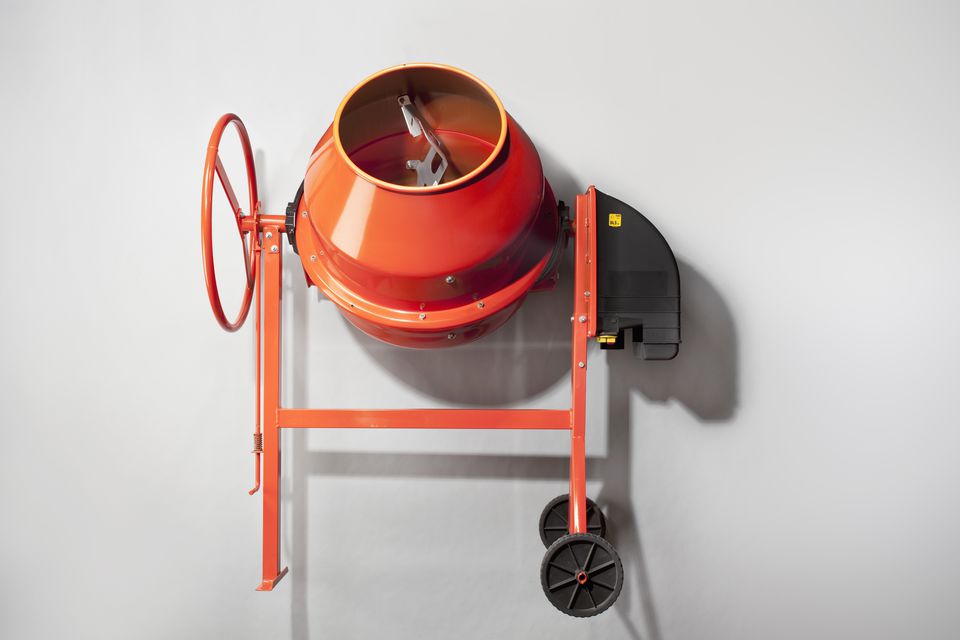 For large masonry jobs where you will be using lots of concrete or mortar, an electric cement mixer is the only way to go. Sure, you could do it with a wheelbarrow and a hoe, but you will save time and wear and tear on your back and shoulders if you buy or rent a tool that will do the mixing automatically.
Review of the Kobalt Electric Cement Mixer
This Kobalt product is a great electric cement mixer.
I have owned electric cement mixers put out by quite a few different companies, but this one is the best. Here are the reasons to justify my claim:
It is light weight: Two people can easily lift it in and out of a truck. I can do it by myself if I have to, but it is definitely easier with two people. Once it is on the ground, it rolls nicely on wheels.
It is quiet: Some cement mixers run on gas and will leave your ears ringing by the end of the day. This electric cement mixer is so quiet that you will hardly know that it is there. Freed from the loud noise of a model powered by gas, you will be able to concentrate on building your stone wall or patio with a clear mind.
It is durable: I have owned two of these electric cement mixers and put them through some serious use (much more use than they were intended for). If you use this product a couple of times a year, and keep it clean, it will run forever.
It is easy to use: This electric cement mixer has a handle in the back, so you can dump the cement with one hand while holding on to a bucket with your other hand. You can also dump the cement into a wheelbarrow, which fits nicely under the cement mixer. Plug this thing in when you are ready to start mixing concrete, unplug it and wash it down with a hose when you are done. That is all there is to it.
The price is right: I recently paid $285 for one of these at a Lowe's home improvement store in Maine (USA).  When I think of all the time and work that this machine has saved me, that investment has already paid for itself.
What If You Want to Use a Rental?
Of course, if you cannot see yourself mixing cement for any other project for the rest of your life, you may not want to buy an electric cement mixer. This is especially true if you do not have much storage space (do you really want a beast like this sitting there, in your way, unused, for decade after decade?). But that still does not mean that you are left only with the option of mixing by hand, because there is a third choice: renting. 
For the sake of comparison, let's see what the rental center at a Home Depot typically charges to rent an electric cement mixer (in this case, the brand happens to be Kushlan). First of all, the minimum rental time that you will be paying for is four hours. If you select to rent the machine for this minimum time, it will cost you $34. For just a little more money ($48), you can use it for a whole day (I suspect that many homeowners would choose this option to help them with a small DIY landscaping project).
The Home Depot rental center also offers two options for bigger projects:
$192 for a week
$576 for four weeks
Supplied with these cost figures, it should be easy enough for you to decide whether it is wiser for you to own or to rent. Again, if your dabbling into masonry is going to be a one-time thing, then choosing renting at $48 over buying for $285 is a no-brainer. Even renting for a week at $192 is a steal when you consider that, once you are done, you return the machine to the rental center and then never have to look at it again (can you tell I dislike having clutter in my garage or outdoor storage shed?). On the other hand, if you are going to need an electric cement mixer for four weeks, why rent for $576 when, for half that, you can own? Most likely, if you are willing to make that kind of time investment in your DIY project, then you are well on your way to becoming something of an amateur mason.
You have caught the fever: you will be mixing cement again. It makes sense, under this scenario, for you to buy a Kobalt electric cement mixer.
Do you need more help with your cement mixing project? Any further questions that you have may be answered in this article: How to Mix Concrete.