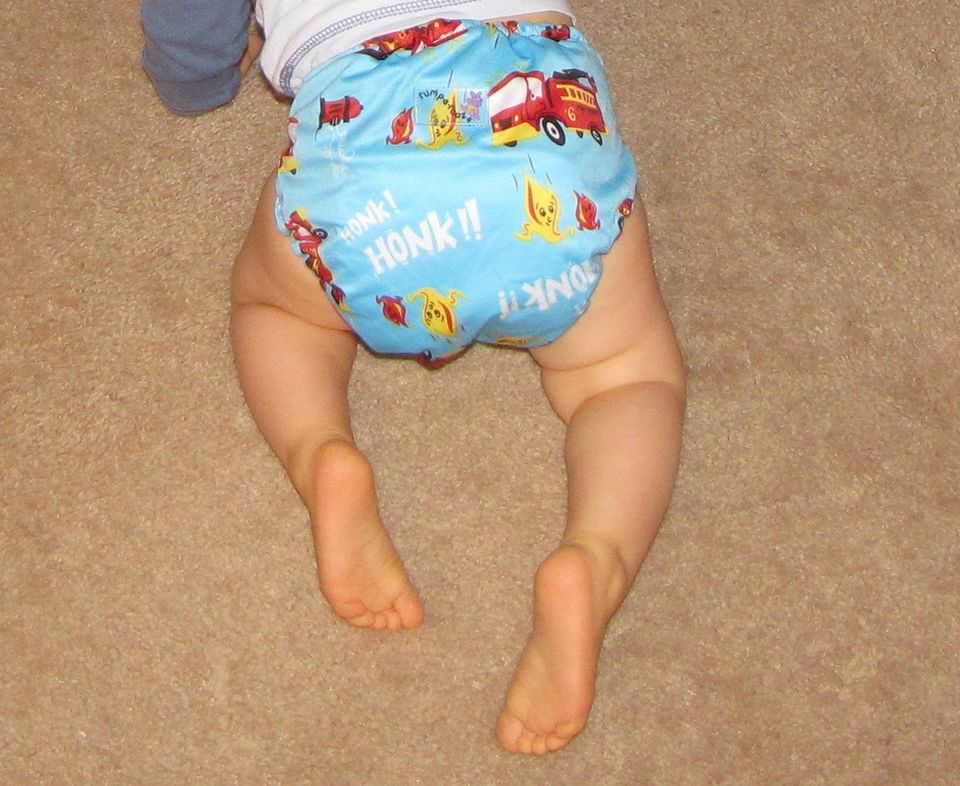 Rumparooz is a cloth diapering option like no other. It's the only brand to have inner gussets to keep the messes inside the diaper where they belong. Although it's one of the more expensive diapers on the market, the quality is worth the extra few dollars you'll pay. Take a look at this Rumparooz one size pocket cloth diaper review and information to see all of the features this diaper has to offer your growing baby:
Pros of Rumparooz One Size Diapers
Four diaper sizes in one
Cute color combinations and prints
Durable diapers that stand up to the rigors of cloth diaper washing and drying
Easy to stuff the microterry insert into the pocket diaper
Snaps or Aplix closure options
Rumparooz stand up to long-term use so you can pass them down to your next baby
Cons of Rumparooz One Size Pocket Diapers
The pocket opening is lower than most other brands, which means a really dirty diaper may end up covering the opening.
Microfiber insert sometimes gets stuck inside the diaper, making it hard to shake the insert loose into the washing machine. Many times, you have to stick your hand inside the pocket to get the insert out.
Only has a 30-day warranty, where some competitors have a one year warranty
Rumparooz Diaper Inserts
Each diaper comes with two microterry inserts. One insert is smaller and contoured. The other is larger and snaps for a custom-size fit.
I use the smaller insert for my 1 year old during the day. For naps and bedtime, I double up on the inserts. Even with the inserts doubled, baby doesn't feel bulky. Yet, the inserts are very absorbent and keep baby dry.
Rumparooz Diapers
Rumparooz offers three diapering options. The Lil Joeys are an all-in-one diaper for newborns up to 12 pounds.
Diaper covers are available as newborn and one size fittings. The Rumparooz One Size Diapers are pocket diapers that cover your baby from 6.5 pounds to 35+ pounds.
For this review, we'll take a look at the Rumparooz One Size Diaper. The one size pocket diapers give you four sizes in one with the adjustable snap rise.
What makes Rumparooz stand out from its competitors is the double inner leg gussets. These inner gussets are sewn about an inch inside the diaper. You have two gussets wrapping around baby to keep those messes contained.
The gussets are soft against baby's skin and are covered with the same microchamois that lines the diaper. The microchamois is thick and feels like a blanket.
It's hard to tell when baby wets the diaper because the moisture is wicked away from the skin. Baby feels just as dry as when you put the clean diaper on him.
The biggest drawback of this diaper is the pocket opening's placement. Most cloth diaper brands leave the opening at the very back edge of the diaper.
The Rumparooz One Size Pocket Diapers opening is about one inch lower and is inside the diaper. If you end up with a really messy diaper, you can have some of that mess covering your pocket opening.
This makes it very tricky to get the insert out.
Another downside to the Rumparooz diapering system is the price. FuzziBunz will run you about $16-19. Happy Heinys costs less than $20. Each Rumparooz diaper costs about $25. That's a significant difference in price when you need to build your diaper stash.
Rumparooz Diapers Wash and Care
I wash my Rumparooz Diapers daily. I dry them on low heat. There haven't been any problems of leakage or the diaper breaking down due to being used so often and dried in the dryer.
The official washing instructions ask you to run a cold pre-wash. Then you add 1/4 cup of additive-free detergent in a hot wash/cold rinse cycle. Tumble dry on low or line dry.
Tips for Buying Rumparooz Diapers
You can't buy Rumparooz diapers directly from the manufacturer's website. Do check the website for a list of authorized retailers, though. Many only have online stores but offer free shipping, clearance items and special sales.
Comparison shop between several sites. Sometimes Amazon.com has the best deal on a certain color. Sometimes one of the online only retailers listed on the manufacturer's website has a better deal. The savings can be a few dollars or more.
Buy one Rumparooz diaper to try before committing to more. If this diaper isn't for you, you won't have to deal with the hassle of returning more than one.
Disclaimer: A Rumparooz One Size diaper was purchased for review from an online retailer. Total cost was $25.50.