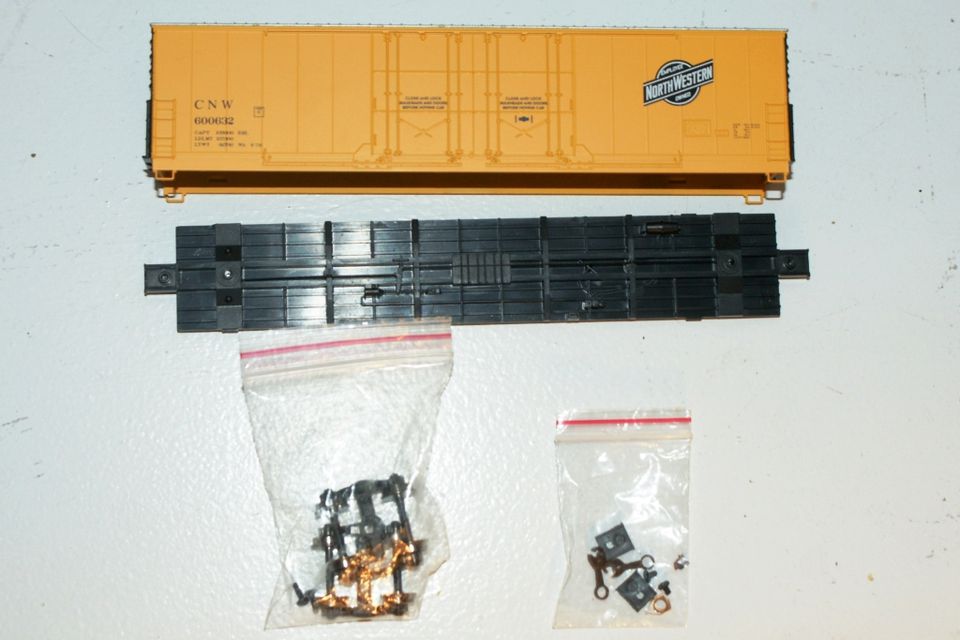 "There are no more inexpensive freight car kits anymore," is one of the more common complaints in the hobby today. For their first release, Scale Trains has offered a boxcar kit which can be purchased for under $14 and built in under an hour.
Scale Trains' new product line will include trains at a variety of price points and detail levels to suit the demands of all sorts of modelers. While my personal interests gravitate towards more detailed models, I have long been a fan of basic car kits that look good in a train, can be enhanced easily and acquired on a tight budget.
Assembling a freight car kit is also a great way to spend an afternoon or introduce a child to the hobby. So when these cars were announced, I knew I wanted to purchase at least one to review, but also to enjoy and support Scale Trains' commitment to bringing back this part of the hobby.
Kits can be purchased directly from ScaleTrains.com or at one of their retail locations (local shops can be found on their website.) The number of retailers carrying their product has expanded greatly since the cars were first released. 
Retail price on the cars is $17.99 but they can be found online and at most stores at the promotional price of $13.99.
The kits are available in three different numbers for many road names. The initial release includes:
BC Rail
Boston and Maine
Burlington Northern
Chessie
Chicago Northwestern
Conrail
CP Rail
CSX
Denver and Rio Grande
Florida East Coast
Grand Trunk Western
Minneapolis, Northfield and Southern
Missouri Pacific
Purina
Scale Trains (1 number only)
Tropicana
Undecorated
Vermont Railway
Weyerhaeuser
Willamette Industries
Wisconsin Central
Union Pacific
Most of the paint schemes are accurate, but not all of these companies owned this type of car, or had cars in the paint scheme offered. Many of the roadnames are already sold out.
Prototype Background
Scale Trains' choice in a prototype is an interesting one. the Evans 5100 RBL boxcar was a common freight car from the 1970s to the 2000s. Like most insulated boxcars they were used primarily for commodities where clean interiors and stable temperatures were required. Common users included food and beverage and lumber companies.
The cars were built with both a single and pair of plug doors. Many were owned by USRE (United States Railway Equipment) and leased to railroads or private shippers. The cars wore a variety of color schemes ranging from minimal markings to elaborate "billboard" style schemes which took advantage of the relatively flat car sides.
The cars were a popular choice on the railroads and a logical car to model. What makes Scale Trains' choice interesting however is that the HO modeler already has at least three other choices to get one. Atlas, Athearn and Details West have all produced this car in ready-to-run or kit form in the past. These cars are not hard to find. Atlas just did another release this year and others can still be found at shows or on store shelves - often for a few dollars more or less than the Scale Trains kit.
With that in mind, how does the new kit stack up against the competition?
Assembly
As kits go, this is about as simple as you can make it. Open the box and you'll find that most of the "hard" work has been done for you. Each kit includes:
A one-piece body with molded in details. The brake wheel is a separate but pre-assembled part
A one-piece underframe with metal weight already attached
A pair of assembled plastic trucks with metal wheelsets and screws to attach to underframe
A set of plastic scale knuckle couplers including centering springs, cover plates and screws
Instructions
The only tool necessary to complete the kit will be a small Phillips screwdriver. Just be careful to put the screws in square. The screws on my kit, especially the couplers, wanted to skew. 
Built per instructions, you should have the car complete in under 15 minutes - and that's leaving a few extra minutes in case you misplaced the screwdriver or drop a coupler spring on the floor.
One nice feature in the design of the kit is that after you've assembled the model it can still be put back in the original box for storage.
Body
The most noticeable part of the model will be the car body itself. Not surprisingly on a kit in this price range, all of the details except for the brake wheel are molded in to the one piece shell. That's really not a problem since the details are well done and have scale proportions. 
Yes, separate ladders and door latches would look better, but mix this car in a train and roll it down the line and those small differences disappear quickly. Of course if you want to add that sort of detail, it would be easy enough to carve off the existing details and replace with separate parts. The same is true for the details on the underframe.
The paint on my Chicago and Northwestern car was neatly applied overall. There are some small areas in the corners where the color separation between the yellow sides and black ends isn't perfect, but from two feet away, you'll never notice. The roof is painted silver and this is masked perfectly. (I'm a little surprised the car wasn't tooled to make the roof a separate part to make the painting easier.)
The lettering on the car is black and white. The black lettering is very crisp. The white lettering seems a little thin, but nothing too objectionable. Comparing the model to prototype photos shows that most of the lettering is present and correct. There are a few minor deco details that are out of place or missing. These tend to vary from car to car in the real world and would be easy enough to correct with decals if desired.
Couplers
Overall, this kit more than exceeded my expectations for the price point. But it does have one shortcoming; the couplers.
While the couplers included with the kit look very nice, they have two flaws which will prevent their use on my (and I suspect many) layouts. First, they lack an uncoupling "wand" or simulated brake hose which hangs below the knuckle. These wands are needed to open the couplers automatically using magnets on or below the track.
Without the wand, the cars must be uncoupled manually with a pick.
Second, the couplers are made of plastic. While they look very nice, I've always found that sooner or later these plastic couplers fail. For layouts that feature a lot of operations, long and heavy trains or working hump yards or helper operations which add stresses to the couplers, failures are apt to happen.
The scale size and lack of a wand definitely make the couplers look better. However, I suspect that most people who buy these kits aren't buying them for modeling contests or shelf displays. These are meant for operating layouts.
Many models come with plastic couplers today. So replacing them with a metal coupler is nothing new, nor a big surprise in a value-priced kit like this. What is shocking however is that the coupler boxes for this model are too narrow to accept the other standard couplers on the market.
Yes, the kit's boxes are closer to scale dimensions. But again, for cars designed for operators, lack of compatibility with a standard that has been in the hobby for more than sixty years is hard to understand.
For those looking to convert to metal couplers, a Kadee #148 will fit. As always, check the height. You may need to add a .010 shim in the coupler box to keep the coupler from sagging.
Final Thoughts
Overall, these cars are a good value for the money. Aside from the coupler issue, they are really just what the average operator wants in a car. They assemble quickly, roll freely, weigh in a tad over the NMRA recommended weight at 5.6 oz, look good, and won't break the bank as you build up your fleet.
While I will consider getting some additional kits, I do feel that for a few dollars more a ready-to-run Atlas or Athearn model offer better detail and, most importantly, more complete and accurate decoration. And of course no thinking or shimming is required to add proper couplers.
That being said, I do look forward to adding some extra details and weathering to this model. For $14, its a project as affordable as it will be enjoyable. I also look forward to seeing what kits Scale Trains introduces to follow this, as well as offerings in their other lines. This is a solid beginning.