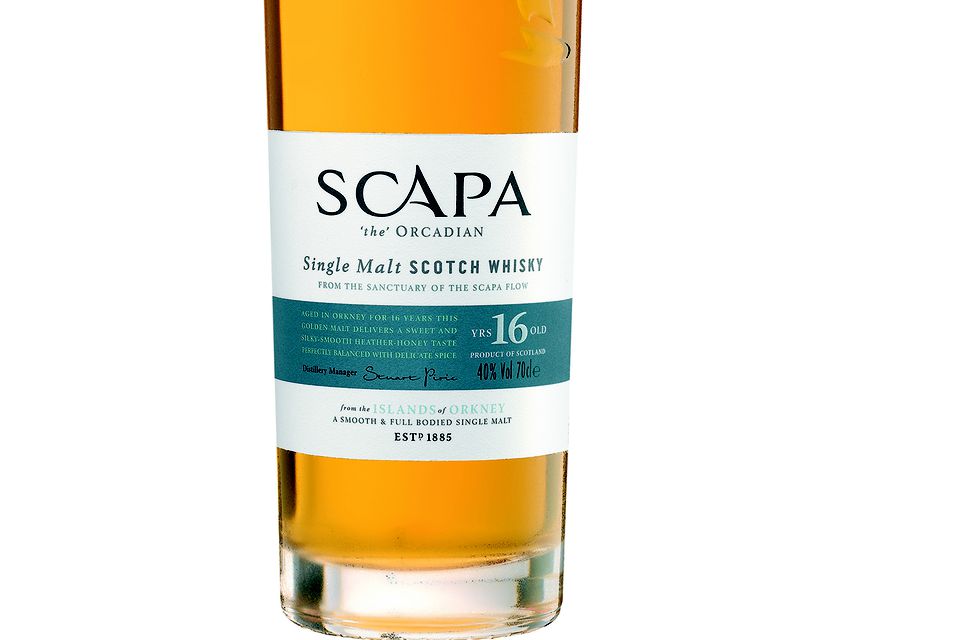 Scapa's 14-year-old scotch has been a favorite over the years because of its affordability and sweet, smooth character. In 2008, to replace that expression, the distillery released a slightly older, considerably tastier 16-year-old scotch.
This new Scapa shows its extra two years with a velvety palate and is the pride of the five-man distillery of Orkney. Scapa's 16YO is a fantastically smooth sipper and worthy (and affordable enough) to be mixed in delicate Scotch cocktails.
Scapa: A Smooth Scotch from the Island of Orkney
The Scapa distillery has been producing scotch in the Orkney Islands since 1885 and its unique location reflects in the whisky's characteristics. The scotches from Scapa have a mixed profile of the sweet Speyside-styled malts and a touch of brine from the sea-side Islay malt profiles.
Unique to Scapa, they use no peat to dry the malt, which is slowly fermented for around 100 hours. The whisky takes a trip through two stills - one of which is a rare Lomond pot-still - and is then aged in first-fill American oak casks from Kentucky and Tennessee.
Scapa bottles a variety of expressions, a number of which have been discontinued but are still available on the fine whiskey market. Some years and ages are more sought after than others and when you are searching for a bottle of Scapa, you will notice a variety of prices.
Among their regular offerings are the Scapa 16YO and Scapa Skiren.
Drinking Scapa 16YO Scotch Whisky
The Scapa 16YO is on the price brink of being mixable, but its unique profile certainly makes it cocktail worthy. Many people are not going to throw a shot of $75 Scotch into a mixed drink, but in the Scotch world that is not a lot of money. If you are willing, the experience is worth it.
I do like to keep this whisky in reserve for the very best scotch cocktails with mixers of equal quality. The Rusty Nail is a perfect example of the types of drinks that Scapa deserves.
Tasting Notes
Scapa 16-year-old has a sweet, rich, yet mellow malt fragrance. This follows into the palate where it mixes with a velvety, slightly bitter peat, floral citrus and overall brighter profile than many scotches. The finish is long, dry and lean, which is considerably darker, peatier and oakier than the main palate.
About Scapa 16YO Scotch Whisky
Scotch whisky from the Orkney Islands in Scotland, fermented for 100 hours, aged for 16 years in new American oak.
Single malt 16YO replaces 14YO expression .
Retails for around $75/750ml bottle
U.S. release: February 2009
Originally Published: January 1, 2009
Disclosure: Review samples were provided by the manufacturer. For more information, please see our Ethics Policy.