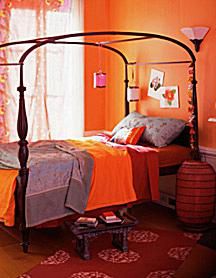 Not only do we know that room colors can affect an inhabitant's mood, but we have also come to understand that people thrive best when surrounded by their favorite colors and that certain personalities are drawn to certain colors.
Whether you are a primary gal or a tertiary type of guy – or a mix of both – the moods of the colors below can help you choose an interior color scheme that best fits your personality and assist you in creating a room that you and your guests feel comfortable in.
For more on primary color moods, as well as the definitions and moods of warm and cool colors, see this article.
Room Color & Mood: Secondary Colors
Secondary colors are colors that are created by mixing two primary colors together. In decorating, secondary colors tend to have a softer and more universal appeal than primary colors.
Green
Green can be the most neutral of all of the colors (think of a soft, sage green) and many
greens
will often appear gray. Maybe because green reminds us of nature, green can be a very refreshing, calming color. Most people feel at home with green throughout a home though some shades of green tend to be unflattering in a bathroom. Also, if you choose green for a kitchen, stick to citrus or yellow-green shades that won't spark reminders of pea green soup.
Orange
Orange tends to be friendly, energetic and welcoming, making orange perfect for foyers and children's rooms.
Bright oranges can be a bit overwhelming and tend to work better as
accent colors
, whereas more muted oranges – often bearing names such as cayenne, pumpkin, copper or adobe – are more calming and often work well as a dominant color in a room. However, unless you need to gain weight, you may want to pause before painting your kitchen or dining room a beautiful shade of tangerine.
It has been reported that the color orange increases the appetite!
Purple
The darker shades of purple, such as rich plum or eggplant, tend to give off a contemporary, sophisticated vibe, while the lighter shades of purple are interpreted as more youthful and playful. Some muted, lighter shades of purple may "go gray" and appear as a neutral. Historically, purple is the color of kings and may still be as interpreted as such – if only in your own mind.
Room Color & Mood: Tertiary Colors & Neutrals
Mixing primary colors with a secondary color next to them forms the tertiary colors. The tertiary colors include red-violet and blue-violet, red-orange and yellow-orange, or yellow-green and blue-green.The sheer variety and quantity of interior paint colors means that most interior colors will fall under this color category. Tertiary colors tend to reflect the mood or personality of the dominant primary or secondary color within the shade. However, this rule can change depending upon the tertiary color's saturation, or how vibrant or muted the color is.Brown is technically considered a tertiary color, though many of the warmer, spicier browns may more closely resemble an orange in color, and lighter browns such as khaki or tan are usually considered
neutrals in interior decorating
.
Browns, as well as all the other neutrals in decorating, can either be warm or cool in tone.
The main decorating
neutrals
, including brown, and the personalities that these colors or shades are said to contain are listed below.
Black
The most dramatic of all the colors, black usually works best in a space as an
accent color
. Black is often associated with dignity and sophistication, but in large quantities, it can feel downright depressing or even threatening. Black is a perfect color to "ground" a room and often used to keep a space balanced.
Brown
Brown reflects the idea of security, credibility and safety. (Think of old world banking offices decorated in rich tans, oaks and brown leathers.) However, browns can appear boring and convey a lack of creativity unless combined with unexpected accent colors, textures, patterns or another dominant color.
Gray
One of the most popular neutrals, grays will be either warm or cool and often change based upon the lighting and decor in the room. Depending upon the colors used to mix the gray, grays can also appear green, purple or blue. Grays have been said to enhance creativity and can be very sophisticated and stylish, appealing to many bachelors and professionals, though the cooler shades of gray can appear a little snobbish and exclusive.
White
White has long signified purity and cleanliness, and this color still gives off these vibes today. Soft, warm whites, which will have a more yellow undertone, tend to be more relaxing than cooler whites, which will have a blue undertone. White can calm a busy space or room and give visual "breaks" in the eye, creating a sense of rest.
Next: Ideas for Decorating with Color