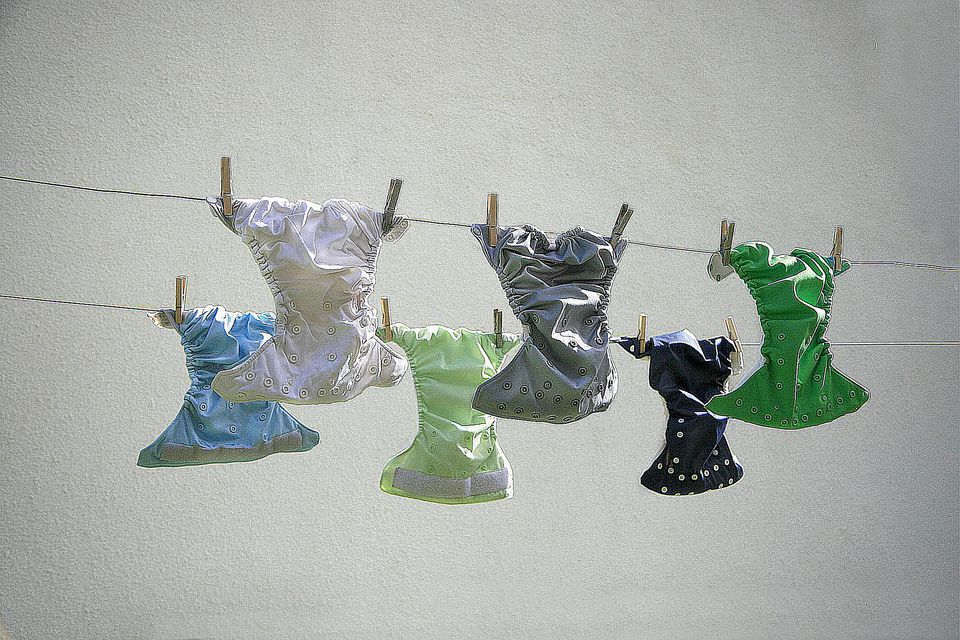 Cloth diapers continue to grow in popularity, and many brands have designed innovative cloth diapers that make the process so much easier. Some modern cloth diapers can be expensive when you need to buy a lot to start your stash, which means more and more families are buying and selling used cloth diapers.
Selling your cloth diaper stash when your babies are toilet trained is a great way to recoup some of your initial investment.
Even if your baby is still using cloth diapers, you may want to sell a few of a brand or style you don't like as much in order to use that money to buy diapers of another type. No matter the reason, there are a few things to keep in mind when you offer your used cloth diapers for sale.
Diaper Condition
Consider how long a buyer might be able to use these diapers after you sell them. Are they beginning to develop holes, or would they pass for new diapers? Are the snaps, Velcro, or other fasteners still in good shape? Make sure the absorbent layers still hold onto messes and the waterproof layers still protect the outside world from diaper grossness. When someone purchases used cloth diapers, they expect to be able to use the diapers for a reasonably long time, based on the price and your assessment of the condition. Be honest, or your reputation as a diaper seller won't be a good one. The cloth diapering community is large and diverse but people definitely share details about dishonest dealings.
Make Notes About Cloth Diaper Care
Any savvy cloth diaper buyer will want to know exactly how you cared for your diapers. The way the diapers are washed and dried affects the durability of the fabric, the absorbency of the inserts, and how well they contain messes. Ideally, you will have used the manufacturer's recommendations for washing and caring for your cloth diapers.
If you use your own cloth diaper washing method, you should have detailed notes about what you do, how often, and whether or not you've needed to strip the cloth diapers. Whether you prefer a special cloth diaper detergent or something from the chain store, let potential buyers know which type you used. This could be very important for families with allergies to certain fragrances, dyes, or other chemicals.
Are There Any Problems With The Diapers?
Look over all of the diapers you want to sell and be sure to let buyers know if there's any damage or worn areas. Some types of damage may not affect the daily use of the diaper, such as a small tear in a pocket diaper insert, but it's better to alert the buyer anyway. If snaps, elastics, Velcro, or Aplix need to be replaced, or will need it soon, mention that, as well. Is there a stain you can't remove? Note it so the buyer isn't surprised.
You may be able to ask a higher price for your used cloth diapers if you make any repairs or replacements before you sell. However, there are plenty of buyers who will gladly replace elastic or make other fixes on their own if they can spend less on the diapers.
Extras and Bundles
Cloth diaper buyers are more likely to buy a large bundle of diapers if you offer a discount for taking the whole bunch.
Selling the diapers in bulk also saves you some time on packaging and shipping, so it's a great deal for you, too. Consider listing your whole stash at once, or grouping all of your pocket diapers together with prefolds or other styles in separate lots.
If you have extra sets of inserts, diaper liners, or other accessories to sell, you can group them with some diapers to make a more complete package. Selling a pocket diaper with an extra insert is helpful for parents who need to double up absorbency at night or for toddlers.
Clean 'Em Up
Used cloth diapers should be freshly washed before they're listed for sale. It's best to avoid detergents with fragrance if possible, since strong artificial scents can aggravate allergies for some people. If there are stains on the diapers, lay them out in the sun for a while.
The sun can naturally bleach out diaper stains.
Take Great Pictures
Since lots of used cloth diaper sales take place online, having fantastic pictures of your diaper stash is essential. Take the photos in a place with plenty of light, and without other visual distractions in the background. If there are any stains, tears, or potential problems, document those with a photo, too. Buyers will appreciate seeing for themselves how bad the staining is and whether or not they can live with it. Good photos also help buyers decide if the condition of the diapers matches what they want to spend.
Also, cloth diapers are cute! A nicely arranged, well-lit photo of beautiful diapers will draw in potential buyers much better than a dark, messy picture. Don't underestimate the fact that many people base their diaper buying decision on available patterns and colors.
Pricing Your Diapers
Visit several cloth diapering communities online to see how other used cloth diapers are priced. There are lots of brands and styles of diapers, and some are more common than others, so you may have to search a bit for comparable items if you're selling a less popular brand. DiaperSwappers is my favorite spot for buying and selling used cloth diapers, but there are many other sites, too.
Remember that the condition of the diapers is just as important as the brand and style when it comes to price. Used cloth diapers from major brands in excellent condition might sell for 50 to 75 percent of the original cost. More obscure brands or very new styles without a proven track record may need to be priced quite a bit lower. If the same brand and condition of diapers is selling for 25 percent of the original cost, then that's probably close to what you'll be able to get, even if you think the diapers should be worth a lot more.
 List Them!
Thanks to your pricing research, you'll probably have a good idea of where you want to list your used diapers for sale. In addition to the large online cloth diaper communities, you should also consider listing cloth diapers on local swap and talk sites or other selling groups.
Make sure there's not a rule on local sites prohibiting the sale of used cloth diapers first, though.
Be sure to mention the brand and style of diapers in your listing, along with your honest assessment of the condition. If you're selling a group of diapers, let buyers know whether or not you're willing to split up the bunch or sell some individually, and for how much. If your price is negotiable, say so. Add your notes about how they were washed and cared for, as well as any stains or problems. Let potential buyers know the shipping and payment options and how soon you will put the diapers in the mail.
If you'll be shipping the diapers, use a secure payment site, such as Paypal, to collect the money prior to shipping. Make sure you ship the diapers as soon as possible, and in the way you said you would. Sending a tracking number to the buyer and purchasing shipping insurance adds security for both parties, too.
If you sell your cloth diapers locally, be careful about the type of contact information you give. Choose a public place away from your home to meet potential buyers. Some police departments or other businesses now offer a buy and sell area that is safe for you and the buyer.