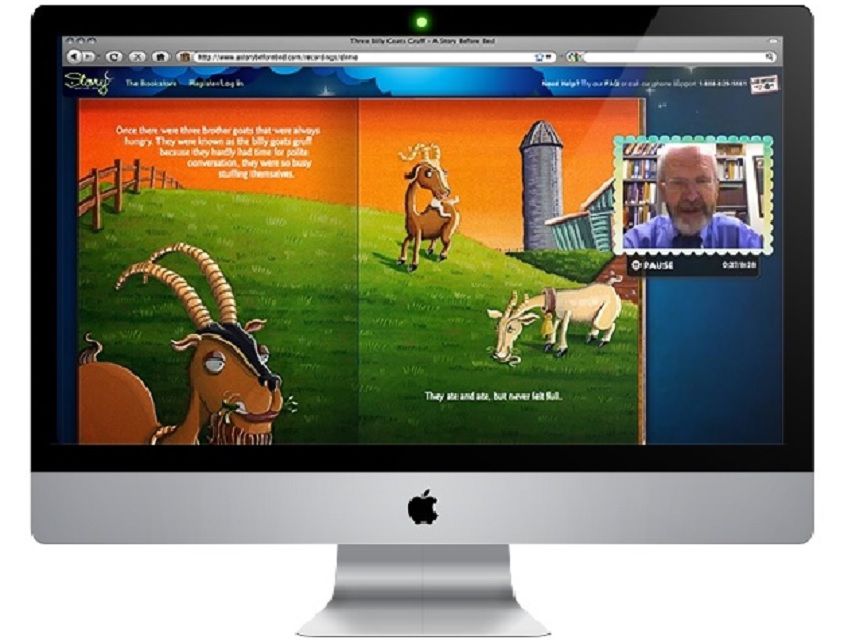 Long-distance grandparents may not be able to curl up and read with a grandchild on a regular basis, but there are many other ways of sharing books. Try a service especially suited for reaching out to long-distance grandchildren, or go out on your own with Skype, FaceTime or YouTube. No matter which method you use, be sure to use your special voices!
The unique service called A Story Before Bed is a kind of hybrid of online books and recordable books. The grandparent accesses the book online and uses a webcam to record it. The book is then available online for the grandchild to view and listen to at any time. The grandchild also will see a small inset of the grandparent reading the book.

Recordings can be prepared and viewed on iPhones and iPads as well as on computers. Users don't pay until they are satisfied with their recordings. You...MORE can pay by the book or choose from three different subscription plans. This site is a creation of Jackson Fish Market, well-known in geekdom, and it looks fantastic. One disadvantage is that you won't find top-selling titles on this site.

Hallmark's recordable storybooks allow grandchildren to hear a grandparent reading a book without the use of a computer. That's especially nice for bedtime stories. The grandchild can be all snuggled into bed instead of in front of a computer.

The grandparent simply purchases the book, records the story, locks it in and mails it off the to the grandchild. Recording the story is easy, and you can do it several times until you get it just right. The collection of available titles isn't...MORE extensive, but it includes grandparent-friendly titles, and the illustrations are beautifully done.

Read the full review of Hallmark recordable books.

Readeo is a company that offers online books that are perfect for grandchildren and grandparents to share. Pages of the book appear on the screen, so there's no awkward holding books up to the screen. A video chat feature allows either party to be heard by the other party, so that either a grandparent or grandchild can read the book, or they can take turns. The chat feature also allows them to discuss the book.

A subscription allows access to the full library of over 150 titles, and the...MORE subscriber can invite other users to "Bookchat." This system means that a grandparent can pay for a subscription and share the entire library with all the grandchildren without their families having to pay a fee. The images are big and bright, and the library includes favorite characters such as Olivia and Maisy.

The video calling function of Skype makes it a natural for reading books. A basic Skype set-up with webcam and microphone is all that is needed. If you make reading books a part of each Skype session, your grandchildren will know what to expect, and they will be likely to have a book all picked out and ready to go. It's fun if you and your grandchild each have a copy of the same book.

It's easy to learn to use Skype, and it's great for grandchildren of all ages. You can use it to chat...MORE with your grandchildren even when they are too old to be interested in storybooks. If you are an Apple user, you can do the same thing with Facetime.

Continue to 5 of 5 below.

If you know how to shoot video and post it on YouTube, that's a natural way to share books with your grandchildren. You'll need a fairly high-quality video to make the book images clear enough to be enjoyable. Consider sending the actual books to your grandchildren after you make the recordings. They'll like being able to experience the books two ways--through your recording and through actually looking at and handling the books. Your grandchildren will be able to enjoy your videos...MORE at almost any place and time, and you'll be able to create your own reading rituals.