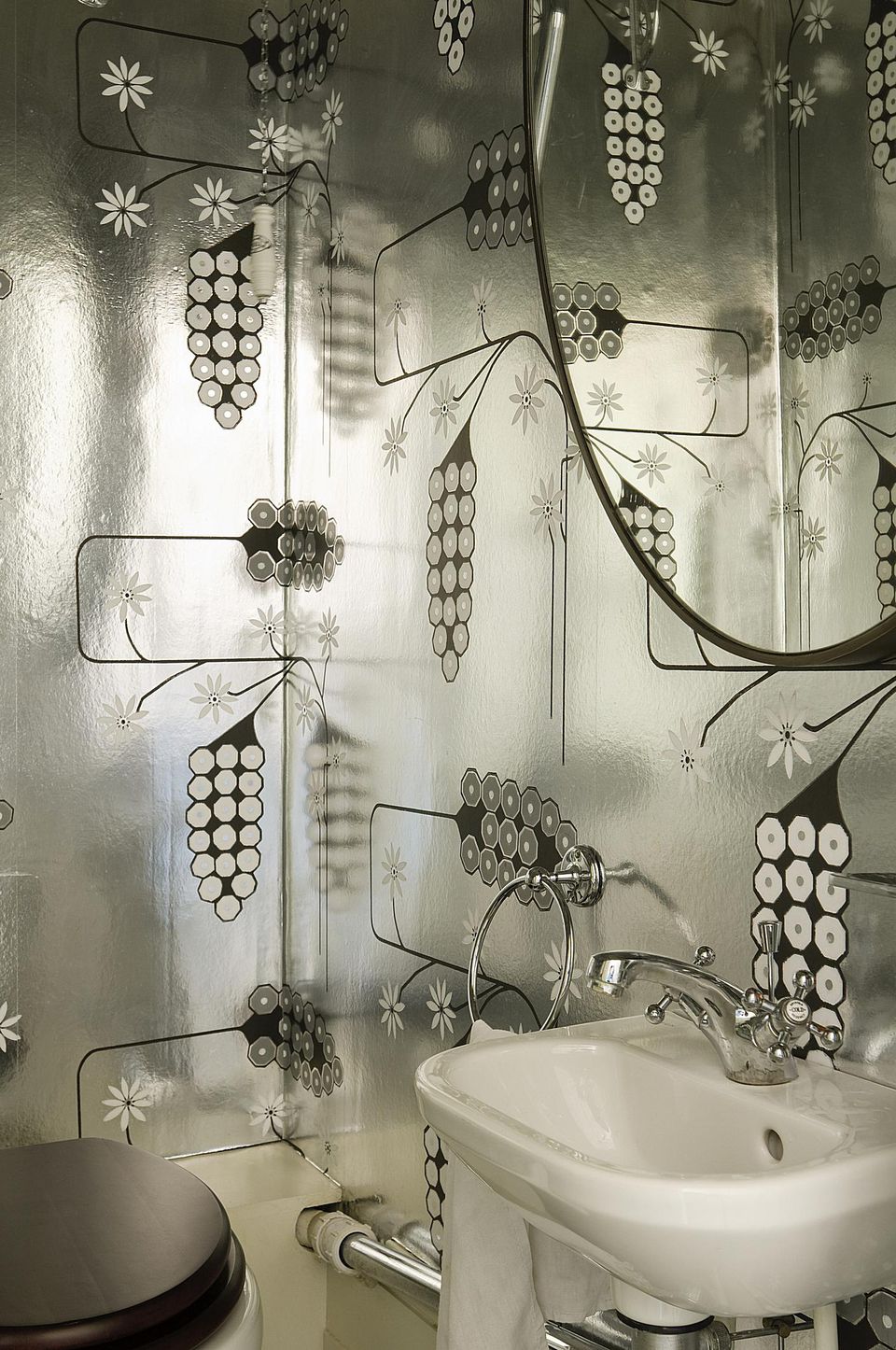 Metal finishes aren't necessarily the first thing you think of when it comes to bathrooms. But the shiny, reflective look of metal can add a lot of style to your bathroom space---especially if you like modern and contemporary decor style.
Metal finishes can be used in several different areas of the bathroom: on the walls of your shower or bath area, as a freestanding tub, on the backsplash of your vanity, or even on your floor and walls.
Metal finishes are currently gaining in popularity: gold, brass, and platinum as well as classic silver can all be found in your favourite designer collections of tiles, hardware and wall coverings. 
Here are a few ideas for exploring the beauty and look of metal finishes in your bathroom.
Backsplash and tile
If you want to try a little metal finish without going all the way, experiment with some metal tile as your backsplash or in your walk-in shower. 
Here's a beautiful example of a metallic tile backsplash that enhances the overall modern look of the bathroom. A mix of shiny and brushed tiles bring up the brushed finish of the vanity hardware and faucets. (Learn more about buying faucets in the Ultimate Faucet Buying Guide.)
Don't want to bother with grout for traditional tile? Try this peel-and-stick stainless square tile. It's easy to install, and you can more easily get rid of it if it doesn't work for you.
Metallic mosaic tiles are very popular, and come in all kinds of different mixes. This matte/metal mosaic will have a striking effect in any bathroom, especially in something minimalist and ultra-modern. 
Glass tile can mimic the effect of metal finishes, and is perfect for the bathroom because of how easy it is to maintain.
(Find more information on all tile types and care instructions in the Bathroom Tile Guide.) This gun metal glass mosaic tile is perfect for shower and bath walls, or for backsplash insertions. 
An interesting way to introduce metal finishes is to use a mixed tile: some metallic finishes, some glass finishes and some stone-like finishes in the same mosaic. That way, you can add a little bit of metal without going all-in. It's perfect if you like your style a bit more traditional, but still with a modern edge.
Wall coverings
If you're interested in larger-scale wall coverings in metal finishes, you have several options: wallpapers, wall panels, and of course tile, as discussed above. For example, this ultra-modern bathroom features corrugated metal wall paneling that looks like a shipping container. 
Wallpaper companies are making bathroom-friendly wallpapers, and of course plenty of them come in metallic finishes. It's a little bit more effort-intensive to install than peel-and-stick, but the wider variety of patterns, colors and looks is worth the extra time. Try something textured like this bronze mica imitation wallpaper, or this gorgeous silver grasscloth ribbon wallpaper.
Wall paneling is a more specialized item, so you might want to look into getting it made specially for your home if you can't find what you need at your local store.
You also have to make sure that the paneling is bathroom-friendly: it shouldn't promote mold growth or somehow stain with water use, especially if you plan on putting said paneling in or near the shower and bath.
Tubs, hardware and accessories
Don't want to cover your walls just yet? Maybe you can manage with a metal finish free standing bath (find a few wonderful examples of metal-finish baths here).
Copper and brass finishes on retro baths are particularly popular right now---whether or not they come with little legs. But you can also have a modern standalone bath with a metallic finish. It'll look sleek, clinical and ultra-modern.
Try something different with your taps and hardware. Instead of going for the classic silver, maybe try warm, brushed brass or platinum, or reflective copper. Depending on the style, you can add a touch of industrial or retro to an otherwise traditional bathroom---a good way to break monotony or add a little visual splash.
Cool, shiny metal finishes
No wonder this trend is picking up: it makes a bathroom look cool and modern. As you can see, there are myriad ways to add metallic finishes everywhere in your bathroom, from the shower to the vanity. Which one will be your favourite?