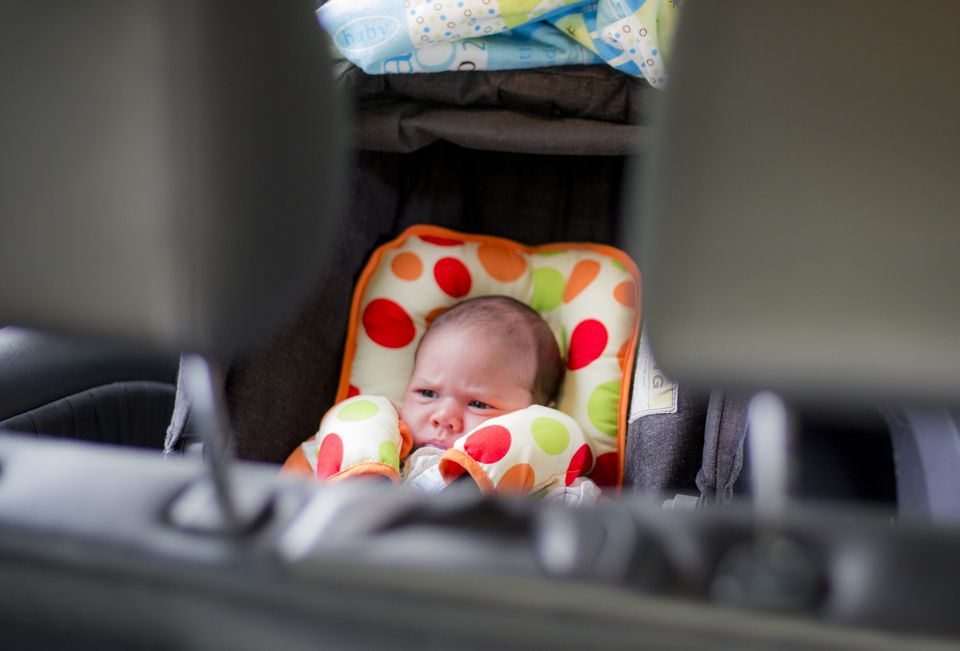 Many parents are unimpressed with the plain, solid-color car seat covers that are already on the car seat when it comes out of the box. Buying one of the countless after-market car seat covers seems like a great solution. They're all so cute! The covers come in plenty of styles, colors, and patterns, and some are even super-soft or extra plush. But are car seat covers safe to use? Child passenger safety experts say no.
There are a lot of companies, big and small, that make custom car seat covers. Safety advocacy groups such as Safe Kids USA, medical experts from organizations such as Children's Hospital of Philadelphia, and all certified child passenger safety technicians advise against the use of any car seat covers that did not come with the car seat or that are not provided by the car seat manufacturer. Here are some of the reasons those after-market car seat covers are not recommended when it comes to keeping your baby as safe as possible.
Why Aren't Car Seat Covers Safe?
Custom covers are not usually made with flame-retardant materials, whereas manufacturer-provided covers are flame-retardant. This could be important for your baby's safety in some types of crashes. If a spark or ember lands on the fabric of the car seat, normally the flame-retardant treatment would prevent it from catching fire quickly.
The fabric on an after-market cover may not offer the same benefit.
After-market covers may not fit your baby's car seat very well, which could affect your ability to properly adjust the car seat harness. This is particularly true if the harness must pull against extra fabric around the harness slots.
The harness slots in the after-market cover may not match up very well with those on the car seat. That could make it difficult to determine the correct harness slot to use. Harness slots must be at or below baby's shoulders when riding rear-facing, and at or above the shoulders when riding forward-facing. If the car seat cover slots don't match up with the actual slots in the car seat shell, the harness may not function as it should in a crash.
A non-approved cover might be significantly thicker than the one that came with the car seat, too, which might result in a harness that is too loose once the extra thick cover compresses in a crash. Any of these differences could change the way the car seat performs in a crash, and could compromise your child's safety.
Some states have clauses in their car seat laws that require proper use of car seats, which means you must use the car seat according to manufacturer instructions. If your car seat owner's manual forbids the use of after-market accessories, you could actually be violating state car seat law.
While many companies say that their car seat covers meet federal standards, the truth is that there are no federal standards governing after-market accessories.
That means their crash testing methods may not hold any real weight. Car seat crash testing is very expensive and requires teams of highly trained experts. It's unlikely that most car seat cover manufacturers are doing any testing that would accurately check the safety of the cover, with every single car seat, in a crash.
What Do Car Seat Manufacturers Say?
Car seat manufacturers usually state in the owner's manual that after-market accessories are not to be used, and most manufacturers will void your car seat warranty if a custom cover is used. If the warranty is voided, and something goes wrong with the car seat in a crash, it's possible that you would have no recourse on a problem, even if it's unrelated to the after-market cover.
If you are still considering buying a custom car seat cover, contact your car seat manufacturer and ask if there are any companies that they would recommend.
You also may find that the car seat manufacturer has other covers for your specific seat that you could purchase. There are some manufacturers that have a small list of extra covers that they've crash-tested and approved for use with their car seats.
If the look of the car seat cover is very important to you, make sure you look at several brands of car seats to see what's available. Manufacturers have responded to parent requests for less boring covers in recent years. You may be able to find a pattern or color you like in a cover that is provided by the manufacturer.
A good general rule is that you shouldn't put anything on the car seat that did not come with the car seat. Usually, the only exceptions are products sold by the manufacturer specifically for use with their car seats. Any after-market products, from those pretty, frilly covers to toy bars and strap covers, were not on the car seat when it was crash tested. Adding things to the seat could change the way it works during a crash. You don't want your baby to be the one testing whether or not an extra product makes the car seat less safe.