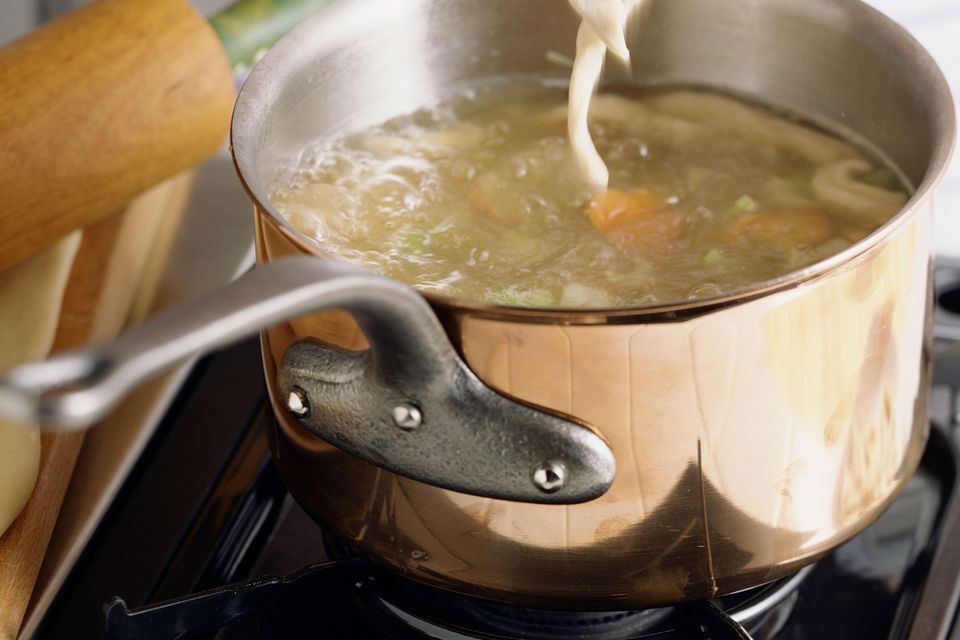 Sherri's chicken and dumplings recipe is made super easy with strips of flour tortillas for the dumplings. The recipe is made with chicken breast on the bone. If you use boneless chicken breasts, take care not to overcook.
4 split chicken breasts (on the bone)
1 quart low sodium or unsalted chicken stock
3 cubes chicken bouillon or equivalent base or granules
1 small carrot, chopped
1 small rib celery, chopped
1/2 cup chopped onion
12 large flour tortillas
salt and freshly ground pepper, to taste
Combine all ingredients in slow cooker, except tortillas. Cook on low 5 to 7 hours, or until the chicken is cooked through. Remove the chicken from the broth and set aside.
Transfer the broth mixture to a large pot on the stovetop. Bring to a boil over high heat; reduce heat to low, or to maintain a gentle boil.
Meanwhile, when the chicken is cool enough to handle, remove the meat from the bones and chop.
Return the chopped chicken to the gently boiling broth.
Cut the flour tortillas in half and then cut them into 1-inch strips. Drop the strips into the broth and boil gently for 15 to 20 minutes, stir occasionally.
If the broth does not thicken enough, combine 1 tablespoon cornstarch (or flour) with just enough water to dissolve and stir into broth. Cook for about 5 to 10 minutes more.
Serves 4.
You Might Also Like