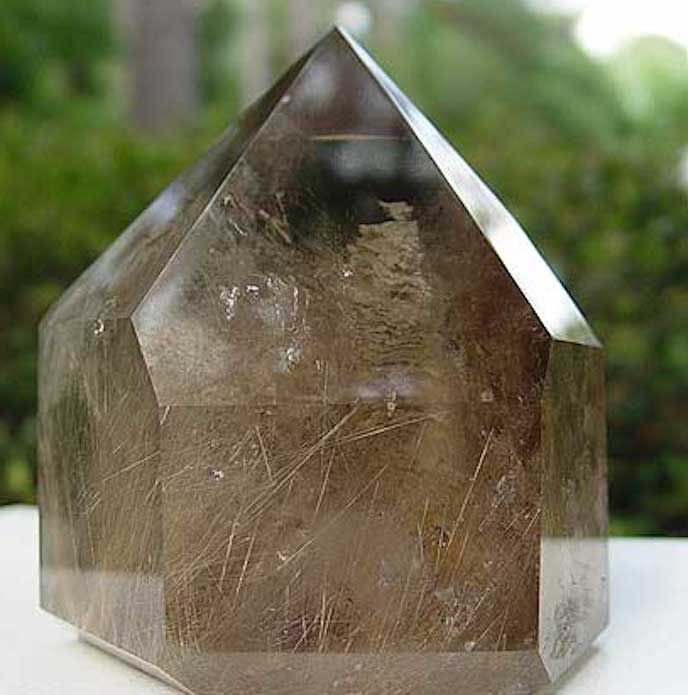 The popularity of the smoky quartz crystal is due not only to its gorgeous look, but also to its affordability and the energy it provides. Grounding in an uplifting kind of way, the smoky quartz also provides a subtle energy of protection and balance.

Just as with the citrine crystal, it is important to choose a natural smoky quartz (not a heat treated one). A natural smoky quartz will have a sense of lightness and translucency to it, even in its deeper tones.
 Basically, the smoky quartz is a variety of quartz that has a unique combination of various brown colour tones (from light to very deep); due to natural irradiation as provided by Mother Nature.
You can often find rutiles (also called angel hairs) in the inner world of the smoky quartz. These golden streams of energy offer the lucky smoky crystal owner more power for healing, clarity, and awareness. You can also often find rainbows and numerous mesmerizing formations in the inner life of the smoky quartz. Just as with the clear quartz crystal, one can spend many hours exploring the inner life of the smoky quartz.

Smoky quartz comes in a variety of forms - from tumbled rocks and small points to clusters and impressive generators. There is also plenty of little souvenirs or sculptures made of smoky quartz, as well as, of course, a variety of smoky quartz jewelry.

WHAT IS SPECIAL ABOUT THE SMOKY QUARTZ CRYSTAL?
The unique combination of strong grounding and protective energy with the light, soothing and uplifting one is the quality that distinguishes smoky quartz from other grounding and protective crystals and stones.


WHERE DOES THE SMOKY QUARTZ COME FROM?
Being generous with its presence, the smoky quartz can be found in many places -- from Brazil and US to Australia and China.

WHAT ARE THE SPECIFIC FENG SHUI PROPERTIES OF SMOKY QUARTZ?
In feng shui, the smoky quartz is used as a protective stone, as well as a stone to ground the energy.
The power of the crystal is employed either with crystal carvings, with tumbled stones and crystal balls, or used in the natural form of a cluster, point or geode.

WHERE DO I PLACE THE SMOKY QUARTZ FOR GOOD FENG SHUI?
The energy of the smoky quartz works well when placed near the front door, as this is where it can serve best with its protective qualities. A tower/generator will work best for this purpose, and so will a smoky quartz cluster.

You can also place the smoky quartz in a child's room, close to a big window, or in your home office. Feng shui bagua-wise, the energy of smoky quartz can enrich the Northwest and the Northeast bagua areas of your home or office.
Read: All About the Feng Shui Bagua

WHAT FORM OF SMOKY QUARTZ SHOULD I CHOOSE?
If your budget allows, choose at least one smoky quartz tower/generator for your home. You can find them in most crystal shops. Alternatively, tumbled smoky quartz stones are a very affordable solution that is even easier to find.

And, of course, you can always benefit from the energy of smoky quartz by wearing it as jewelry. Bracelets and rings are the best choices when it comes to using the energy of smoky quartz as jewelry.

Continue Reading: How To Use Crystals for Good Feng Shui