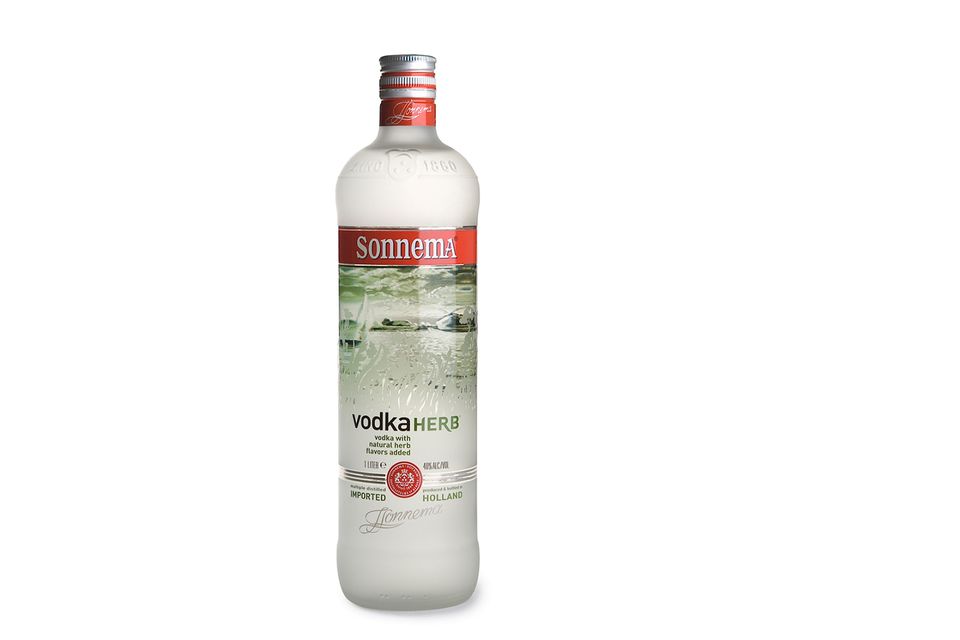 Inspired by the heritage of the Dutch, the origins of genever gin, and an herbal concoction once sought after by seafarers to fight disease, Sonnema VodkaHERB is truly one of a kind. This premium, herb-infused vodka from Holland is sure to make a mark in the spirits market and define yet another dimension in the vodka world.
Sonnema VodkaHERB is so close to the line that differentiates vodka from gin that it is difficult to tell in which category it really should belong.
The selection and strength of the herbs and botanicals are very similar to gin. However, because the juniper plays a supporting role as opposed to the lead, it is best labeled as vodka. This is the vodka that gin lovers will enjoy.
Behind the Spirit
A great tasting spirit with a fascinating story behind it always makes for an exceptional combination and the glimpses of history inside Sonnema VodkaHERB play wonderfully off the intriguing results. Behind the vodka lies the heritage of another distilled spirit that originated in the same area in which Sonnema is distilled: Holland and genever gin.
In the 18th century an Amsterdam herb trader named Hendrik Berenburg created a proprietary blend of herbs that he sold to sailors who mixed the herbs with genever and brandy and used it as a medicinal tonic.
Some years later Freddie Sonnema, a Dutch innkeeper, bought the Berenburg recipe, tweaked it a bit, and branded the concoction into what became one of the most popular spirits of the day in Holland.
It is that blend of herbs that has carried over into Sonnema VodkaHERB.
Making the Vodka
Sonnema VodkaHERB's production is slightly more complex than most others and the final spirit is obtained more in the manner of blended whiskies.
It begins with a clear, traditional Dutch vodka distilled from corn, rye and wheat that was ground in the distillery's 1785 windmill.
This grain vodka is slowly filtered through charcoal, which creates a soft distillate.
A strong herbal tincture is also created by combining some of the grain vodka with the hand-selected herbal mixture comprised in part by wormwood, rosemary, gentian root and juniper from Holland, the Alps, Asia and the Mediterranean. The herbs are strained from the extract after it has reached the desired strength.
The third element in the final blend involves distilling a portion of the grain vodka twice and then a third, and final, distillation during which more herbs are added, leaving a lightly herbal-flavored distillate.
Once each of these three elements are complete the grain vodka, herbal vodka, and herbal extract are married together to form a single, herbal composition that is both smooth and complex with an enjoyable, subtle flavor.
Tasting Notes
Sonnema VodkaHERB has a distinct nose filled with citrus, lavender, rosemary, cedar and juniper. The palate is silky with an herbal spark and tones of rose, coriander and juniper that are beautifully balanced. On its own, this vodka takes a little getting used to and may be an acquired taste, although a dash of lemon and bitters can make a great difference.
However, it is a fantastic, versatile cocktail ingredient.
Enjoy Sonnema VodkaHERB
The Fabulous Shaker Boys created some fantastic cocktails specifically for Sonnema.
Negroni served up and garnished with a cherry
VodkaHerb Martini
About Sonnema VodkaHerb
Grain vodka distilled "multiple times" and flavored with natural herbal extracts.
Imported by Dutch company, UTO
Released in 2006
Retails for around $24/750mL bottle
Originally Published: June 17, 2007
Updated: October 9, 2015
Disclosure: Review samples were provided by the manufacturer. For more information, please see our Ethics Policy.