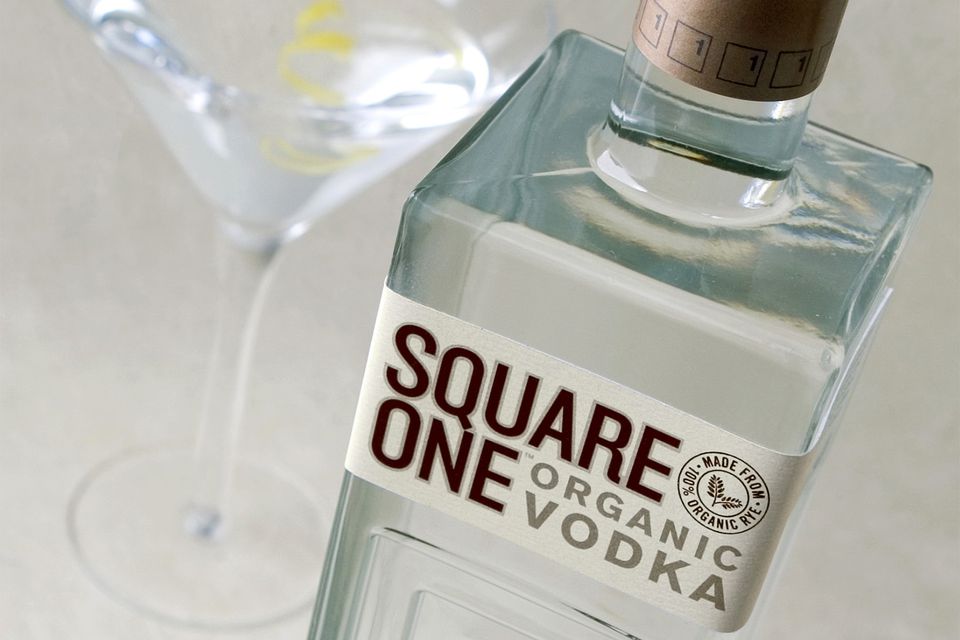 The brainchild of co-founder and CEO, Alison Evanow, Square One Organic Vodka is the first rye vodka produced in the United States that has a certified organic growing and fermentation process as the backbone of the spirit.
The use of a purer distillate and an artisan view of distilling spirits results in a clean, earthy vodka that is a wonderful sipper, versatile mixer and a bottle that makes the environmentally conscious imbiber feel good.
A Liquor Company with a Conscience
Square One Organic Spirits LLC is one of the few liquor producers that employ environmental and social ethics in their everyday life.
Beyond producing certified organic vodka, Square One uses as much recycled packaging as possible and they are always seeking new, greener options. This includes recycled and recyclable packaging, avoiding acid-dipping and screen printing of labels, a cork free of unnatural elements, soy and water-based inks and feeding the by-product of the rye to local dairy cattle.
Social responsibility also plays a major factor in the company policy, which encourages employees to balance their work and home lives and donates a percentage of their annual profits to non-partisan environmental organizations.
Making the Vodka
Square One begins in the rye fields of North Dakota, a premiere rye growing area. Dedication in the fields yields naturally strong, healthy plants by using chemical-free compost and fresh water.
The harvested, certified organic rye is shipped to a distillery in Eastern Idaho that, at 100-square feet, makes a small impact on its environment but houses the rest of the vodka-producing process.
The USDA also certifies the proprietary fermentation process, which uses organic yeast and natural nutrients, and the water used in the distillery is from the nearby Snake River watershed originating in the Teton Range of Wyoming.
Because of the care for and purity of the ingredients used to make the distillate, organic distillers do not need to remove as many impurities as non-organic vodkas and so it needs less time in the stills. Square One is run through a four-column continuous distillation and a traditional carbon filtration process. In total, each small-batch takes 70 hours to complete.
Tasting Notes
The green processes used in its production are apparent in each sip of Square One. It begins with the fragrance of rich, nutty rye and freshly cut straw.
Light grain leads the entry, which is noticeably clean, smooth, and as bright as a brand new day that slowly transforms into a warm, savory palate with a silky, inviting texture.
The finish is long and warming with only the slightest hint of heat that pinches the tongue so subtly that one would feel lost without it.
Enjoy Square One Vodka
The Square One website has a great list of original cocktails that showcase the organic vodka beautifully.
Two favorites are The Coriandrum (vodka, vermouth and coriander-infused agave nectar) and Square One Sensation (vodka, maraschino liqueur and a spa nectar made of cucumber, agave nectar and ginger).
Browsing through the recipes, one finds clean, refreshing cocktails made with natural ingredients (of course, organic is encouraged) so that the rich flavored vodka is allowed to shine.
At the right time of year, many of the Square One cocktails can be mixed with ingredients right out of the garden for ultimate freshness.
About Square One Organic Vodka
Distilled from certified organic rye grown in North Dakota, using a certified organic fermentation process.
Distillate is added to clean, fresh water from aquifers whose source is in the Teton mountain range in Wyoming.
Organically certified by Oregon Tilth following the USDA National Organic Program (NOP).
Master Distiller, Bill Scott
Produced by Square One Organic Spirits, Novato, California
Price: $30-35/750 mL bottle
Square One also produces a portfolio of flavored vodkas including Bergamot, Basil, Botanical, Cucumber
Disclosure: Review samples were provided by the manufacturer. For more information, please see our Ethics Policy.