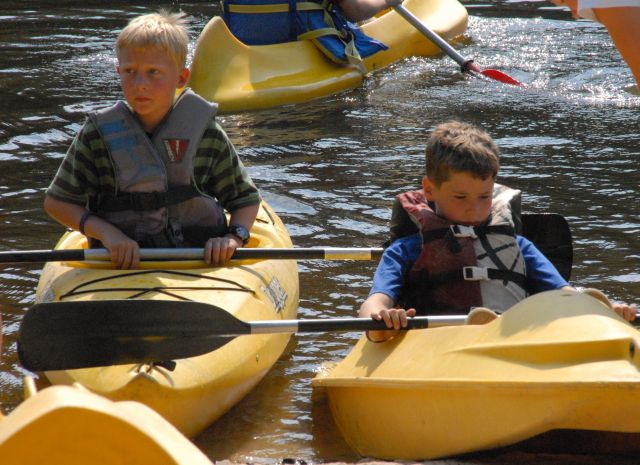 Summer camps offer military kids an excellent opportunity to unwind and temporarily escape the pressures and stress that often accompany living the military life. Although each camp is unique and offers a different curriculum, they're all very similar in that their programs are specifically tailored to address a military child's concerns, teach valuable coping skills and instill a stronger sense of self confidence, along with a host of other skills and tools that the children can utilize long after they leave camp.
If you're considering sending your child to a summer camp, the following list can help you in your quest to find a program that's a great fit for your child.
Camp C.O.P.E.
Established in 2004, Camp C.O.P.E. is a nonprofit 501(c)3 organization that travels around the country offering camps at select locations for military kids. Children of deployed, wounded or fallen servicemembers are welcome to attend. Each camp strives to help kids cope with deployments and other challenges often associated with living the military life. Camp C.O.P.E. accomplishes this by providing age-appropriate interventions and activities, to include interacting with kids that are going through a similar experience, such as dealing with separations brought on by deployment or adjusting to life after their parent was wounded.
To learn about upcoming camps and events, please visit the Camp C.O.P.E Web site or their Facebook page.
Camp Desert Kids
Military kids often harbor numerous fears regarding their parent's deployment. To help children gain a better understanding of what occurs during a deployment, Camp Desert Kids—which is offered through Military Families United—provides a fun, educational program in hopes of soothing a child's fears and anxiety.
With the assistance of the parent who stays behind, camp facilitators accomplish this by utilizing activities designed to expose young children to the various aspects of deployment. For example, by using maps, games, crafts and fun facts, kids will learn about the culture of the country where their parent is currently stationed. They'll be offered the opportunity to wear camouflage uniforms and gear, just like dad or mom would wear. To view a first-hand account of Camp Desert Kids please see this video. If you'd like to find a Camp Desert Kids program in your area please contact your local military installation or Military Families United at info@militaryfamiliesunited.org or phone them at 202– 293-4656.
Operation Outdoors
Kids need a break, too, which is exactly what Operation Outdoors strives to deliver. Sponsored by the Armed Services YMCA, Operation Outdoors offers military kids a chance to have fun with other military kids and forget about their worries and fears that stem from living the military life. Camp participants will engage in outdoor activities that are designed to help build their leadership and teamwork skills, boost their self-esteem and build a support network with other children who are going through a similar experience.
Operation Purple
Sponsored by the National Association of Military Families (NAMF), Operation Purple camps are available free of charge to military kids whose parent is either about to be deployed, is deployed, or has just returned from deployment. Kids from all branches of the U.S. Military are welcome, to include kids of Reservists and Guardsmen. In addition to teaching kids coping techniques and providing them with tools to manage their stress, the week-long summer camps offer a wide variety of fun and interaction with other military kids. Complete details about eligibility, the application process and other pertinent information is located on the Operation Purple FAQ page of their Web site.
Think Outside the Box
When searching for summer camps and programs don't forget to inquire within your local community, to include military bases.
Besides events that are tailored specifically for military kids there are numerous other programs available for all children, military and civilian alike. For example, if your son or daughter loves to fish, enrolling them in a "little anglers" day camp may be the perfect activity to help ease their stress while also giving them something enjoyable to look forward to.
The list of camp themes is endless, which is great news because it leaves you with a lot of possibilities. After all, you know your child better than anyone. If you think a summer camp is something your son or daughter would enjoy it's never too early to start making a list of the programs that pique their interest.