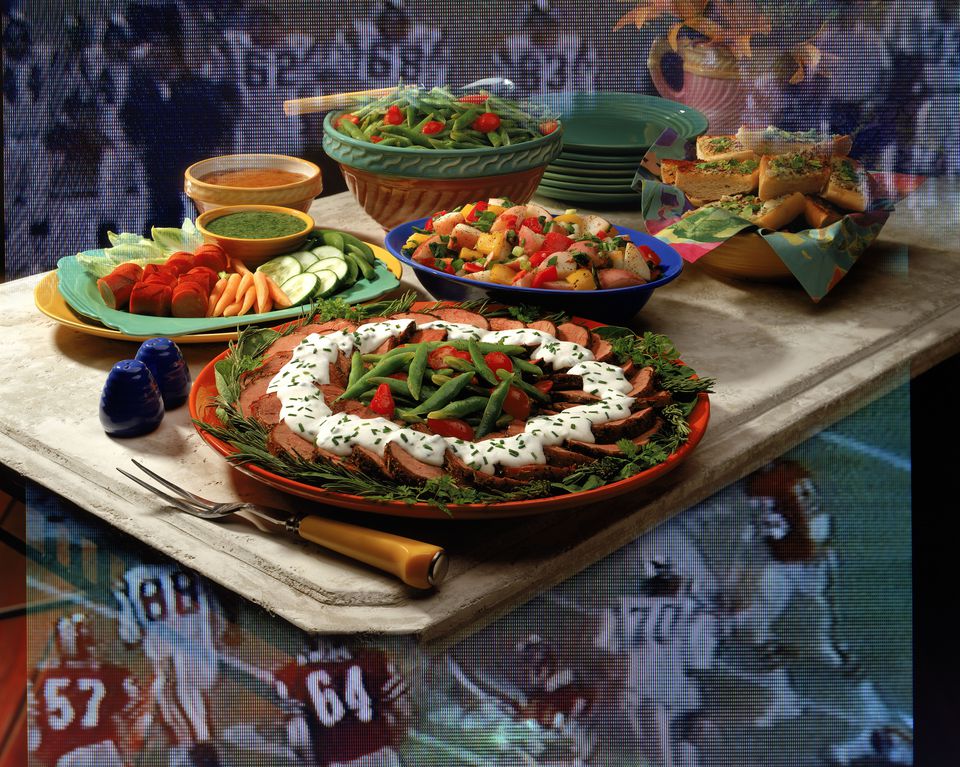 The Super Bowl game is one of the most watched sporting events in the world. It is also a great time for friends and football fans to come together and enjoy a festive party as they watch the big game.
Party Times
Your Super Bowl party can be an all-day event or one that begins right before the kick-off and ends at the game's conclusion. Whichever you decide, you should definitely have a plan and enlist the help of your friends in order to have the best party yet.
Guests
Plan your guest list early, but understand that things can change at any time. Make allowances for an extra guest or two, in case someone brings a date or friend. It's always a good idea to invite the neighbors if you have enough room in your home.
Viewing
Make sure everyone can see the game and commercials. If you have overflow into another room, add an extra TV. This can be in the den, dining room, or even out on the back patio if your guests are willing to bundle up and brave the cold.
If you have children, make sure they have accommodations. Teens and preteens might want to watch the game in another room, away from the adults and smaller children.
Refreshments
It's not going to be much of a Super Bowl party without plenty of finger foods and drinks. Plan in advance to make sure you have enough items that will keep your guests satisfied. In order to make sure you have variety, consider asking everyone to bring something to share.
Provide plenty of plates, bowls, flatware, and napkins. Paper products are fine and will make cleanup much easier. 
Some favorite Super Bowl snacks:
Chili - You'll need bowls, soup spoons, and toppings such as cheese, sour cream, and onlions.
Tacos - Have plates, taco shells, meat, cut tomatoes, shredded lettuce, shredded cheese, sour cream, guacamole, salsa, and whatever other fillings you think guests might like.
Pizza - Offer plenty of plates and napkins.
Wings - You'll need plates, napkins, and some sort of dip to tone down the heat of the sauce on the wings.
Chips - Offer a variety of chips, dips, and salsa. Make sure you have plenty of plates that can handle whatever sauce people put on their chips.
Stock your fridge or cooler with a variety of beverages to accommodate different tastes. Make sure you have non-alcoholic options.
Many Super Bowl parties involve quite a bit of drinking. You don't want to be a party pooper, but you do need to be a responsible host and make sure no one drives under the influence. There are a couple of ways to handle this. You can collect everyone's keys when they arrive and only let them have them back at the end of the evening if they are sober enough to safely get behind the wheel. Another thing you can do is have a designated driver take everyone home.
Be prepared for spills. Keep plenty of paper towels and dishrags available to wipe up after a small accident. There is nothing wrong with protecting your furniture with throws that can be tossed into the washing machine after the game is over.
Decorations
You can have fun with your Super Bowl party decor without spending a fortune.
Have streamers and other decorations in the team colors. Divide the room if you have people rooting for more than one team. Look for anything football related at discount and dollar stores, such as party plates, chip bowls, and serving platters.
Seating
Most Super Bowl parties are casual, so seating doesn't need to be stiff and proper. If you have plenty of space on your sofa, love seat, and chairs, that's great. However, there is nothing wrong with bringing in some folding chairs and oversized pillows for seating. Just make sure everyone has a good position to see the TV.
Super Bowl Activities
The game itself is the main focus of the event, so you don't have to plan anything additional. However, if your guests arrive before the game begins, you can plan a few warmup activities. 
Here are some fun things to do:
Super Bowl Trivia - Have a list of questions that you ask. People can shout out the answer if they know.
Pin the Tail on the Quarterback - Have a photo of the opposing team's quarterback enlarged and tape it to a wall. Blindfold each guest and give them an opportunity to pin (or tape) a paper donkey tail on the quarterback.
Famous Commercials from the Past - Enlist the help of those who don't mind performing and have them act out some of their favorite commercials from past Super Bowls.
Whatever you choose to add to your list of activities, make sure everyone is enjoying them. If they aren't, be flexible and switch gears. Make sure young children have plenty of things to keep them busy and a place to rest when they get tired. It's always a good idea to pay a responsible teenager to keep the little ones entertained so their parents can enjoy the game. 
Edited by Debby Mayne