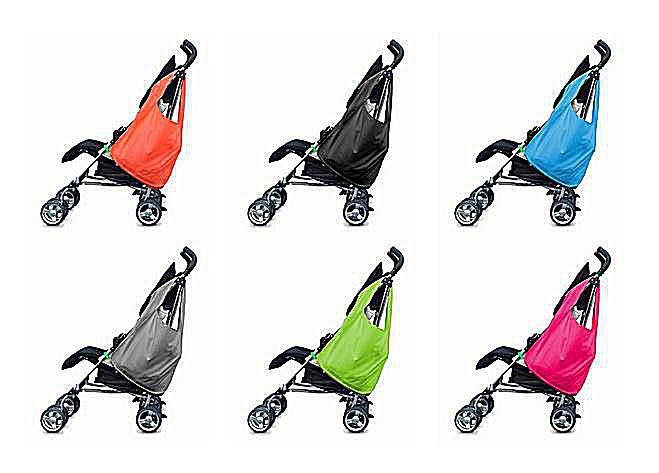 If you're using a lightweight stroller, you've probably noticed that the stroller tips over when you try to hang a bag on the handles. Light strollers sometimes lack a lot of other storage space, though particularly the simple umbrella strollers. What's a busy parent to do?
The SureShop Bag from Hatch Things offers a simple, stylish solution. These bags hang from the top of the stroller, but then they also have clips to pull the bag forward and hook it to the stroller frame.
moving the weight of the bag forward changes the center of gravity so that the bag won't tip the stroller. You can put a bag on each side of your stroller, and each one will hold up to 10 pounds of groceries or baby gear or personal items. You can also just use one bag on one side of the stroller. It won't tip the stroller to the side.
There's a long carry strap for your shoulder when the bag is off the stroller. The strap has a little pocket in the top in case you need to hook your stroller handle into it to keep the bag from dragging on the ground. There are clips at the top of the bag to attach it to single handle strollers, as well. The clips at the bottom of the bag are used to hook the bag to the stroller frame. All of the clips have little pockets that they can tuck into when not in use, so the bag doesn't have pieces dangling all over. The storage pouch is attached to the bag, so when you're done using it, you can stuff the bag into the little pocket and stash it in your diaper bag or car.
There's even an instruction label in the storage pocket in case you forget how to clip the bag onto your stroller.
The bags are made of sturdy nylon and are machine washable. They come in 6 colors to coordinate or contrast with your stroller. They can also be used on the side of a shopping cart, thanks to the versatile clips.
The SureShop Bag is really well-thought-out and is an excellent product for city dwellers, traveling parents, and anyone who wants to add some storage to their stroller in a secure way that won't tip the whole thing over.
Disclosure: Review samples were provided by the manufacturer. For more information, please see our Ethics Policy.