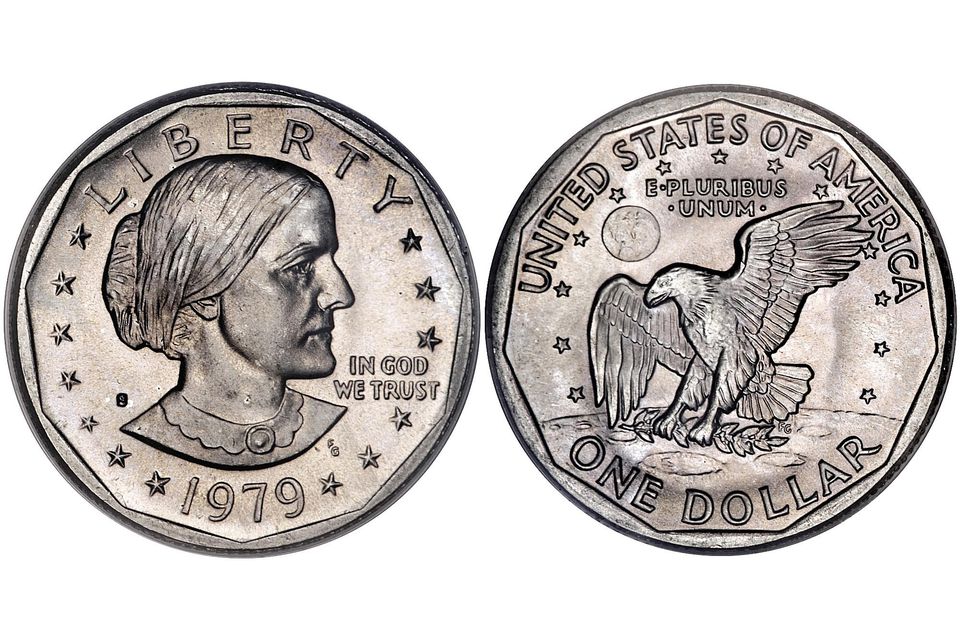 Introduction to Collecting Susan B. Anthony One Dollar Coins
The Susan B. Anthony (S.B.A.) one dollar coin was designed by Frank Gasparro and was first minted in 1979. The coin was continuously produced through 1981 when demand for the coin ceased. In 1999 The Federal Reserve Bank ordered more one dollar coins to meet the demand of the vending machine industry. This resulted in an eighteen year lapse between 1981 and 1999 were no dollar coins were produced.
This new one dollar coin was hailed as the replacement for the paper one dollar bill. Unfortunately, its size and color were very similar to the current U.S. quarter and people frequently confused this new one dollar coin with a quarter. This resulted in the public rejecting the use of this coin and caused its ultimate demise.
Collector demand for this coin series is low due to its lackluster design and rejection by the public. Both circulated and uncirculated examples are readily available.  Occasionally, you may be able to find circulated coins available at your local bank. Uncirculated coins can be purchased at reasonable costs from your local coin dealer. Intermediate collectors seeking examples of proof and die variety coins will find them readily available at local coin shows and on the Internet. Advanced collectors seeking to assemble a collection of high grade business strike and proof specimens will need patience and time to track them down and purchase them.
Type Coin Collecting
Beginning collectors or coin collectors not seeking to assemble an entire set can readily find an uncirculated example at any coin shop or coin show. The United States Mint issued three coin collector sets of uncirculated specimens from the Philadelphia, Denver and San Francisco mints.
These sets can be purchased for a slight premium over face value.
Collecting a Date Set
Given the short run of this series, very few people will collect a date set of S.B.A. Dollars. At first glance it looks like this series has a twenty-one year span of production, but in fact it was only produced for four years (1979, 1980, 1981 and 1999). With a little extra cash and effort you can collect an entire date and mint set of this series.
Assembling a Date and Mint Set
A vast majority of Susan B. Anthony dollar collectors assemble a date and mint set of business strike coins. You may even find that your local bank may have some of these coins available when customers deposit them or exchange them for paper currency. Otherwise, you may obtain them from your local coin dealer or online for a small premium over face value. To complete your coin collection, you will need to collect a total of eleven coins:
1979-P
1979-D
1979-S
1980-P
1980-D
1980-S
1981-P
1981-D
1981-S
1999-P
1999-D
A Complete Set of Susan B. Anthony One Dollar Coins
Intermediate and advanced coin collectors looking for a challenge will assemble a complete date and mint set that includes business strikes, proof issues and five popular die varieties.
Furthermore, you should strive to obtain the business strike coins with a minimum grade of at least MS-65. Almost all the coins in the series are extremely affordable. However, there is only one coin that will cost you a little more than $100: the 1981-S Proof Type 2. In addition to the coins listed above, you will need to obtain the following coins:
1979-P Wide Rim (aka: Near Date)
1979-S Proof Type 1 (Blob Mint Mark)
1979-S Proof Type 2 (Clear Mint Mark)
1981-S Proof Type 1 (Clear Mint Mark)
1981-S Proof Type 2 (Flat Mint Mark)
Learn more:

Identifying Susan B. Anthony Dollar Key Dates, Rarities and Varieties
Values and Grading
Many factors go into determining the price and value of a coin. As a coin collector, you must develop your coin grading skills in order to determine an accurate value of your coins.
Also, you will directly benefit by learning as much information as you can about the Susan B. Anthony One Dollar coins. This includes such things as total mintages, die varieties and detailed specifications. The following guides will help you learn these skills.