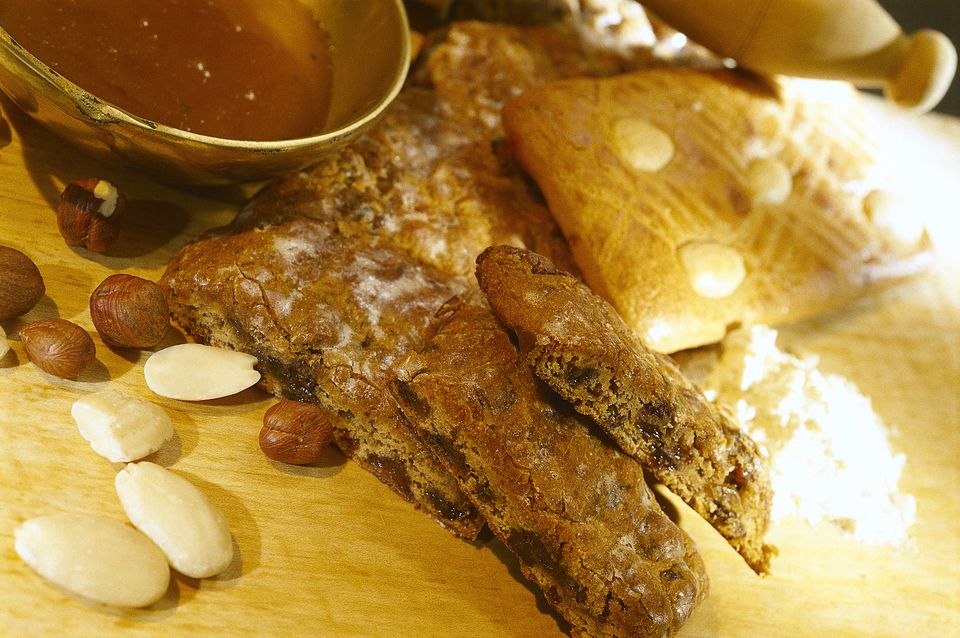 This Swiss-German Christmas Gingerbread Cookie, or Basler Läckerli (Lek-ur-lē) in Swiss-German, is another 300-year-old cookie with a secret recipe. Dry and filled with nuts and Orangeat (candied orange peel), this cookie keeps well for weeks. If you cannot get a hold of real Basler Läckerli from Basel, Switzerland, this recipe yields good results and is delicious, too. (See larger image)
Cookie Dough:
3/4 cup/90 grams  almonds (raw)
3/4 to 1 cup/90 grams walnuts (raw)
3/4 cup/90 grams hazelnuts (raw)
1 cup/350 grams honey
1 3/4 cups/350 grams sugar
3/4 to 1 cup/125 grams lemon peel (candied)
3/4 to 1 cup/125 grams orange peel (candied)
4 5/8 cups/570 grams flour (all-purpose)
1 zest of lemon
6 tablespoons/30 grams cinnamon
2 teaspoons cloves
1/2 teaspoon nutmeg
2 teaspoons/about 10 grams potassium carbonate (food-grade​ potash)
2 teaspoons/about 10 grams ammonium carbonate (​baker's ammonia or Hirschhornsalz)
3 to 4 tablespoons​ Kirschwasser (or other liqueur or water)
Glaze:
1/2 cup sugar
1/4 cup water
To Make the Dough
Blanch almonds and hazelnuts and remove the skins. Let dry. Finely chop all nuts (you may pulse in a food processor several times) and set aside.
In a small saucepan, heat honey and sugar until boiling and sugar is dissolved. Remove from heat and let cool slightly.
Finely chop candied lemon and orange peel.
While sugar and honey are heating, in a large bowl, mix together flour, zest, cinnamon, cloves, nutmeg, potash, baker's ammonia and Kirschwasser together with the candied peel and nuts. Carefully pour hot syrup into dry ingredients and mix with a wooden spoon until a sticky, thick dough comes together in a ball.
Form the dough into a loaf shape, wrap in plastic and let the dough sit at room temperature for one to three days.
Heat oven to 350 degrees. On a lightly floured board, roll out dough to fit a cookie sheet, about 1 centimeter (less than 1/2 inch) thick. Place the dough (without cutting into shapes) on a greased cookie sheet and bake for 25 minutes, or until cookie slab is browned and hardening on the edges.
Remove from oven and cool slightly.
To Make the Glaze
While cookie slab is cooling, make the glaze by boiling together 1/2 cup sugar and 1/4 cup water until sugar dissolves.
Brush glaze over warm cookie slab.
Score the slab into serving-size square cookies with a knife and let cool completely in the pan.
When cool, re-cut the cookie squares and remove from pan.
Store in a dry container. If the glaze is still a bit sticky, you may dust cookies with powdered sugar before packing them together. Cookies will keep for several weeks if you can keep from eating them. These cookies may be shipped successfully.
Note: This dough must age at room temperature for one to three days before baking, so plan accordingly.