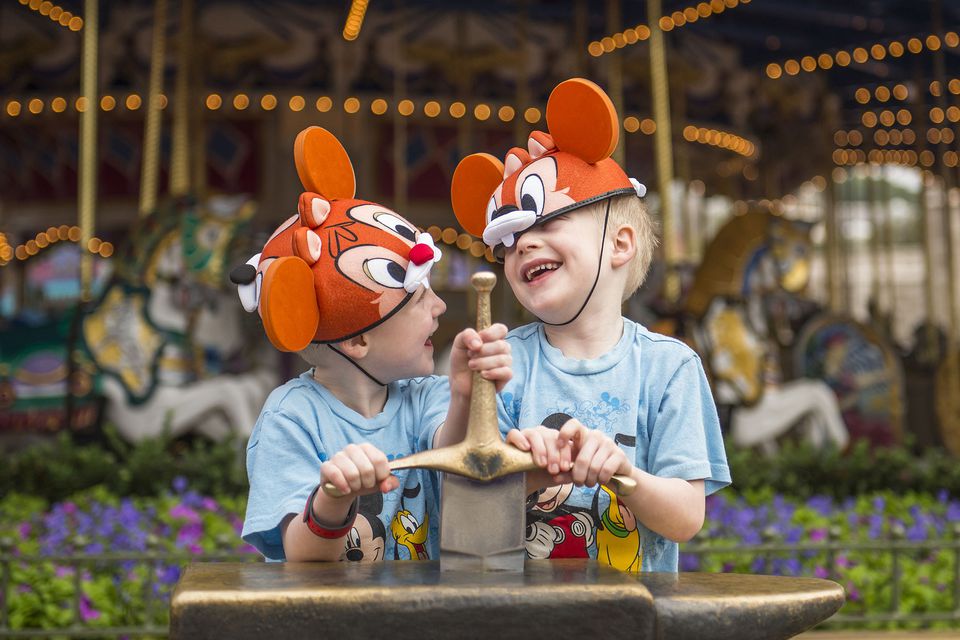 If you're a grandparent, chances are that you grew up watching the Wide World of Disney and dreaming of taking the jungle cruise or flying with Peter Pan. Now that you are a grandparent, chances are that at some point you will consider going with some or all of the grandchildren to Walt Disney World. If so, it's absolutely vital that you know how to do Disney. Check out these theme park hints for grandparents, and read on for Disney-specific advice.
Choose Your Dates Wisely.
It's tempting to visit on a holiday because of work and school schedules. Don't do it. Instead, take advantage of any break in the school calendar that is not tied to a regular holiday. If you have to visit during the summer, crowds will be large but probably manageable if you avoid weekends and holidays. Summer visitors should be aware that rain is common, especially in the afternoon. Put in lightweight ponchos for everyone, find shelter and wait out the rain, even if it seems heavy. It will lower the temperatures and reduce the crowds. If you aren't blessed with a summer shower, it is wise to leave the park in mid-afternoon for a late lunch or early dinner, either preceded or followed by a nap. You can return to the park in time for the evening festivities.
Do Your Homework.
Well in advance of your trip, buy a good guide to Disney and study it. There is one simple but oft-ignored principle: Have a plan.
It then provides the detailed information that you need to make your plan. Some of it is common sense: Get to the park before it opens. Head to popular, slow-loading rides first. Don't be distracted by any attractions that are not in the plan. Besides this basic advice, the book offers information on each ride, such as whether it is slow-loading or fast-loading, what the ride time is and what time of day is best to ride it.
Birnbaum also has a popular guide to Disney that is rated as an "official" guide. It is an excellent resource, though with a slightly different vibe. It also contains coupons. 
Use the Fastpass and Rider Swap systems.
In 1999 Disney inaugurated its FastPass system, paper tickets that allowed visitors to ride a particular ride within a certain time frame without waiting in the regular line. That system has been upgraded to FastPass+. Paper tickets are no longer necessary, and some rides can be booked days in advance of a visit. Also, you can now book three FastPasses ahead of time and obtain even more in the park. If you maximize the use of yourFastpasses, you will spend a minimum of time waiting in line. 
Another helpful Disney innovation is Rider Switch, which allows you to wait with a child who is too small for a ride, then hand off the child to another adult in your party and get on the ride without waiting in line again. Rider Switch is only available for certain attractions. The Unofficial Guide gives more information about Fast Passes and Rider Switch.
Have a Meal Plan.
Food at Disney World is expensive, but less exorbitant than the food at many ball parks, special events and other theme parks.
More importantly, their food is higher in quality than similar venues, and healthful choices are available.
You can opt for table-service restaurants or quick-serve options. Most grandparents prefer the table service route because it allows them to rest and be waited on. Reservations can be made for table service restaurants so that you won't have to wait in a long line.
Sometimes Disney offers free dining in conjunction with on-site lodging. Although free dining sounds like a great deal, if you have to pay more for your lodging, it may not save you money. 
You can choose to bring in food, and it's not a bad idea to bring in some snacks, but don't be afraid to try the theme park food if your budget allows it. Glass containers, large coolers and coolers on wheels cannot be taken into the park.
Disney Springs, the name for the renovated Downtown Disney, offers many dining options and may be a more relaxing place for a meal than the park itself. Also, since there is no charge to enter Disney Springs, you can stretch out your vacation for a day and just visit Disney Springs. A stage features free performances, and there are often street performers and lots of photo ops. Just be aware that there are also lots of shops.
Plan and Budget for Souvenirs.
Talk to the grandchildren ahead of time about souvenir shopping. Do not buy anything that has to be carried until you are on your way out of the park. Browsing in the gift shops is a huge consumer of time and will almost certainly throw you off your carefully planned schedule. Although Disney routes its visitors through gift shops, and the entrance to the park is down Main Street lined with shops, if you stride briskly through the shops on the way to the next attraction, you should be able to avoid the shopping trap until the time you have designated, if any.
Another option is to buy Disney gear ahead of time for the grandchildren to wear to the park. If you're going to be there for the SpectroMagic light parade, you can save money by buying glow sticks at a discount store outside the park.
Make Disney World an Educational Experience.
Most grandparents love to see their grandchildren learning something. Educational opportunities abound at Disney World, but the learning should start before the trip begins. Children will enjoy the rides more if they are familiar with the stories. Most children will know the recent movies, but they may not know about the Swiss Family Robinson or the Brer Rabbit stories. These stories can be found in versions for younger and older children.
School-age children can participate in planning the trip, including formulating a budget, a great real-world math skill. They can practice map reading if the trip is to be made by car and learn about the states that lie along your route. Children of all ages will enjoy learning about the creatures in the Animal Kingdom.
Take Care of Yourself.
Do both yourself and your grandchildren a favor and take care of yourself. Drink lots of water. Take frequent breaks for a drink or a snack or just a brief rest. Look for places where you can sit instead of standing. Use a stroller for young children. Remember that it usually takes at least half an hour to leave the park, and don't wait until you are exhausted to start for the exit. Grandparents with disabilities will have to be particularly careful not to overschedule themselves and become overtired. Walt Disney World provides a Guidebook for Guests with Disabilities to help park visitors with special needs.
Enjoy the Magic!
Stick to your plan as much as possible, but don't stress out over the inevitable bumps in the road. Disney gets a lot of things right. Relax and enjoy the magic.