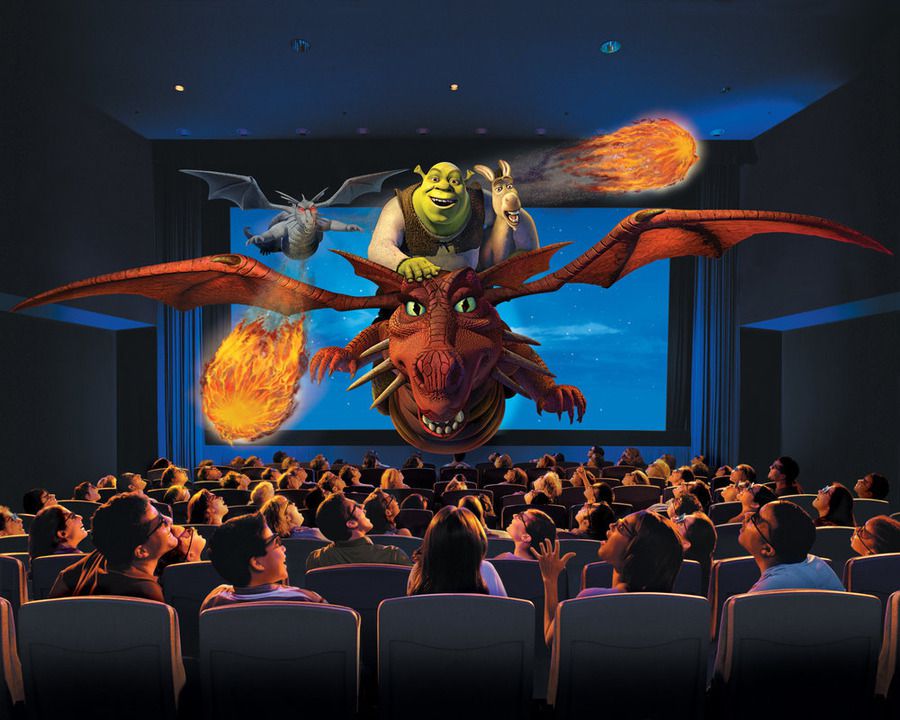 Theme parks are great fun, but can be tiring for grandparent legs and for little ones' legs. Universal Studios Hollywood is a good choice for all generations because it has certain features that make it easier to negotiate than other theme parks. Read my general theme park hints for grandparents, follow this advice about managing fatigue, and then get ready to enjoy Universal!
Relax With Front of Line Passes
If you are visiting Universal Studios in the summer, pay for Front of Line passes.
You'll be glad you did. Front of Line passes give you immediate admission to all rides and shows. It's true that you may have to wait ten minutes or so with other passholders, and you'll still have to plan which shows you want to see and be in the right spot at the same time. Still, Front of Line passes make it possible to see the entire park in a day, even in the summertime.
Many find Front of the Line infinitely preferable to Disney's Fast Pass. That's because Universal will sell Front of the Line admission to only 10% of its visitors, whereas every Disney visitor can get the free Fast Passes. It's true that Universal's passes cost considerably more than regular admission. Still, when you consider the cost of getting to the park and the associated expenses, springing for Front of the Line passes to make it more enjoyable just makes sense. Buy them online. If you wait until you get to the park, they could be sold out.
Learn more about getting your tickets.
A pricier option is the VIP Tour, which gives you unlimited Front of the Line access, two meals, valet parking and a personalized tour. At almost triple the price of regular admission, it won't be an option for many.
Check Out Harry Potter
J.K. Rowling fans are rightfully excited about the second U.S. location of The Wizarding World of Harry Potter, which opened in April of 2016.
 This one is very much like the Orlando version, with a few key differences. The Hollywood version lacks the Hogwarts Express and Diagon Alley, although the latter may be added at a later date.
On the minus side, the opening of the Harry Potter attraction is bound to mean bigger crowds and longer lines. But if you are in the western part of the U.S., at least you have a Wizarding World a little closer than Orlando.
Take a Break on a Tram
The feature that sets Universal Studios apart from other theme parks is the Studio Tour. Occupying the better part of an hour, it consists of a restful ride in a tram--restful, that is, except when King Kong is menacing the tourists.
You may think that younger grandchildren will find the tour dull. Wrong! Although they aren't likely to be thrilled by features such as the Munsters' house and the Bates Hotel, the tour intersperses exciting bits with the nostalgic sites, keeping everyone entertained. You may experience a flash flood, survive an earthquake in a subway station and dodge hurtling cars in a Fast and Furious scenario.
The most hyped part of the tour is the King Kong 360 3-D by Peter Jackson. The tram drives between two curved screens, the equivalent of 16 regular movie screens put together, and passengers witness an epic battle between King Kong and a T-Rex.
Production values are extremely high, but viewing the film from a tram dilutes the effect a bit. Action is occurring on both sides, but it's impossible to watch both sides at once.
The King Kong attraction may be a little over-hyped, but the Studio Tour lives up to its reputation as the soul of Universal Studios. Don't miss it.
Escape the Hubbub at CityWalk
Theme park dining experiences can be almost nightmarish. Some theme park restaurants now take reservations and can be nearly impossible to get into without them. Other restaurants are so packed and chaotic that it feels as if your food is thrown at you. And that doesn't even get into the matter of food quality.
Realizing perhaps that people would really rather eat outside the park, Universal developed CityWalk, a three-block long area of restaurants, shops and entertainment venues just adjacent to Universal Studios.
It features around 30 restaurants. Some of them may get crowded, but it's a normal busy restaurant crowdedness, not a theme-park madness. And, yes, they are primarily chain restaurants like Bubba Gump and Hard Rock, but they are real restaurants where grandparents can catch their breath. (Disney has a similar set up at Disneyland and Walt Disney World with Downtown Disney.)
Other Favorites Will Vary
With the addition of the Walking Dead feature, Universal Studios adds another touch of the macabre. It already had the Mummy ride, a favorite of many, and the House of Horrors. These attractions may be too scary for youngsters.
Tamer favorites include the Simpsons, an amazing ride simulator featuring the Simpsons brand of humor, and the Jurassic Park, which does get you wet. Shrek 4-D is another favorite. In 2012, the park added Despicable Me Minion Mayhem, a 3-D ride that has been receiving good reviews.
What's Different About Universal
The physical layout of Universal Studios Hollywood gives it a slightly different air. The main difference is the division of the park into the Upper Lot and the Lower Lot. The Lower Lot is smaller and farther away from the entrance, so it's a little quieter. The escalators that take you down the hill give you a good view of the surrounding area while being easy on the feet.
It's almost as if Universal had grandchildren and grandparents in mind from the start.