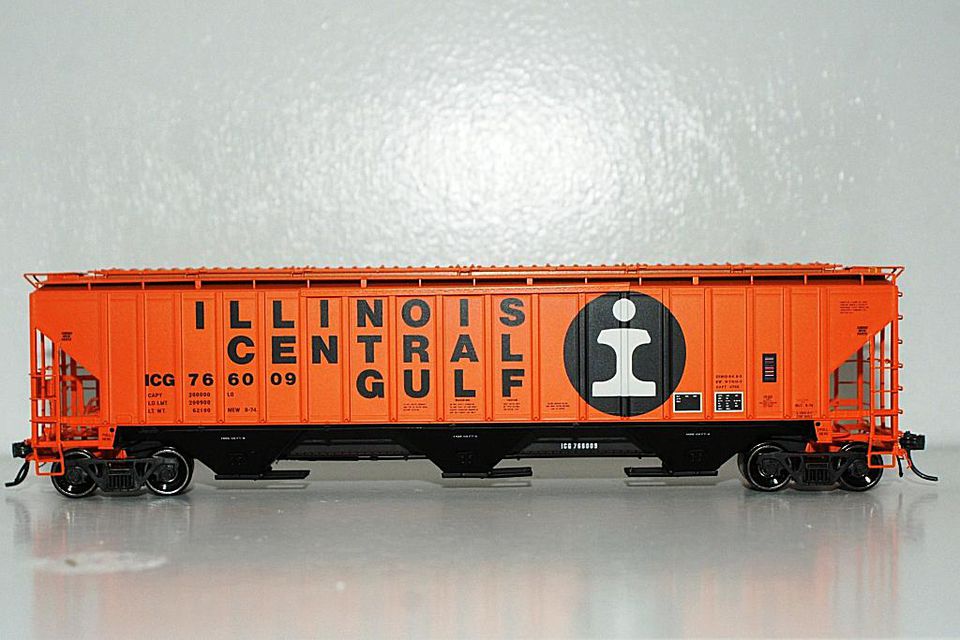 The Pullman Standard 4750 cubic foot hopper (PS4750) has been one of the most common covered hoppers on the rails for decades.
These cars are seen all across North America hauling a wide variety of products - most associated with the agricultural industry.While many wear plain lettering schemes, colorful billboard schemes of the 1970s and 1980s can still be found.
Tangent's model has been re-released in several new schemes with some interesting variations.
Multiple numbers are available for most paint schemes.
Roadnames: Santa Fe, CN (IC), Lincoln Grain, Rio Grande, Illinois Central Gulf, FLIX, Cargill, NAHX "Creston Co-Op", PTLX "Percival Grain"
MSRP: HO: $44.95
Prototype History
Introduced in 1972 and built through 1981, Pullman Standard built more than 56,000 of these cars. Similar cars were built by other companies as well. With the many subtle changes in design in Pullman's own cars over the years, spotting the difference between builders' products can be a real challenge.
Soybeans, corn, potash, fertilizers and wheat are all common loads. These cars can be seen individually or as part of long unit trains, especially during harvest seasons.
The years of these cars' construction were marked by colorful paint schemes on many railroads. The majority of these cars were owned by Pullman Standard's own leasing company and wore a variety of equally colorful schemes for private companies and co-ops with PTLX reporting marks.
Now after decades in service, more plain schemes are much more common. However you'll still see some colorful survivors around and some equally interesting "patch outs" as cars have changed owners or lessees and received hasty repaints.
Tangent Model
Tangent's are certainly not the first or only HO models available of the popular 4750.
But they are one of the nicest.
Cars feature many details, often customized to the roadname. These include separate grab irons, stirrup steps, roof and hopper doors, underbody details including brake lines, coupler cut levers, air hoses and photo-etched roof walks and end platforms. Cars come completely assembled and ready to run. The two top-chord stiffening bars on my sample are partially warped and pealed away from the body. This should be easy to correct with a little glue.
The car has free-rolling metal wheels and Kadee No. 58 scale knuckle couplers all of which checked out in gauge. Couplers are secured by small screws. The cars also feature hidden weights inside to bring them up to established standards.
There are literally thousands of potential paint scheme options for these cars. Tangent releases new ones at regular intervals as they sell through. This latest release includes a variety of interesting cars appropriate for the 1970s to today. One of the most interesting is an accurately incorrect version of a "Lincoln Garin" miss-spelled car.
Even some of the early era paint schemes can be used on modern layouts, especially if you're willing to add a little weathering. Cars like the one I purchased for this review in the ICG's orange paint can still be seen coupled to recent repaints by Canadian National for example.
Paint on the model is very nicely applied. Most impressive is the white lettering on black backgrounds as seen in the "i" herald and the smaller print on the hopper bays and center sill. The white lettering is all opaque and crisp. The ICG orange appears to be a good match for the cars when new. 
While there are less-expensive options for those wanting to build large fleets of these common cars, if you're after the absolute finest in detail, paint and finish, then these cars can't be beat. For the quality in construction, the Tangent models do represent a tremendous value.