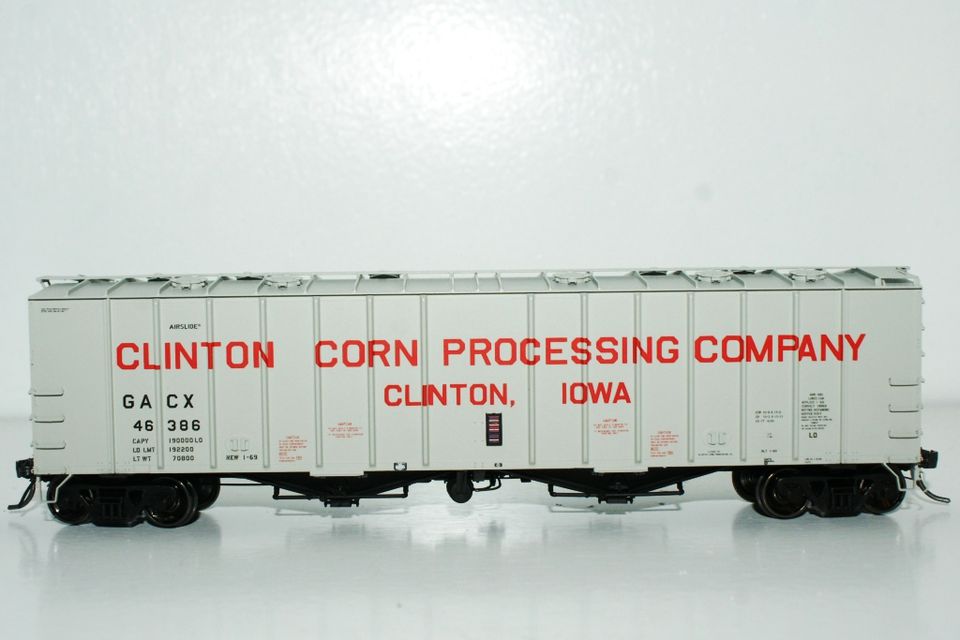 Tangent recently released an all new model of the General American 4180 Airslide covered hopper. These new models capture this interesting prototype in amazingly accurate detail.
The initial release of the cars comes in multiple road numbers in eight paint schemes. Several paint schemes include variations beyond just the road number to accurately replicate the specific prototypes at a specific point in time.
Tangent uses prototype photos to ensure that their cars are as accurate as possible.
Initial road names include; Baltimore and Ohio, BNSF (buffer car service), Chicago Northwestern, Clinton Corn Processing, GATX, Gulf Mobile and Ohio, Milwaukee Road and IGP Canada. Primer painted ready to run models and undecorated kits are also available.  
Retail price for the models is $44.95 each. Kits are $37.95 each.
Models are available through select hobby shops or can be ordered directly from Tangent. Some road numbers and road names are already sold out at the company but can still be found at hobby shops.
The four models reviewed here were purchased with my own funds for this review and use on my own railroad.
An Interesting Prototype
General American's Airslide covered hoppers are an interesting prototype which has now seen nearly sixty years of service. 
The cars evolved from the earlier Dry-Flo hoppers (which Tangent has also beautifully produced) and use a pneumatic system to help with the unloading.
Air is forced through holes in the bottom slope sheets of the car. This aerates the load and pressurizes the car, allowing the load to flow freely through the hoppers.
Airslides are commonly used to carry flour, sugar, fertilizer, starch and powdered chemicals. 
The 4180 cubic foot capacity cars are among the larger Airslide versions.
Earlier "single bay" 2600 foot cars proved the concept but railroads and private shippers alike wanted something bigger. More than 5000 cars of this size were built between 1963 and 1980.
A Unique Look
Airslides don't look much like conventionally covered hoppers. But even among models of this class, there are many variations. Over a seventeen-year production run, improvements are made and designs are changed. 
Tangent has modeled three distinct versions of this car. The most obvious differences can be seen in the ends of the car. The shape of the side posts, the position of the handbrake, roof style and running boards are other spotting features. Smaller detail changes include grab iron, ladder and stirrup styles and crossover platforms.
Regardless of which phase is represented, each model shows a high degree of quality in its construction. All of the fine details and piping are finely executed. Most parts are made of wire for durability.
Perhaps a unique feature of this model which sets it apart from earlier Airslide models is the see-through floating bolsters on the ends. The end details on these cars are very well done overall. It's almost a shame to bury one in the middle of a train.
For modern modelers, the BNSF buffer cars are perfect in this role as they are commonly found on either end of a unit train of oil or ethanol tank cars. Add a working EOT from Ring Engineering and you've got the perfect end to any train (at least in this post-caboose era!)
Deco and Performance
The quality in construction in these models doesn't end with the details. The Airslides are ready to run right from the box. This doesn't just mean that the cars are assembled, it includes all of the quality checks that modelers need to do before a car goes on the layout.
The car has metal wheelsets which are free rolling in the trucks. All wheels checked out in the gauge on my four samples.
Couplers are scale metal Kadee No. 58 couplers. They also all checked out at the proper height.
The cars weigh in at 4.85 oz - just over the NMRA recommended the practice.
In short, you should have no operational troubles with these cars.
These cars came in a variety of colorful paint schemes, as well as some rather "plain" cars with minimalist markings. Tangent has done their homework in capturing the details of each paint scheme and reproducing colors accurately. The attention to detail shows in things like the ACI tags which are applied on separate pieces like the prototype where appropriate on some models. On other models, they are printed directly on the models.
About the only thing left for the modeler to do on these beautiful cars adds a little weathering to complete their realistic look.
From overall appearance to performance to the smallest of details, Tangent has produced another excellent model which should be perfect for layouts set from the 1960s to today. While there are less expensive models out there, none rise to the level of detail found on these cars. With so many more road name options available, I look forward to seeing new offerings on these models for years to come.