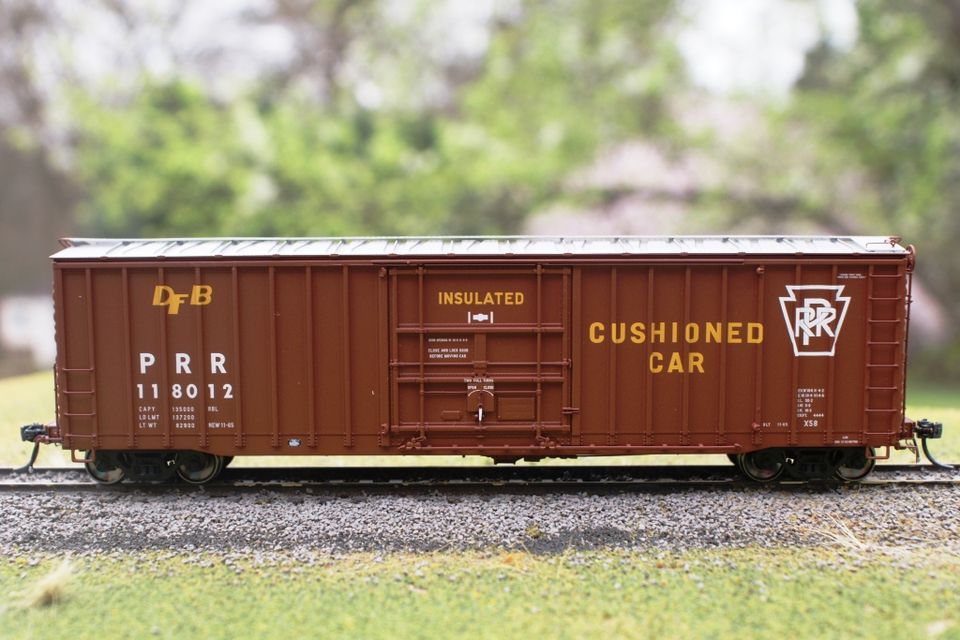 Tangent Scale Models' first boxcar release captures one of the last common cars from the "Standard Railroad of the World." The Pennsylvania's X58 class of cars proved to be a durable and useful design. Many survived long enough to serve the successors to the successor to the successor of the Pennsy. As general service cars, the X58s roamed far from home rails in the Northeast US and could be found anywhere in North America from the mid 1960s to the mid 2000s.
Although inexpensive "stand-in" cars have been available for decades, and excellent models have been produced as resin kits which are no longer available, this is the first time a proper replica of these boxcars has been available ready-to-run and loaded with this level of detail.
Retail price on the new cars is $44.95. They are available through dealers and from Tangent directly. Tangent does offer a discount when you purchase multiple cars and you can mix and match. This first run comes decorated in multiple numbers each for Pennsylvania, Penn Central, Conrail and Norfolk Southern. Unlettered, painted cars in PRR boxcar red, PC green and Conrail red are also available.
These cars were first announced in January. Shipping delays - out of Tangent's control - slowed delivery of these cars until mid March. Tangent included a kind letter in each shipment and emailed customers who preordered apologizing for the delay.
This was a thoughtful touch which speaks volumes of their commitment to the hobby and their customers. But honestly, compared to the shipping delays other companies have all seen at times, the extra few weeks of waiting were not an issue, and these cars are more than worth the wait!
Prototype Background
The Pennsylvania Railroad began building its X58 class of boxcars in 1964 at the Sam Rea Car Shop in Hollidaysburg, Pennsylvania. The cars were made using ends, underframes, doors and other components supplied by other companies.
When production ended two years later, the PRR had built 2,565 cars for its own use along with 100 for the Lehigh Valley. The Pennsy's cars were grouped in four subclasses (X58, X58A, X58B and X58C) which included different interior accommodations like insulation or load dividers for shipping different loads. Externally, the cars were very similar with the biggest difference between classes being the type of underframe used (not readily seen from normal viewing but Tangent's models do include both versions.)
The cars feature closely spaced exterior side posts. The roof has a shallow ridge down the center and the side sills have a small "fishbelly" profile. Visually, these cars capture their era as a transition between the classic 50' cars of the 1950s and the many similar "modern era" designs which would come in the 1970s.
Beginning in the Penn Central era, with the need for roof-walks long gone on most cars, regulations changed and railroads began removing this feature.
Often the ladders to get to the roof and the handbrake on one end of the car were lowered as well. In some cases however, the brakes were left high and only the platform on the roof was removed. (There were also cases where the roof walks were actually left in place but the handbrakes and ladders all shortened so there was no way to access them.)
Both Penn Central and Conrail carried out these conversions, often in the same shop where the cars were built. Tangent's PC cars have a lowered brake wheel. Conrail cars have a high brake wheel. This could change in future runs as Tangent builds following specific prototype cars.
With their 40th anniversary approaching and three mergers behind them, the bulk of the fleet saw retirement by Norfolk Southern and CSX in the early-mid 2000s.
Covering the Basics
Before we get to the amazing good looks of the model, the first test of any review (or any new model you put on your layout) has to be against the standard gauges.
The model is equipped with metal wheels which are very free-rolling and all checked out in gauge.
Couplers are Kadee #58 scale couplers and also checked out for height and good trip pin height as well.
For weight, the car comes in nicely at just over 5 ounces - just right for a car this size. In other words, the car is as ready-to-roll as they come!
Paint and Lettering - Optional!
Tangent has already established a reputation for well detailed cars. (See my earlier review of their , PS4000 covered hopper and Dry-flo covered hopper.) The X58, while in many ways a much more simple design, is no less well engineered.
Most of the added details on this car are made of wire. This includes the grab irons, and brake line piping. These parts offer a good scale diameter and the strength to hold up to normal handling and operations. Roofwalks (where applicable), end platforms and some exceptional coupler cut levers are etched metal as well.
The paint on my samples is evenly applied and the graphics crisp. Everything is legible down to the finest of fine print. For my era, I purchased three of the Conrail cars and one PRR car which I will patch for its later appearance. Many cars in PRR and Penn Central colors lasted well into the 1990s.
In addition to these patch outs, both PC and Conrail applied many variations of their own paint schemes to the car. Undoubtedly Tangent will recreate many more of these in the future and there is ample photographic evidence on the cars to support numerous unique production runs.
But for those who can't wait, or already have a specific car in mind, Tangent offers painted and unlettered cars in PRR, PC and CR base colors. Having a unique car is as simple as applying decals! Even for more complicated schemes, you have a great starting point with no need to remove lettering first. I'm a big fan of this idea; two Conrail brown and a Penn Central green car (which will be patched) are waiting on my workbench.
Weathering and Further Enhancements
As I said, this car really is ready to roll. You don't need to do anything to the car to enjoy it on your layout. Still, there is always more you can do to give a model some character - even those with full lettering.
If there are any details to add to this model, I can't think of what they could possibly be. Once again, Tangent has everything covered. I even noticed the air hoses are painted on this car - another upgrade from the last release.
Painting the metal wheels and weathering the trucks will go a long way, even if you are modeling a "new" car.
Additional weathering is up to the modeler. Despite the many paint changes, most of these cars held a well-maintained look to the end. Some faded paint, a little light rust are about all you need.
Roofs deserve special attention since we see so much of them on our models. The PRR and PC cars come with "unpainted" silver roofs. (Tangent even captured the paint spray on the ends of the roof walks!) Conrail's have a brown roof. I will likely add some heavier weathering and a paint overspray effect to some of these.
The X58 was a very common car on the PRR and Penn Central. Even as their numbers dropped and other classes became more plentiful in the 1980s and 1990s, they could be found in large numbers in certain areas on Conrail. The cars also roamed far and wide - showing up just about anywhere. So you don't need to be a Pennsylvania fan to justify adding one or more of these to your roster.
Given the cost the out-of-production resin kits have been fetching in recent years, this car should be a welcome addition for many modelers. In addition to Lehigh Valley's cars, there are dozens of additional PRR, PC and Conrail paint variations Tangent can do. I look forward to seeing what comes next!