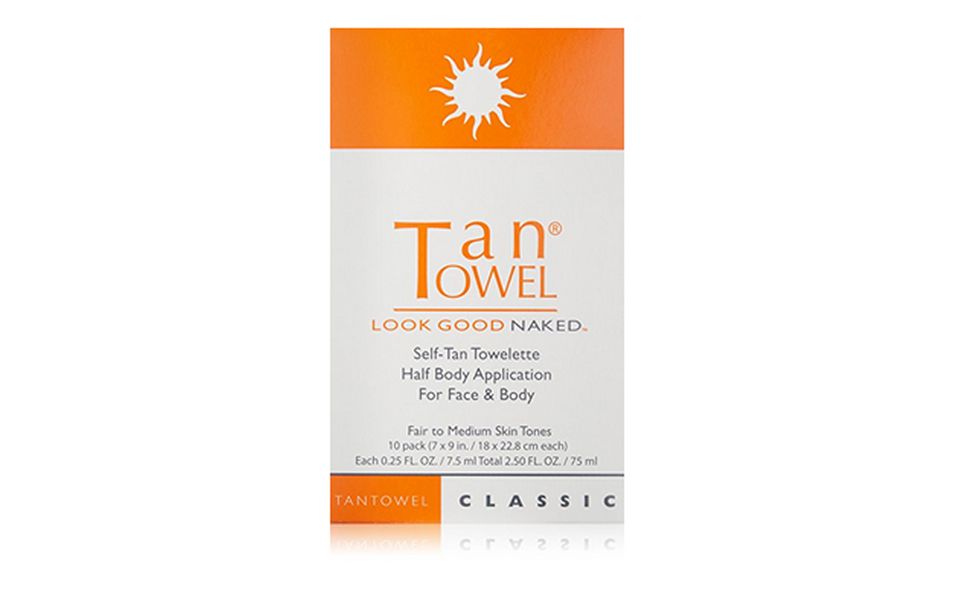 Sunless tanners are generally regarded as a safer alternative than sun exposure. Tantowel sunless tanning towelettes claim you'll get a non-streaky, natural glow with a light fragrance left behind. The product applies easily and didn't leave streaks. But the smell and orange hue of Tantowel make the search for the perfect self-tanner continue. Learn more about Tantowel sunless tanning towelettes with this in-depth review and information.
Tantowel Towelettes Description
Half and full body sizes available
Classic for fair to medium skin tones
Plus for medium to dark skin
Pros of Tantowel Tanning Towelettes
Easy to use
Dries quickly on the skin
Towelettes do not dry up while you're using them
Cons of Tantowel Tanning Towelettes
Towelette odor is strong even after bathing
Chemicals react differently with each skin type - color may turn out golden brown or orange
Multiple towelettes must be used for a dark glow
Instructions for Use
"Unfold towelette, and apply to dry, clean skin in a circular motion over your body. Wash hands immediately. To moisturize and enhance your tan, follow with Tantowel's On the Glow."
Tantowel Tanning Towelettes
As a blue eyed, fair-skinned woman who proudly sports a freckle face, I have to watch my time in the sun or I get scorched. This has always led to a summer of legs white as snow and a ghostly face if I don't use a sunless tanning product to keep away from the harmful effects of the sun.
When I'm flipping through the TV channels, I often run across a sales pitch for the Tantowel towelettes. I finally got out my credit card to give this product that promised me "a sun-kissed glow in the first application."
For this test, I did not apply the sunless tanner to the right side of my body.
Tantowel was only used on the left side and skin was prepared properly before applying.
My package includes a mix of the smaller half body towelettes. I used Classic, for fair to medium skin tones, on my arm and Plus, for medium to dark skin, on my leg.
In about 10 minutes, Tantowel was applied and I was dressed. No standing around waiting for the sunless tanner to dry so it wouldn't mess up my clothing.
I wore a white tank top and light shorts to see if the product would stain my clothing since a lot of sunless tanners on the market will rub off on your clothes. Tantowel didn't rub off on my clothes.
However, the smell was horrible. Even though I only had the product on half my body, right away I found the odor unbearable.
The product demonstrations tout the smell as a light citrus fragrance. Tantowel is plagued with the unmistakable scent of a sunless tanner. I wouldn't feel comfortable applying this product and going to run errands or hang out with friends for fear they would notice the stench because I noticed it too.
I've used Tantowel many times to try and get used to the odor. Even after multiple showers, I can still smell this product. It even wakes me up while sleeping and causes my eyes to tear up.
This happens several days after applying the product.
Within two hours of the Tantowel application, my left arm, which had the Classic for fair to medium skin, was basically the same as my untouched right arm. My left leg, which had the Plus for medium to darker skin tones on it, began to show some color.
By the fourth hour, there was barely a difference in the color between my arms. My leg was much darker. Unfortunately, "darker" wasn't a good thing.
Unlike the Comodynes tanning towelettes, Tantowel turned my skin orange. As I pointed out above, the chemicals in the product react differently with each person so your tan will vary.
For me, without a doubt, I looked and smelled like sunless tanner. I was orange and stank.
The only positive side about my Tantowel experience was the product did not streak.
My orange tan was perfectly uniform.
In the 20+ years I've tried self tanners, I've not yet found a product that has the three main components of a good, sunless tan - a golden brown color, low odor and no streaks. I had high hopes for Tantowel after seeing the demonstrations over and over and hearing the gushing reviews. Unfortunately, this product did not work well for me at all.
There are plenty of people who love this product and don't use anything else, though. If you plan to try Tantowel, any of the best sunless tanners or a lower cost sunless tanners found in drugstores, be sure you buy from a store that has a money back guarantee if you're not satisfied.
This product was purchased for review from a home shopping network's website. Total cost was under $20.