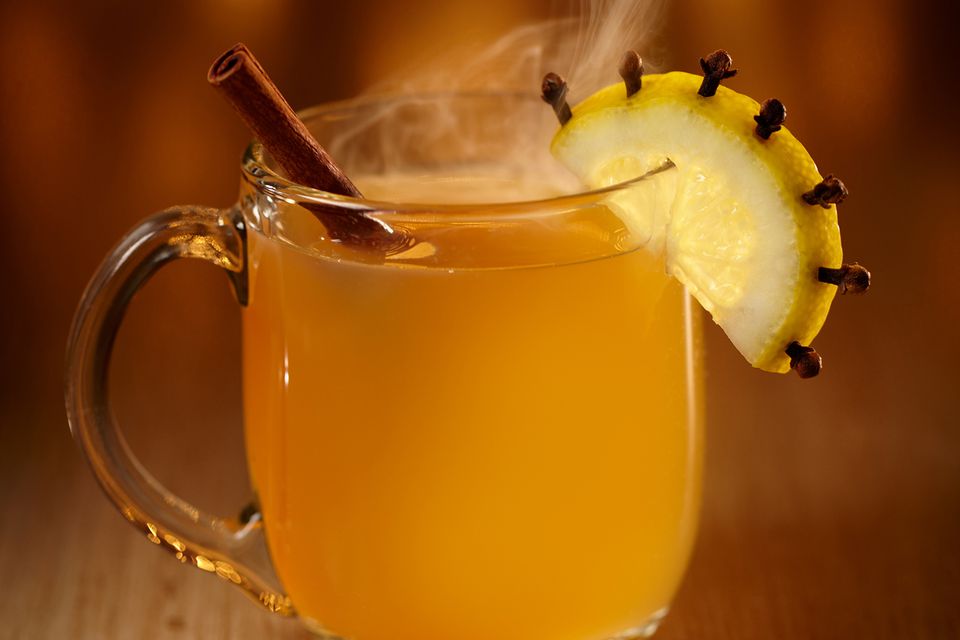 Tea makes an appearance in a number of cocktail recipes, some are served warm while others are flavorful, spiked takes on iced tea. Either way, these drinks are the perfect way to combine cocktail hour with tea time and you'll have a ton of fun exploring the recipes.
The beauty of the tea cocktail is that it can be customized by choosing one type of tea or another. Perhaps you enjoy a particular green or black tea or maybe lavender or lemongrass tisanes are your favorites, feel free to experiment with those in some of these drinks.
Granted, not all teas will work in every drink. Yet, for the most part, the choice of tea is open to interpretation.
Pro Tip: Despite the name, the Long Island Iced Tea and its many variations contain no tea. 
Hot Tea Cocktails
Hot tea drinks are comforting on cold winter days and anytime you need a warming pick-me-up. To ensure the warmest and freshest brew, begin by warming the water. After you have added the tea and it begins to steep, mix up the other drink ingredients. It's also important to pay attention to tea brewing times and temperatures to maximize the flavor of your tea drinks.
Spiked Sweet Iced Tea Cocktails
Sweet tea is a favorite summertime drink and it gets just a little bit better when we add a shot of liquor to the mix. These cocktails are extremely simple and are best with a freshly brewed, then chilled iced tea.
As you will see with many of these recipes, the 'sweet' in sweet tea can come from a variety of sources.
One recipe may rely on a sweetened liqueur while another asks you to make a unique flavored syrup. Have fun with these and use them as inspiration for creating your own custom sweet tea recipes.
Pro Tip: You will get the most flavors from your tea if you use the traditional hot brewing method. However, you do need to chill it before making a cold cocktail. The quickest way to do so is to place the tea in the freezer for a few minutes. You can also place a tea-filled container in an ice bath for a quick chill.
More Iced Tea Cocktails
There are few things as refreshing as a tall glass of iced tea, especially on the warmer days of the year. The drinks below bring that tea to a whole new level by mixing it with a variety of ingredients.
In many of these recipes, the tea is often used as a background ingredient that merely enhances the drink's other flavors. They're fun and exciting, perfect for any afternoon.
Tea Martini Recipes
On occasion, we like to get short and fancy with our tea cocktails. The martini family of drinks is the perfect foundation for a spot of tea and a few extra ingredients transform these cocktails into delightful sippers you won't soon forget.
Mistletoe Martini - A perfect recipe for the holidays, it's a vodka-spiked cranberry tea cocktail.
Tea Tini - This simple recipe can take on any flavor you like depending on the tea you choose.
Tea Drinks Without the Booze
The Arnold Palmer is just one of many tea mixed drinks that skip the liquor altogether and these mocktails are fabulous for everyone.
Arnold Palmer - Possibly the most famous tea drink, it's a perfect summery mix everyone loves.
Hot Not Toddy - If you're in the mood for a Hot Toddy without the booze, this is the recipe for you.
Rio Bravo Lemonade - The rooibos tea-infused pomegranate lemonade can be enjoyed on its own or mixed into the Borrachon cocktail.
Tea-Flavored Distilled Spirits
There are a few distilled spirits available that are flavored with teas. They are few and far in between, but when a distiller decides to take on the flavor, the result is often quite magical. One shining example of this is Charbay's Green Tea Vodka, which has a true tea flavor and is a pure delight to mix into many vodka cocktails. The distillery also makes a great ready to drink aperitif.
The easiest option for tea-flavored liquor is to infuse it yourself. Simply place tea bags in the alcohol and allow it to steep until it has reached your preferred taste (usually a couple of hours).