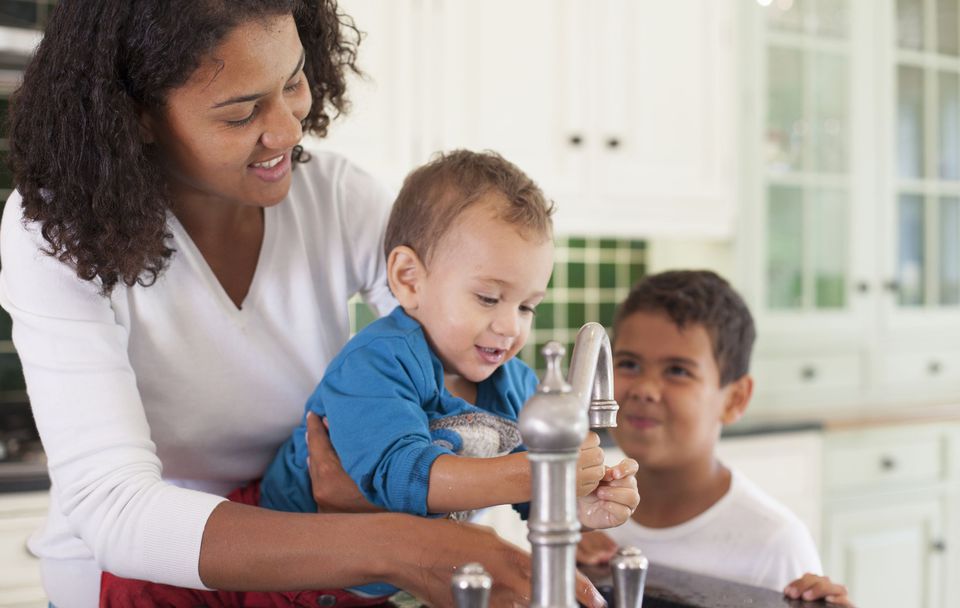 We all know how important it is for kids to wash their hands so the whole family doesn't get sick. But convincing them to scrub those hands thoroughly with soap isn't always easy. Change their view of cleaning up with fun ways to teach kids how to wash their hands in five quick steps.
1. Sing a Song
Get kids to wash their hands properly and have a good time doing so. To wash their hands effectively, your children need at least 20 soapy seconds in hot water.
That's about as long as you need to sing the alphabet song, Old MacDonald or Happy Birthday. Set a timer and sing together as your kids lather up.
2. Make Colored Soaps
Boring soap? Not for those tiny hands in your house.
Whip up your own batch of soaps. Not only is it economical, you can add your own colors to turn it into a craft that get kids excited about using their new soap when it's time to wash their hands.
For the girlie girl in your house, make a pink soap. And the tough guy in your house can go for blue soap. Swirl a bunch of colors together to make a rainbow of soap colors. Follow a soap-making tutorial to learn how to make soap and add colors your kids won't be able to resist.
3. Give Stickers
One very easy way to get your kids to wash their hands is by using stickers. You can even make your own stickers with pictures and a homemade glue. Every time the kids wash their hands throughout the day, hand them a sticker as a reward.
Kids love to wear stickers and every time you leave the house, someone will probably ask about the multiple stickers your children are proudly wearing. It's a great chance for them to boast about the hand washing lessons you're learning at home while showing off their prizes for good hygiene.
At the end of the day, put the stickers in a sticker book or stick them onto a regular notebook's pages.
You can write the date and make a few notes about the fun you and your children had during the day as an added bonus. This turns the stickers into a keepsake and a mini-journal.
4. Print a Rewards Charts
Using a reward chart for potty time gives you the opportunity to tackle multiple lessons all at once. Print a potty training rewards chart and hang it in the bathroom. If you don't already have a clock in the bathroom, consider putting one in the room near the rewards chart.
When potty time is over, encourage your children to wash their hands. With clean hands, the real fun begins for your children. They can make a check mark for each successful stop in their potty adventure. For example, they can earn check marks for going potty, pulling off and putting on their pants, flushing, closing the lid when they're done and washing their hands.
Use the clock to write the time down. Show your kids the time you wrote and match it with the clock's time. Not only does logging the time help you keep track of when your kids last went potty, it's also an early introduction to telling time.
Rewards can be anything you want. You can use a trip to the ice cream store at the end of the week or playing a favorite game with everyone in the family.
Many kids are just as happy being able to write check marks on the piece of paper as their reward!
5. Use a Toy
Sometimes all you need to teach your children how to wash their hands is a playtime buddy to come along for the adventure. Put a bath toy like a rubber duck next to their sink.
When it's time for your children to wash their hands, put some soap on the rubber duck and let your kids give the duck a bath. The soap will quickly cover their palms, wrists, underneath their fingernails, in between their fingers, the tops of their hands -- all the essential places that need to be covered with soap to get your hands clean.
If you notice your child's interest starts to wane in the rubber duck, find a new bath toy. Only let your kids play with the toy when it's time to wash their hands and not at bath time or any other water play.
That way, the toy's not so overused that bath time for duckie, or your toy of choice, just isn't special anymore.