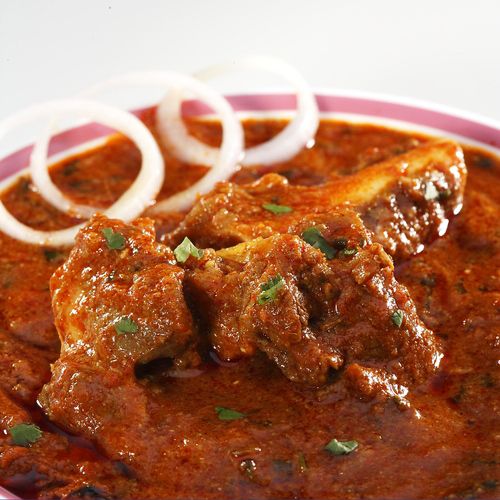 Thai Jungle Curry, a famous dish from Chiang Mai, is made with ingredients found in the jungles of Thailand. You'll notice the lack of certain standard curry spices like turmeric and ground coriander and cumin, but that doesn't mean this curry is lacking in flavor. While Jungle Curry is usually made with wild meats (which most Westerners would have trouble obtaining and stomaching), here I've created a chicken version. Coconut milk adds to the thickness and flavor to the sauce. Note that Jungle Curry can also be made with pork or other red or wild meats of your choice. ENJOY!
4-6 chicken thighs (breast, or drumsticks)
Optional: (1-2 cups chopped eggplant, bite-size pieces, 1 1/2 cups cherry tomatoes)
2 handfuls of coriander (and basil fresh for topping)
For the Jungle Curry Sauce:
1/2 onion (diced)
3-4 tablespoon galangal (or fresh ginger, thinly sliced)
2 tablespoon lemongrass (fresh or frozen, minced)
6 garlic cloves
6 kaffir lime leaves (cut into slivers with scissors, or 1 teaspoon grated lime zest)
1 tablespoon chili powder (regular North American type from your supermarket)
1-2 chilies (red fresh, or 3/4 to 1 teaspoon cayenne pepper, to taste)
1/2 a lime (squeezed for juice)
2.5 to 3 tablespoon fish sauce
1/2 to 1 teaspoon shrimp paste (or 1 additional tablespoon fish sauce)
1 can coconut milk (good-quality)
Optional: 1-2 teaspoon sugar (brown, to taste)
Optional: 1 tablespoon green peppercorns (these come packed in a jar with vinegar - available at most Asian/Chinese food stores)
While this curry is traditionally made in a wok (by simmering the meat in the sauce), I find it's easier in the oven where it won't burn or dry out. Preheat oven to 375 F.
Place all curry sauce ingredients in a food processor. Process well to form a sauce. *Re: shrimp paste: If you paste is very thick/dry, only 1/2 teaspoon. will be enough. If it's moist and falls easily from a spoon, add up to 1 teaspoon. For smaller choppers: Add only a little of the coconut milk - just enough to keep the blades moving. The rest can be added later, along with the chicken.If you don't have a food processor or chopper: finely mince the ingredients and then stir all together in a bowl with the coconut milk to create the curry sauce.
Place chicken in a casserole dish and pour the curry sauce over. Mix together. Cover the curry and place in the oven for 1 hour. ​
If adding vegetables: Remove curry after 45 minutes and add your vegetables, then return to the oven to bake for 15 more minutes.
Check the curry after 1 hour, ensuring the chicken is well cooked. If needed, return to the oven for another 10 minutes or until chicken is well done.
Before serving, stir sauce well and do a taste-test. If not salty enough, add a little more fish sauce (1/2 tablespoon at a time). If not spicy enough, add more chili or chili sauce. If too spicy, add a little more coconut milk or plain yogurt. If too sour for your taste, add a little more sugar.
Serve right in the casserole dish, or for more formal occasions, scoop the curry into a serving bowl or onto individual plates.
Top with generous amounts of fresh coriander and basil, plus a small 'branch' of green peppercorns can be added as a pretty garnish.
Serve with plain rice or my Easy Coconut Rice.