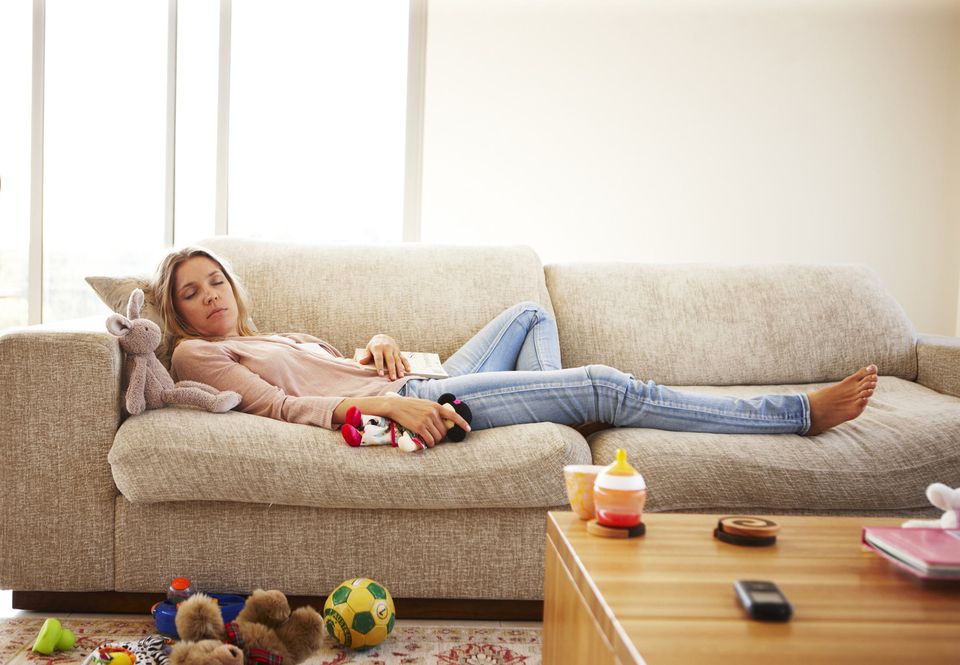 From a snow day to summer break, you've got kids at home with you and that doesn't leave much time for yourself. Even though you're busy being the chef, maid and entertainment director, that doesn't mean you should skip the time you need for yourself every day. Get creative and discover the many ways you can add in some mini breaks throughout the day even with a house full of kids to take care of.
1. Have a Spa Day at Home
You may not get to escape to the spa today but you can still have your own spa day at home. Wake up 20 minutes before everyone else jumps out of bed and starts demanding food so you can focus on yourself to get your day started.
Put on your robe and some relaxing music. Begin with a facial or a relaxing soak in the tub. Give yourself a manicure and pedicure if you have time this morning or take another break in the afternoon to pamper those fingers and toes that work so hard picking up kids, preparing food and doing chores throughout the day. Although you'll wish you could make a day of it, you'll still enjoy this time to refresh and completely focus on yourself.
2. Take a Nap
You've probably heard to sleep when the baby sleeps. But what if your baby no longer naps?
No problem. Encourage solo play and stick close by, even clearing a space for yourself in the childproofed toy room where your child is playing.
You can sneak in a power nap to give yourself a boost of energy that will get you through the rest of your day.
3. Make Lists
Time management is a struggle for every parent. That's why lists can help you make the most use of your time and free your mind from trying to remember every single detail of your family's hectic lives.
From goals you want to achieve to a honey-do list for your significant other, you can stay in the same room with your kids while making important lists.
Writing down what you would like to see accomplished gives you a visual to go by while clearing your head of having to store those lists mentally. You'll instantly feel a weight off your shoulders because you now have a list on paper with all of those items you can check off as they get completed.
4. Unplug
There's no better way to take a break than to simply unplug. Create gadget-free zones and times in your house that there's no smartphone, tablet or computer use.
From eye strain by looking at screens to added stress created by social media posts, having that gadget close by and tuned into the world can drain your time and energy. We already know the aches and pains kids are suffering from with tech and they're much younger than the grownups. Take a break for yourself by taking a tech break.
5. Read a Book or Magazine
Remember when you could finish a novel in a week and actually had time to read a magazine from cover to cover in one sitting? Bring back that one-on-one time with books and magazines.
Carve out a reading space at home that lets you stay close to the kids or get out of the house for a while with the kids.
Find a fenced-in playground and sit on the bench or swings to read as your kids play. Of course, you'll want to keep an eye on them but you can still supervise them without having to hover over your kids as they play.
6. Start a New Hobby
Have you always wanted to learn how to sew, write computer code, play the stock market, take professional-looking pictures? What are you waiting for?
There's no better time than right now to learn that hobby you've always wanted to explore. It's easy to say you don't have time but you have to make the time for yourself. You can do it. Who knows? Your hobby may turn into a money-making opportunity for you some day.
7. Prepare for Job Hunting
Speaking of making money, we often neglect our current and future employment opportunities because we're so busy taking care of the kids.
At the end of the day, you're too tired to look for a new job or update that resume because sometimes you feel like you're an employee of your own house and the last thing you want to do is even think of work.
Get ready to job hunt as if you'll be scanning the job ads tomorrow. Keep your resume fresh by updating it even if you don't plan on going back for a while or ever. You never know when your circumstances may change and having your resume ready to go at any time will keep you from scrambling should you need to get a job quickly. Plus, it's always good for the soul to keep your accomplishments in front of you on those difficult days as an at-home parent.
8. Go to Your Room
You may have sent your child to her room a time or two. Now it's your turn.
Go your room. Leave the door open and take a quick break or invite the kids to come play a board game in the floor while you lounge on your bed. Your bedroom doesn't have to be a place you only visit for sleep. Enjoy your bedroom. It is your oasis after all.
9. Get Organized
Getting organized with kids living in the house may seem like a futile activity. But do the math. Depending on your child's age, you've probably got at least 10 to 15 years before your first or last child leaves the house.
Do you really want to wait that long to try and get your home organized? Keep in mind, you don't have to aim for getting your entire home organized in one day or even one week. Getting everything organized the right way takes time, even if you don't have any kids monopolizing your days. Work in 20 minute increments to tackle those organizational projects one step at a time. You'll be amazed how much you can get accomplished in such a short amount of time.
10. Exercise
Oh, no. Not the "E" word. Yes, we all know exercise is important for your body. But it's also good for your mind with an added bonus of helping you keep up with the kids.
Take a walk with your family. Hook up a bike buggy and take even your littlest ones on a bike ride. Pull out the yoga mat and spend 15 minutes stretching out.
Or simply throw an impromptu dance party with your kids. Just get up and get moving to get your blood circulating, burn some calories and reboot your outlook.