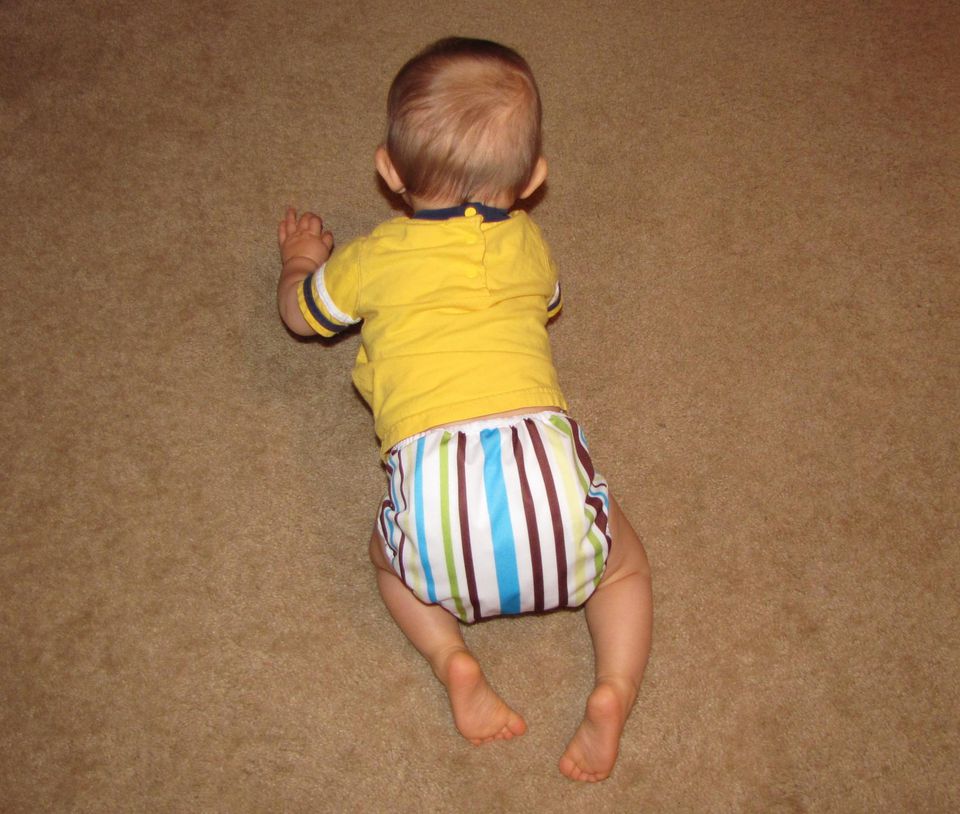 The Thirsties Duo Wrap is a trim, fashionable diaper cover. This cloth diapering option allows you to pair it with your prefolds or inserts for daytime use to find the Thirsties diapers combination that works best for you. Learn more in this Thirsties Diapers Duo Wrap review written by a mom who used the brand on three babies.
Pros of the Thirsties Diapers Duo Wrap Diaper Cover
Cute color combinations and prints
Snaps or Aplix closure options
Easy to wipe down and re-use several times a day with your prefolds
Affordable option that fits your family budget
Cons of the Thirsties Diapers Duo Wrap Diaper Cover
Although it was used in rotation with other cloth diaper brands like FuzziBunz, Happy Heinys, Best Bottom and Blueberry Diapers, the Thirsties Duo Wrap began to feel like it was breaking down faster than its competitors.
After only a few washes, the Aplix closure tends to start fraying.
Because it's designed as a trim-fitting diaper cover, the manufacturer's website only recommends the Duo Wrap for daytime use. You'll have to buy another diaper cover for nighttime.
Thirsties Duo Wrap In-Depth Review
There are many diapering options available with Thirsties diapers. The Duo Fab Fitted is an absorbent diaper that can be paired with a Thirsties diaper cover. The Duo Diaper is a pocket diaper. The Thirsties Duo Wrap is a diaper cover with Aplix or snap closures.
For this review, we'll take a look at the Thirsties Duo Wrap diaper. The Duo Wrap is different from the Thirsties Diaper Cover.
The Thirsties Diaper Cover is a sized diaper cover that only comes with Aplix closures. Unlike the Duo Wrap, you have four different sizes to choose from and no adjustable snaps to grow with your baby.
The Duo Wrap is available in two sizes. Size one covers babies from 6-18 pounds. Size two fits babies between 18 and 40 pounds. Three rows of rise snaps allow you to adjust the diaper to a custom fit based on your baby's size.
The designs are cute. The cover fits nicely around baby's waist and legs. But the Duo Wrap doesn't seem to be made as well as some of the other brands available.
I'm afraid to use the Duo Wrap as much for fear that it's going to fall apart. If you remember plastic pants from the 70s, that's the way this fabric feels.
When you pull at the snaps, they feel like they're going to rip the diaper. The fabric itself feels lightweight, which is great to give your baby that trim fit that doesn't scream "cloth diaper being worn!" However, it's so thin, you wonder how long it's going to be before it starts coming apart.
If you're new to prefolds, it's going to be a challenge to get it to stay put inside the Duo Wrap. Even if you're not new to prefolds, you may find your active baby is able to wiggle the prefold out of place.
Several times I went to change my 9 month old after he'd been crawling around and the prefold had moved to the side. The diaper cover was soaking wet but the prefold was barely damp.
To the Duo Wrap's credit, it held all of that wetness in without any leaks. The leg gussets really conform to your baby.
The Duo Wrap could use flaps to keep the prefolds from shifting. Once your baby starts crawling or walking, you run the risk that the prefold is going to shift.
In our house, the Duo Wrap is used as a last resort. When all of the other diapers are dirty, that's when this one is put on.
Disclaimer: A Thirsties Duo Wrap was purchased for review from an online retailer. Total cost was $13.75.