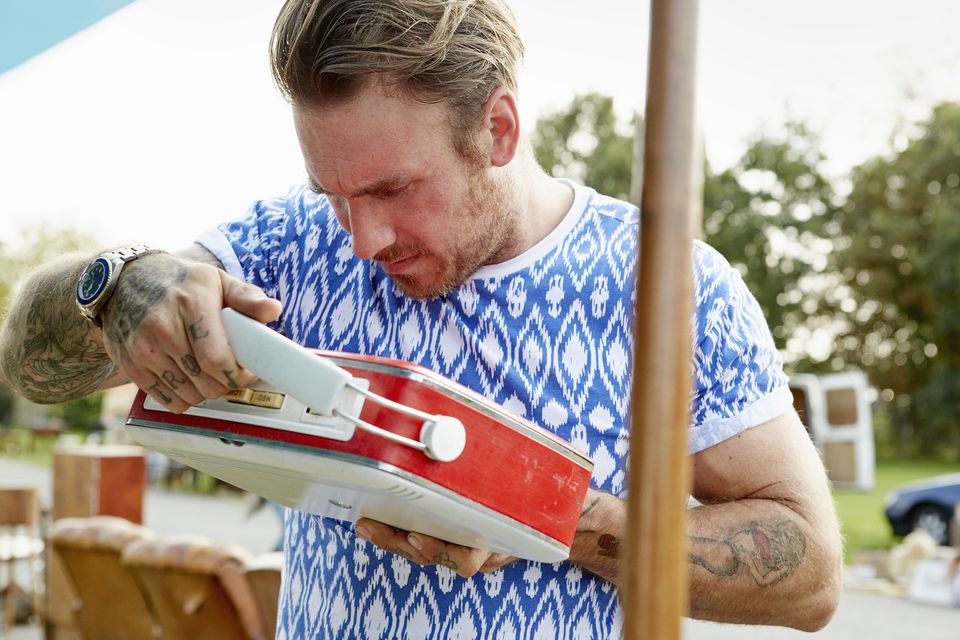 Lots of the lessons you learned as a young child probably serve you well in adult life. However, you need to disregard some of them for successful secondhand shopping at yard sales, flea markets, thrift stores, and estate sales. Here are 10 ways thrifting is different than kindergarten:
1. You Need to Look with Your Hands
Thoughtful parents teach their children to look with their eyes, not their hands.
Since accidents can happen to anyone, that's usually good advice for adults too -- but not when you're treasure hunting. 
When you spot a prize piece (or even when you just think you might have), pick it up. If it's too big to pick up, put your hands on it. If you don't, someone else will -- even if you're standing in front of it. They won't care that you're looking it over or planning to buy.
A find isn't officially yours until you pay. But, even the most aggressive dealers and bargain hunters usually consider it yours once you have physical possession. You can always put it back down if you examine it and change your mind.
2. You Don't Have to Share
Sharing may have been a big deal in kindergarten, but you don't have to do it while thrifting. Don't buy things you don't want or need just to keep the next shopper from getting them, but don't pass on part of what you want just because someone else wants it too.
If you find five bottles of vintage perfume or seven boxes of Shiny Brite Christmas ornaments, it's okay to buy them all. You have no obligation to share, even if another shopper asks. Those items are yours because you sniffed them out and snagged them first.
Experienced pickers and dealers understand this concept because it's business to them.
Collectors usually do as well because they're passionate about their finds. But, beginning bargain hunters sometimes feel guilty about hogging the good stuff, especially if they find multiples..
3. There's No Need to Take Turns
Your parents and grade school teachers might have taught you to take turns, but that's not always smart when you're treasure hunting. Flea markets, yard sales, thrift stores, and estate sales are first-come, first-served events. 
If you're the first person in line at an estate sale, don't let someone in ahead of you just because you beat her to the last three sales. She could have gotten up earlier and gotten there first.
If you're shopping a yard sale table or thrift store shelf, don't move just because someone is sighing heavily behind you. You probably can't keep him from reaching in front of you to grab something, but you can keep browsing until you're done.
4. Don't Raise Your Hand When You Need Help
Unless you've caught his eye, don't raise your hand and wait patiently for the seller to offer help. 
When you need to pay or get a price, seek out the seller. Don't interrupt another transaction, but go ahead (politely) if the seller is pricing, straightening, or just chatting.
Speed matters when you're secondhand shopping. You have to be assertive to get the help you need fast enough to get to the next sale, booth, or store on time. 
5. The World Won't Wait While You Have a Nap
The phrase "you snooze, you lose" is never more true than when secondhand shopping -- and it's literal in this case. 
For example, you can't sleep in on Saturdays if the yard sales start at 7 a.m., not unless you don't care about getting the good stuff. And, you may have to skip your after-church nap if the Sunday estate sales in your area start at one in the afternoon. That's usually the day with the biggest discounts.
Failing to arrive at the right time is one of the biggest mistakes new yard sale, flea market, and estate sale shoppers make.
6. There's No Prize for Participating
Treasure hunting is fun, but it takes work to do it well.
Nobody owes you the good stuff if you're not willing to put in the time scouring photos and listings, standing in line, and mapping routes. Just showing up isn't enough. 
7. You Don't Always Have to Follow the Instructions
While you can't break so many rules that the sellers kick you out, you don't always have to follow instructions when it comes to starting times.
Let's say the first sale on your route starts at 7 a.m., for example. If you don't roll up until 6:59, you'll probably discover that the dealers, pickers, and serious shoppers have already snagged the best stuff.
If the listing prohibits early birds, respect the stated starting time. Otherwise, plan to get there at 6:40 or even earlier (the right time depends on local custom). The seller may send you back to the car and that's fair. But, he might also be happy to let you look while he finishes setting up the sale.
8. It's Okay to Copy
You'll learn some of your best treasure hunting lessons by observing other shoppers.
Pay attention to what dealers and seasoned shoppers buy, how they haggle, which sales they prioritize, and how they interact with sellers. When you see something that might work for you, give it a try. In these cases, it's perfectly fine to copy.
For example, you may realize that others wait before bidding at auction to avoid running up the price. Or, you might notice that a regular thrift store shopper always looks in a specific section first.
If you're really ready to get serious, you might even have to get a little sneaky.
Let's say you notice that a local dealer always has the tail of her truck full of things you wish you'd found first. If you run into her early on your route, follow her (safely) when she heads to the next sale -- and, if you can, to the one after that too.
Then, when you get home, compare her choices to the ones you made when mapping your route. Perhaps she's seeing something in those listings that you aren't -- or perhaps she's even searching for listings in another place.
9. Some Cheating is Just Fine
You can't cheat by switching price tags or snatching things out of someone else's cart, but you can cheat a little when it comes to getting the first crack at the goods.
Perhaps the person holding a great-sound garage sale is the friend of a friend. If your friend is willing to ask, you might arrange to see the merchandise the night before while the seller is setting up.
Sometimes estate sale pros also let favored shoppers have an early peek. However, that usually requires having an existing relationship or becoming a recognized regular who tends to spend a lot. 
10. It Doesn't Have to be Fair
Sometimes you'll do everything right and someone else will get the stuff you wanted. Sometimes you'll stumble into something special at a sale you put way down on your priority list. You won't mind the latter at all, but you'll feel like former isn't fair.
You just have to assume things will balance out over time.