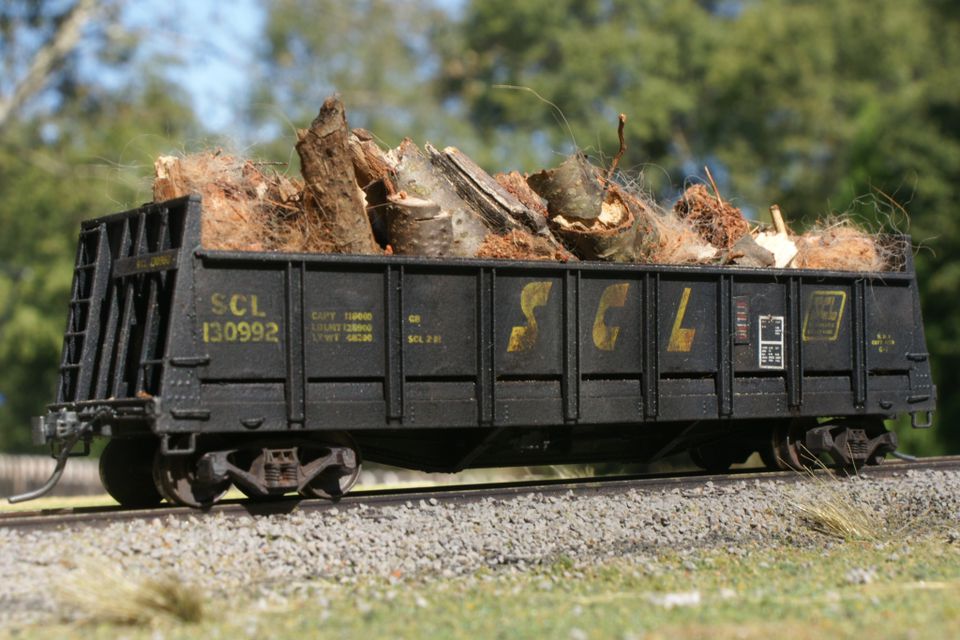 I don't know why this particular kit caught my eye, but the prototype looked interesting and the price was right so I gave it a try. What a pleasant surprise!
If you're new to "craftsman" kits, a Tichy Train Group car is a good place to start. Like all craftsman kits, these require a fair amount of time to build, and a decent understanding of modeling basics and the prototype are a big help.
But these kits are so well designed that with a little patience and care, even your first kit can turn out great.
Retail price on this car is just $18.50 including decals. With a street price less than half of what you'd expect to pay for a comparably detailed ready-to-run model, it is easy to see how these cars can stretch your modeling budget while also providing hours of enjoyment in their construction.
Prototype Background
Stump cars were once a common sight across the south eastern United States. Nearly every town had a siding where one or two of these cars could be spotted for loading.
Following the logging crews, the remaining tree stumps were dug out and taken to the railhead for shipping to processing centers. Here their rosin could be extracted for making turpentine.
Stump service was a demanding chore. Once assigned to this, cars were seldom good for anything else. Consequently, rather than buy new cars, railroads like the Atlantic Coast Line and Seaboard converted older gondolas and flatcars for stump service.
Some of these old cars survived into the CSX era. At least one has been preserved.
Tichy's model follows an ACL prototype with a bulkhead flatcar, originally built for pulpwood service, converted through the addition of side posts and sheets to create a gondola. Typical of stump cars, the bottom of the side sheets stops several inches above the floor.
Although Tichy claims these cars were in service into the early 1990s, I could find no photographic evidence that any of this particular style lasted that long. Those that survived to that late date were more "modern" gondola conversions. That being said, these cars did last long enough to be included in many modeling eras. The pulpwood car is also available as a kit.
Some of these cars also ended up hauling used railroad ties after the stump traffic was taken over by trucks. Researching this interesting prototype to help finish the kit was a fun diversion and is a nice "bonus" feature of many craftsman kits.
Assembly
The kit includes everything you need to build the model except couplers, glue and paint. Instructions are adequate, but having an understanding of freight cars is a big help. Note that there are many details to add which are not specifically called out in the text. Use the photos, diagrams and prototype photo on the box to help locate the right parts.
Overall, this kit is a joy to build. Parts are all well designed and manufactured for a clean fit. As long as you are careful when removing parts from the sprue and clean what little flash you'll find, parts should go together with no difficulty.
Use a styrene plastic cement to bond parts together.
One area where a little extra filing is required is on the vertical supports for the bulkhead ends. Each of these needed a little filing and sanding for a proper fit. Otherwise it's just snip, trim and glue as the car comes together quickly.
I also made a few modifications during assembly. Rather than assemble the AB brake cylinder, I modified the K brake for a faster solution. I also added a few extra details to better match the prototype. These included some additional air lines on the underframe (I kept these to a minimum, focusing only on what might be seen when the car is on the rails,) air hoses, coupler cut levers, roping loops, ACI tag plates, hand brake rod, retaining valve line and letter boards on the ends. With the exception of the air hoses, all of these details were made from strips of styrene or wire.
Working about 60 to 90 minutes at a time, the kit went from box to paint booth in about five relaxing evenings. A second car would go together much faster once you're familiar with the kit. But then, what's the rush?
Trucks and Couplers
The kit goes together well. A small weight is included and hidden between the frames below the floor. The car is still light however. If additional weight is desired, it will have to be concealed inside the load.
Trucks and plastic wheels are included. I substituted 33" metal wheels from Intermountain.
Couplers are not included, but any of the standard knuckle couplers will drop right in the boxes. I went with the tried and true Kadee #58 couplers to finish off this model.
Couplers are at the right height without making any modifications to the kit.
Paint, Decals and Weathering
Like most craftsman kits, you'll have to paint this one yourself. Fortunately, like most freight cars, the color scheme is simple. In this case - black.
Prior to painting, I "distressed" the side sheets of the car by adding some dents and bulges using a simple trick with glue.
Despite the heavy weathering to follow, paint the car with gloss black paint for the decals. It is worth noting that the decals included with the kit separate from the backing very quickly! In addition to the decals included with the kit, consolidated lube stencils and ACI tags were added from other Microscale decal sheets in the scrapbox.
After sealing the decals under another coat of gloss, then flat clear spray, the weathering can commence. Unless you're modeling the car right after its conversion for stump service, weathering is a must to accurately depict the look of these cars.
There are many techniques which can be used to age the car. Given the cars' rough service and my later modeling era, I went for a heavier approach on this model. Weathering was accomplished with alcohol pens, oil paints, chalks and an air brush.
Last but not least, a load of stumps was created for the car.
Not only did this kit provide nearly two weeks worth of evenings of enjoyable modeling, I have a unique and distinctive addition to my roster - all for less than $20!
Not only is this a great model, it's also an amazing value. If you've never built a craftsman kit before, check out Tichy's website or a hobby shop near you and get started.