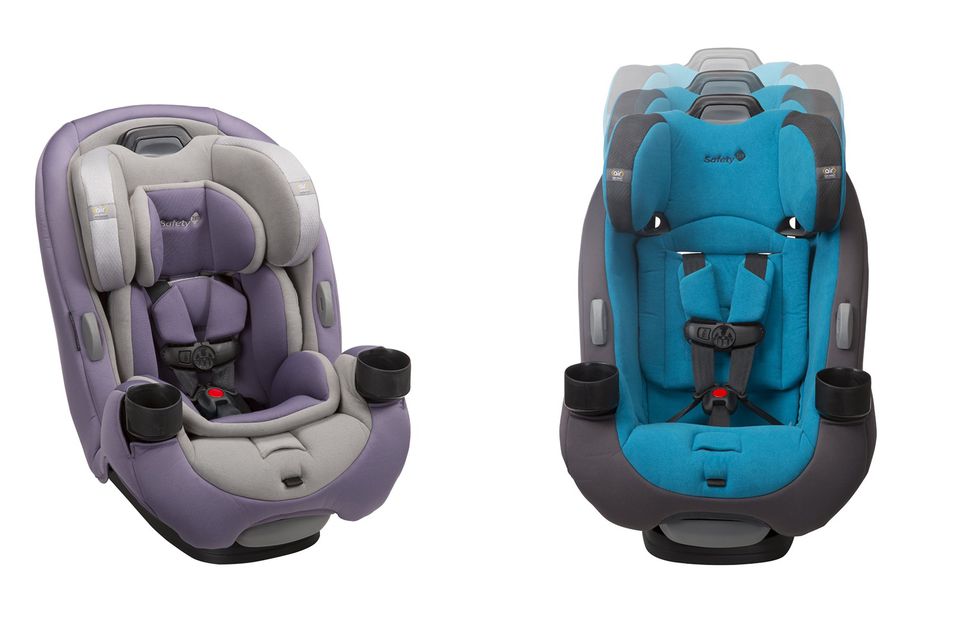 All-in-one or 3-in-1 car seats can allow some kids to use just one car seat from birth to seat-belt-only age. Others may allow the child to ride in the same seat from newborn until they need a simple low-back booster seat. Either way, these multi-stage car seats can save quite a bit of money over time, since parents can avoid buying a separate infant-only car seat, convertible car seat, high back booster seat, and low back booster seat.
Car Seat Modes
Generally, a 3-in-1 car seat will work in...MORE rear-facing mode with harness, forward-facing mode with a harness, and as a high-back booster seat using the vehicle seat belt. An all-in-one car seat often has the three modes listed above plus it adds a low-back booster seat mode using the vehicle seat belt. However, manufacturers decide which term they will use to describe their car seats, and it can vary, even between different models by the same manufacturer. For example, one car seat manufacturer has 3-in-1 car seats that are rear-facing, forward-facing, and high-back booster, as well as a 3-in-1 model that has forward-facing harness, high-back booster, and low-back booster modes. Always check the specific model you're interested in buying to verify which modes it can be used in.
Look for a low minimum weight, a low set of harness slots, some newborn padding if you'd like to use the car seat for your baby right from the start. The harness slots need to be at or below the baby's shoulders while rear-facing, so that first set of slots must be pretty low to accommodate a brand new baby. Some car seats say they can be used from birth, while others list a specific minimum weight.
Toddlers need to stay rear-facing until they're at least two years old, and it's far safer to stay rear-facing until the limits of the car seat. That means it's smart to look for a car seat with a high rear-facing weight limit, along with a tall shell, so that your toddler can ride that way for the long term. For forward-facing, a high harness weight and a high set of harness slots are beneficial. In this mode, the harness slots must be at or above the child's shoulders. The harness mode provides better protection for children than a vehicle seat belt and booster, so it's best to choose a car seat that allows your child to remain in a harness as long as possible.
In high-back booster mode, there is also a height limit. Most kids outgrow a high-back booster by height instead of weight, so again the taller shell and ability to adjust the head wings to a taller position usually mean your child will be able to use the seat longer. Check to see what type of shoulder belt guides are on the high back portion of the booster seat. Wide belt holders typically work better than narrow clips, which can pinch the shoulder belt and allow slack that could be dangerous in a crash.
For low-back booster mode, a high weight limit is important. Check whether or not the lower LATCH belt can be used in booster mode. This can add stability to the seat as the child gets in and out of the car, and it prevents an unoccupied booster seat from flying around inside the car during a crash.
An issue with some multi-stage car seats is the expiration date. Kids need to be in car seats and boosters for a bare minimum of 8 years, since most state laws now require booster use until the child is at least 8. Many car seats, including all-in-one versions, will expire six years from manufacture.
All of the car seats below perform well in every mode they offer. If you're looking for an all-in-one or a 3-in-1 car seat, these are the best available today.
Heather Corley is a certified Child Passenger Safety Technician-Instructor.
This car seat from Safety 1st offers rear-facing, forward-facing, and high-back booster modes plus the unique Air Protect side-impact protection system. The head protection wings have special air-filled compartments in them that release the air during an impact to control the crash forces around the child's head. It also has a no-rethread harness and does a really nice job of sizing down to fit a newborn. This is a budget-friendly option with a 10-year lifespan. A version without the Air...MORE Protect system is also available at less cost (Buy on Amazon.com).

Rear-facing 5 to 40 pounds
Forward-facing to 65 pounds
High-back booster to 120 pounds
 Safety 1st Grow and Go Air Review

The Rainier car seat has high rear-facing and forward-facing weight limits and a super-sturdy steel frame for excellent crash protection. The seat is deep and comfortable even for bigger kids, but the shell of the Rainier is narrower than most car seats of this kind, so it's perfect for families who have more than one car seat in the vehicle. It can be tethered while rear-facing and it has 12 years until expiration.

Rear-facing 5 to 40 pounds
Forward-facing to 90 pounds
High-back booster to 120...

pounds

As the name implies, Graco intends the 4Ever to last the entire time your child needs to be in a car seat. Lots of adjustments, including 10 headrest positions and 6 recline positions, allow a nice fit from infant through big kid. There's a super-low minimum weight, no-rethread harness and a 10-year lifespan to expiration. I love the harness storage system, which allows you to simply tuck the harness inside the car seat when you move to booster mode. That means you're not likely to lose...MORE important pieces you may need again for a younger sibling.

Rear-facing 4 to 40 pounds
Forward-facing to 65 pounds
High-back booster to 100 pounds
Low-back booster to 120 pounds

2016, Evenflo

SafeMax is the first rollover-tested car seat, but the extra testing isn't the only thing to love about it. There's a no-rethread harness with infinite adjustments so you can always put the harness straps right at your baby's shoulders. The steel frame and Safe Zone headrest work to absorb and dissipate crash forces to protect your child. OUTLAST technology fabric in the cover helps regulate temperature in all seasons. I even like the cupholders, which are removable and dishwasher...MORE safe. The Platinum SafeMax car seat has a 10 year lifespan before it expires.

Rear-facing 5 to 40 pounds
Forward-facing to 65 pounds
High-back booster to 120 pounds

Continue to 5 of 6 below.

The Milestone car seat gives a nice fit for infants as well as older kids, thanks to the infant padding, infinite-adjust harness, and four recline positions. This car seat is side-impact tested and has deep head wings to help protect your little one's head during this type of crash. One of the nicest features of this car seat is the harness storage spot. Like the Graco 4Ever above, the harness can be stored behind the seat padding. That's so handy in case you want to use the seat with...MORE the harness again later for a little sibling. That way you know all of the harness pieces are there and didn't get lost in storage. The Milestone car seat can be used for 10 years before expiration.

Rear-facing 5 to 40 pounds
Forward-facing to 65 pounds
High-back booster to 100 pounds

If you'll be installing your child's car seat with LATCH in harness mode, it doesn't get much easier than the SureLatch system on the Symphony DLX. Just click the connectors into the lower anchors in your car, and push down to tighten. There are retractors in the connectors, so you don't need to pull on any belts to get a tight installation. Of course, for forward-facing you'll also need to hook up the tether, but even with that, installation is complete in less than a...MORE minute. There's also a no-rethread harness, a nice infant padding set, and an easy-off cover that can be machine-washed and dried. There are several Symphony models with various feature combinations. I like the DLX because of the SureLatch connectors, but the other versions are all 3-in-1, as well. The Symphony car seats can be used for 8 years before they expire.

Rear-facing 5 to 40 pounds
Forward-facing to 65 pounds
High-back booster to 110 pounds
Evenflo Symphony Car Seat Review
Sign up for our daily deals newsletter

Disclosure: E-Commerce Content is independent of editorial content and we may receive compensation in connection with your purchase of products via links on this page.