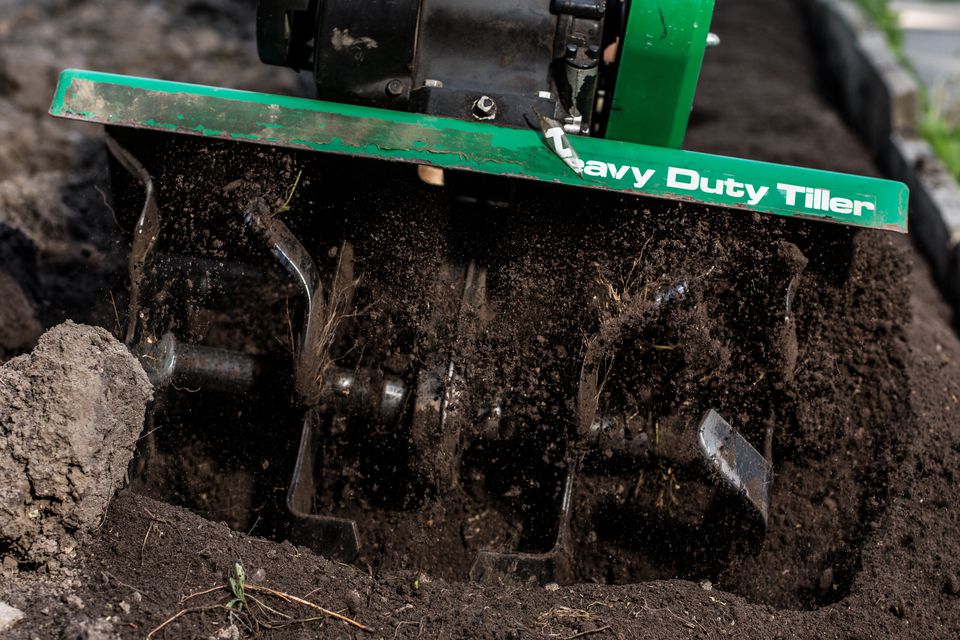 Read these weed control product reviews for some advice before you make purchases. Numerous weed-fighting tools are on the market, each designed to address a specific problem. In each case, determine first which ones best meet your needs, before you buy.
This article links to two different kinds of resources:

Reviews or assessments of products (detailed analyses).
Online sources where you can buy such products.

You will read first about string trimmers, followed by information on rototillers and on an herbicide injection tool designed to attack a specific weed (namely, Japanese knotweed, known botanically as Polygonum cuspidatum):

String trimmers help you keep your landscape well-manicured by allowing you to "weed wack" unwanted plants in...

tight places that the lawn mower can't reach (for example, up against a fence).

Some gardeners include rototillers in their weed-control regimen. Models of a small size are most apt for this work. For example, if you do not mulch heavily in your vegetable bed, you can control weeds by running a small tiller up and down between the rows of vegetable plants periodically. This practice will keep weeds from gaining a foothold in your garden.
The herbicide injection tool that is covered here is a specialized product. It is sold as a way to control Japanese knotweed

, one of the worst invasive plants in the Western world. This weed is notoriously difficult to eradicate, so you need all of the help that you can get in battling it.

String trimmers are essential for your weed-control efforts if you wish to keep borders clean of weeds. When considering your options for string trimmers, you have essentially three choices: gas string trimmers, corded electric string trimmers, or cordless string trimmers that run on a battery. All have their pros and cons. Cordless electric trimmers offer the maneuverability of gas without the mess.

The Grass Hog series provides examples of such products. 

Many people use garden tillers to practice weed control between rows of plantings in a vegetable bed. While large garden tillers have their place, small garden tillers are ideal for small spaces.

The electric garden tillers are a sub-class of these small rototillers (or "cultivators," as they are sometimes called). They are generally compact and offer the maneuverability needed in small spaces. Small garden tillers are easy to maneuver in tight spots. Add to this the feature of adjustable...MORE tilling width and depth, and you have a tool that you can wield with precision. They are also easier to move around and to store away than are their larger counterparts, which can be quite unwieldy.

Japanese knotweed is an especially tough weed to eradicate. David Beaulieu

Those of you who have battled Japanese knotweed appreciate any device you can add to your weed-control arsenals, right? The JK Injection Tool is easy to assemble and use. It is comprised of three parts: the gun, the reservoir that holds the herbicide, and a needle that is inserted into the tip of the gun. Once assembled and filled with the herbicide, glyphosate (Roundup), you can kill Japanese knotweed with the simple pull of a trigger.

Before you use this herbicide, be aware that Roundup is a...MORE controversial product.The use of glyphosate (typically sold commercially as Roundup) has spawned heated debate in recent years. Some say it is an acceptable weed-control product to use in some cases (not vegetable beds, however), while others question how safe it is for human beings to use at all.