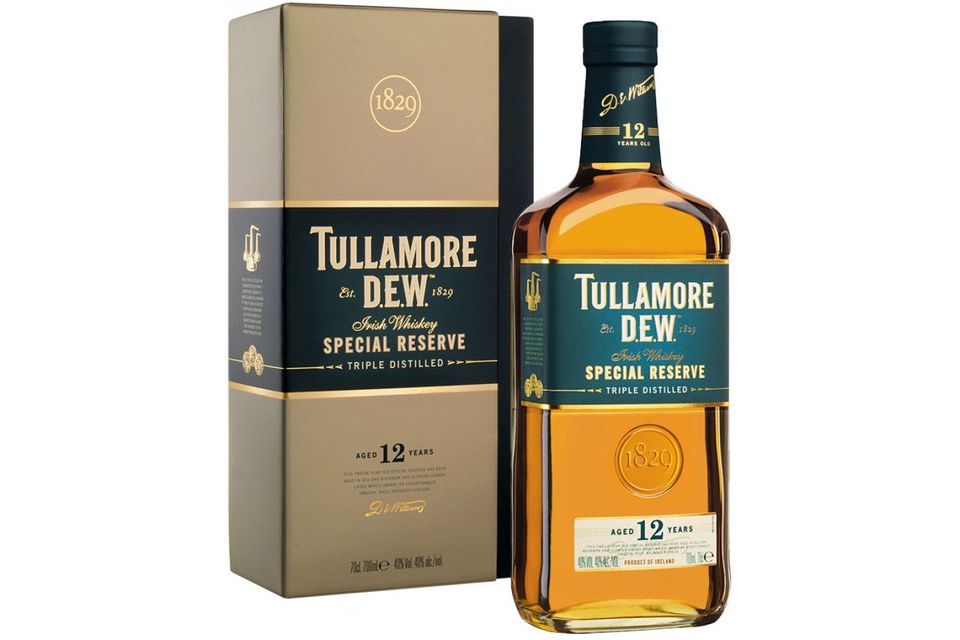 It says something about a whiskey when it comes from a company like William Grant & Sons that wins Whiskey Distiller of the Year at Whisky Magazine's Icons of Whiskey Awards (2011). Tullamore Dew 12 Year Old Special Reserve has its own well-deserved accolades and took top honors as Best Irish Whisky (12 Years and Under) just a year later.
Fans of high-quality Irish blended whiskies should make trying Tullamore Dew 12 Year Old Special Reserve a high priority.
This is clearly one of the finest Irish whiskies in the world and the quality is evident from the first sip to the final moments of the finish.
Tasting Notes
Nose
On the nose, Tullamore Dew 12 Year Old Special Reserve presents a complex bouquet of tantalizing aromas. Look for fruitcake, freshly roasted almonds, vanilla, caramel, and lovely cereal grain notes offset by just a touch of lemon.
Body and Palate
Tullamore Dew 12 Year Old Special Reserve has a medium body, which is entirely appropriate for its age. The first sip of this whiskey makes it clear that one is in for a special whiskey experience with its rich, complex flavor.
This whiskey has clearly been aged (at least partially) in Sherry casks. There is a rich nutty flavor and an undertone of dark fruit just evident beneath elegantly balanced wood notes, leather, lemon curd and caramel flavors.
There is a delicious grain component as well that is a perfect counterpoint to the spicy wood notes.
This is an elegant and harmonious whiskey.
Finish
On the finish, this whiskey offers a complex and rich palate of flavors that cascade into a light, elegant and citrus-sweet ending. Think of rich malt and cinnamon notes, before light, green apple flavors give way to lemon preserves. Elegant is too simple a word for such a deft finish.
Final Thoughts
Overall, Tullamore Dew 12 year Special Reserve is a great whiskey at a very affordable price point. It is a testament to the other fine whiskies under this label and a nice upgrade from the flagship Tullamore D.E.W. whiskey.
If you enjoy high quality, complex, and authentic blended Irish whiskies, then this whiskey is an essential dram.
About Tullamore Dew 12 Year Special Reserve Irish Whiskey
A triple-distilled blend of pot still and malt whiskeys that have been aged in bourbon and sherry casks for 12-15 years.
Produced by Tullamore D.E.W. Irish Whiskey Distillery in Tullamore
Offaly, Ireland 
Retails for around $45/750ml bottle
Originally Published: March 13, 2011
Edited by Colleen Graham
Disclosure: Review samples were provided by the manufacturer. For more information, please see our Ethics Policy.