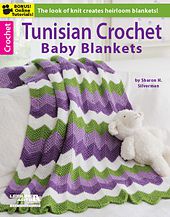 Book Title: Tunisian Crochet Baby Blankets
Author: Sharon Silverman
Publisher: Leisure Arts
Copyright Date: 2014
ISBN 13: 978-1-4647-1234-0
Formats: This book is available in both paperback and digital formats. I'm using a digital copy of the book for this review. There are also bonus instructional tutorial videos available for you to watch at the publisher's website.
Number of Pages: 32
Cover Price: $9.99 US dollars / $11.99 in Canada
Skill Level: 4 of the patterns in the book are rated as "easy" and 4 are rated as "intermediate."
The purpose of this book: to give you a selection of baby blanket patterns that you can make using the Tunisian crochet technique.
All 8 of these designs are gender-neutral, so they'll be appropriate whether the recipient is expecting a little boy or a girl. Several of the designs are shown in blue colorways, so if you're expecting a girl, or if you don't happen to know the baby's gender, you may wish to crochet them in other colors. If you happen to know the baby's gender, and / or the colors the expectant parents will be using to decorate the nursery, it's easy to customize the colors on any of these blankets accordingly.
Exploring What You Can Do With Tunisian Crochet
You may be surprised to see some of the amazing things you can do with Tunisian crochet. You may already be familiar with afghan stitch, which is one of the most basic Tunisian crochet stitches.
But do you know how to do chevrons in Tunisian crochet? How about Tunisian crochet cables? And bobbles? Or a basketweave stitch?
When you're finished with this book, you'll know how to do any of those things – and even more.
Patterns Included in This Book:
I decided to jump in and try crocheting a practice swatch of the "Bright Strands" design. It's a lovely pattern. The instructions are well-written, and I had no problems following them.
From the front of the piece, my work looks lovely – the perfect marriage of stitch and colorwork pattern. I did, however, have a bit of trouble with the back of the piece.
This stitch requires the use of floats across the back of the work. I'm not a huge fan of floats even when they're done neatly, and in this case, I made a mess of them. Which isn't to say that you'll make a mess of yours, if you work this pattern; perhaps you'll do better with yours than I did with mine.
If you're new to the technique, I do suggest working the practice swatch that Sharon has included in the book. Maybe even twice. It's possible that some of you would be tempted to skip the practice swatch, and plunge right into crocheting the afghan. For someone who's never done this before, I think that would be a mistake.
If I were going to actually make the baby blanket, I would work the practice swatch at least one more time before proceeding – and I have plenty of experience with Tunisian crochet.
Even with experience, it takes a little practice to master the floats on this pattern, and making them just the right tension -- which is loose, but not too loose.
Things I Like About This Book:
I found all these designs to be inspiring and educational in some way. For example, I've tried and failed at combining Tunisian crochet knit and purl stitches. The reason for my past failure: for me, these stitches worked up at different gauges. Sharon's basketweave pattern shows me that this can be done successfully, and I find that truly inspiring.
I love it that the book includes such a fantastic variety of different stitch patterns. They're all Tunisian crochet, yet none of them look similar.
The styling in the book is outstanding. It's lovely that you can see some of the blankets pictured in actual baby cribs.
The colors used in the sample afghans are all workable and inspiring as shown. There's a nice mix of contemporary and traditional colorways.
The blankets all look harmonious. You know how sometimes you'll see a blanket with an edging that's all wrong, or some other element that's out of place? Well, in my opinion, that's not an issue with these patterns.
I love it that these patterns are not overly "froo-froo," and that baby boys are not left out. Of course, if you're looking for "froo-froo," this isn't the go-to book for that – but with a little imagination, maybe it could be. You could easily add some lacy borders around the outsides of some of these blankets to make them really fancy, if you like. For example, I can just imagine the bobble blanket, worked all in pink, with a fancy lace border around the outer edge. Wouldn't that be a gorgeous gift for expectant parents who are decorating elegantly for their baby girl?
Note: Lace edging patterns are not included in this book, but we have some of them available on our website if you would like to try this. Feel free to use any of of our edgings for this purpose (or other purposes) if you like. I can't guarantee that the math would work out perfectly as-is if you were to add one of our edgings directly to any of Sharon's baby blankets.
You would probably have to do some tweaking to make the math work out right.
See Also:
There's plenty to learn from this book, and plenty of interesting material to challenge any crocheter. I find this especially impressive considering that it's such a short book.
These patterns are all classic designs that will not be soon outdated. Assuming proper care is taken with making, handling and laundering them, they should hopefully last a long time.
I think crocheters of any skill level, from beginner to advanced, would benefit from owning this book.
I love, love, LOVE IT that the publisher included a whole section's worth of helpful videos on their website covering stitches and techniques used in this book. I haven't actually had a chance to view these yet, but I am thrilled that they are available.
Things I Didn't Like About This Book:
Really, there isn't much to dislike about this book. It's a lovely, worthwhile book. But since this is a review, I'll be nit-picky and point out some hyper-critical things that I noticed.
Overall, the photographs are clear, helpful and styled well. The one exception: I had a hard time seeing the pattern, particularly the center panel, on the cabled afghan called "Cables and Honeycombs." In the main photo, the afghan is artfully draped over a chair, and (on my monitor at least) it also appears a tad bit over-exposed. The end result: I'm not entirely sure what the center of the blanket is supposed to look like. Is this a deal-breaker? For me, no, although I'd be happier knowing exactly what it looks like if I were going to crochet the entire blanket. Your comfort level may vary.
Regarding the "Bright Strands" blanket, I already mentioned the floats and how they could get to be problematic from a technical standpoint. There's another consideration: it's possible that a baby's little fingers and toes could also get snagged on them. For this reason, Sharon mentions the possibility of adding a lining to the back of the blanket. I think that's a great idea -- but if you want to do this, you're on your own with figuring out how. I didn't see any lining instructions included in the book.
Back to positives for a moment – if you do add the lining, this would make for a warm afghan. It's already a hefty, substantial design, even without the lining. With the lining added, it would be even warmer. It would be great for those of you who endure harsh winters, especially if you really want to ensure that the sweet little baby doesn't get cold.
Conclusion:
I'm happy to recommend this book to other crocheters. I think it is a fanastic resource, and also a great value for the money you spend on it. In my opinion, it's well worth its asking price. I'm planning to hold on to my copy of this book, and I'm sure I'll refer to it often.
More Baby Crochet Pattern Books:
More About Tunisian Crochet
Disclosure: A review copy was provided by the publisher. For more information, please see our Ethics Policy.